June 28, 2023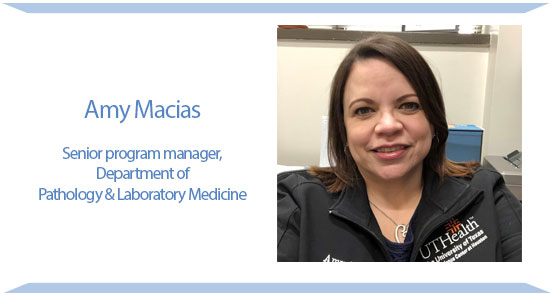 When did you join UTHealth Houston? What brought you here?
I first joined the Department of Pathology & Laboratory Medicine (DPALM) at the Medical School in 1994 under the Memorial Hermann Hospital payroll to be secretary to the now-late Dr. John Milam. At the time, Dr. Milam was the laboratory director at MHH-TMC. Unfortunately, the laboratory was outsourced, which led Dr. Milam to step down from his position and for mine to be eliminated. I was pregnant at the time, and pre-existing conditions prevented UTHealth from offering me a position; I had to stay in the MHH payroll, so I was transferred to a Cardiovascular & Thoracic Surgery Clinic. Thankfully, I stayed in touch with DPALM, so I was called back to formally join UTHealth in 1997.
Tell us about your work history here.
I began as a staff assistant working for 10 of our pathologists, which included the late Dr. Harvey Rosenberg. I was honored to have been offered a promotion in 1999 by Dr. Margaret Uthman to be the residency program coordinator. Once I started, I instantly developed a love for Graduate Medical Education (GME). I have to admit, I didn't even know what GME, ACGME, and the multitude of acronyms meant in the GME world, but the passion to work with residents was immediate.
We have grown our training programs over the years. We now have three fellowship programs in Cardiovascular and Pulmonary Pathology, Dr. L. Maximilian Buja; Renal Pathology, Dr. Amanda Tchakarov; and Blood Banking/Transfusion Medicine, Dr. Hlaing Tint.
What are you most proud of accomplishing?
I have recently been promoted to senior program manager by my longtime friend, residency program director, and chairman, Dr. Amer Wahed. It is a huge honor that Dr. Wahed believes in me and what I bring to our leadership team. My loyalty and dedication have been recognized, and for that, I am most grateful!
What do you enjoy most about your work?
The friendships I have made over these 28+ years. I have helped over 200 residents and fellows graduate from our training programs. Watching them grow professionally and personally is so rewarding to me. I have an open-door policy, so they all know they can come to me with anything. The fact that my program leadership team respects my opinion and involves me in the decision-making process is so rewarding as well.
Why have you stayed?
I love what I do! I work with a great group of people; they are my work family.  Just as I have watched my son grow, DPALM has watched me grow. I cannot be more appreciative of all of the love and support I have received over the years. We all have highs and lows in our personal lives, and I could not have asked for a more supportive work family.
I was able to adjust my work hours around all of my son's milestones growing up. I am extremely grateful to not have missed anything while raising him. As everyone who knows me knows, he is my world!
When you are not at work, how do you spend your time?
My husband and I have recently gotten into gardening. I work on the indoor plants while he focuses on the outdoor ones. We also stay busy with my step-daughter, who we have every other weekend. My son, who is now 27, has been living his best life in Colorado since summer of 2020, so I always look forward to his visits every couple of months. To watch him enjoy his favorite home-cooked meals gives me great pleasure. I also enjoy spending time with close friends, exploring new restaurants, and salsa dancing!