December 14, 2022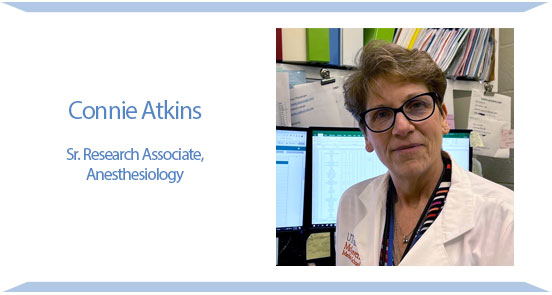 When did you join UTHealth Houston? What brought you here?
After graduating from the University of Houston at Clear Lake in 1984, I began a job search in my area. I filled out an application (this was well before online job apps) and got a call from a group in the Department of Neurobiology at UT. I interviewed with Dr. Sam Enna and his lab, and they hired me.
Tell me about your work history here.
I started at UTHealth on December 19, 1984, in the Enna lab as a research assistant. I worked in Dr. Enna's lab for a little over a year. Dr. Enna left UTHealth but helped me secure a position in Dr. George Stancel's lab in the Department of Pharmacology, where I worked until 2001. Dr. Stancel became dean of the graduate school at which time I moved to the Department of Pediatrics, where I worked in Dr. Giuseppe Colasurdo's lab until 2017. I'm currently in the Department of Anesthesiology and lab manager for the lab of Dr. Cynthia Ju.
What are you most proud of accomplishing?
Four PI's and 38 years later, I'm still a proud member of UTHealth Houston. I'm proud of the research in which I've participated and the publications on which I've been allowed to share authorship. I'm proud of being able to see the advances in a variety of fields of research — not just the knowledge obtained but the techniques used to acquire it. I'm proud of working for some great PI's who are not only brilliant scientists but also great bosses. I'm proud of the relationships I have today because of working at UTHealth. I'm honored to say I've made several lifelong friends while working here.
What do you enjoy most about your work?
The thing that brings me the most enjoyment is working with many different types of people from all over the world. I've been able to learn about different cultures and customs. I don't think I would have had such an opportunity had I worked elsewhere. Because of being at UTHealth for so long, I get to learn new things all the time, whether it be in the lab or a new procurement system. While learning new things can be challenging, I think it's what makes life interesting and worth living.
Why have you stayed?
I think I've stayed because the good always outweighs the bad. I have a 20-mile commute one way and yes, traffic and parking can be difficult, funding can be tenuous. I've stayed because of the people I've worked with and a desire to be a part of an institution that works toward a deeper understanding of human diseases that plague mankind. Other less noble reasons are the excellent benefits and flexible work schedule.
When you are not at work, how do you spend your time?
I belong to a group that meets a couple times a week. We get together to look for ways to be of service in our community. My immediate family lives here in town, and I visit with them regularly to catch up on each other's lives. I enjoy cooking vegetarian meals, and I'm always looking for new recipes to try. When I'm not cooking or spending time with family and friends, I spend time at home with my cat, Ace. I'm looking forward to retiring in the next few years, if life permits. I would consider that a major accomplishment…to be able to retire from the same institution that gave a chance at a career all those years ago.