March 08, 2023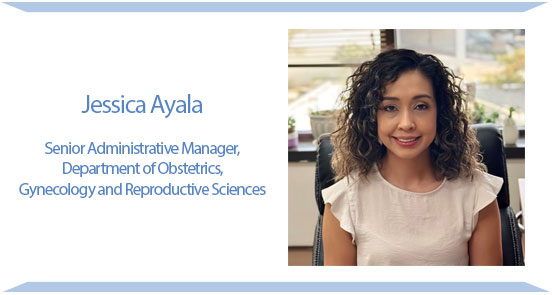 When did you join UTHealth Houston? What brought you here?
I joined UTHealth Houston September 17, 2012, as a Research Technician 1 with the Maternal-Fetal Medicine Unit (MFMU) in the Department of Obstetrics, Gynecology & Reproductive Sciences. My mother, Maria Ayala, worked in the clinic at UT Physicians Obstetrics and Gynecology and connected me with Maria Hutchinson for a job interview for the MFMU research team.
Tell me about your work history here.
I have been fortunate enough to continue to work for the same the department since joining the UTHealth Houston -McGovern Medical School family. September 2022, officially marked my 10 years with the OBGYN department. I started as a part-time Research Technician 1 on September 2012, screening and recruiting patients for various NIH studies. On June 2015, I was promoted to Research Coordinator 1. I was in this position for a year, when I was approached by one of my current colleagues who advised me to apply for the position in the chairman's office as an Administrative Coordinator. I interviewed for the position and was offered the job right away. I transferred from the research department into the administrative department on June 2016. I was so eager to learn my new role of supporting Kevin Mersmann (DMO), back-up to the Sr. Executive Assistant for Dr. Sean Blackwell (chair), and reviewing faculty/staff travel and reimbursements. In this position, I was able to function in a different capacity. My manager at that time wanted me to be able to function at a higher level and be a person that my team could depend on. On August  2018, I was promoted to Senior Administrative Coordinator and in this position, I continued to handle my day-to-day tasks, but I was able to grow in my role professionally. I learned how to run various query reports, budget transfer, journal entries, and take on some of my manager's projects. My DMO and manager were comfortable with me handling big remodeling projects with our chair's approval. In September 2019, I was promoted to Administrative Manager. I was very fortunate to be considered for this position. My manager at the time recommended me for this position and my chair and DMO were both very supportive of me taking on this new role. I will be honest; I was very nervous and anxious that I would not fulfill their expectations.  My fears were quickly put to rest and I will say that I am one lucky person. My team really stepped up and made sure that I felt supported by them during this transition in my new role. I had to learn how to be able to be a mentor and support my team. This was somewhat challenging because COVID-19 changed a lot of the way we functioned. I had to learn to be able to operate virtually. It was not always easy, but we were able to overcome all the odds and continue to support our faculty. On January 16, 2021, I was promoted to Senior Administrative Manager. I am so thankful to Dr. Blackwell and Kevin Mersmann who continue to be supportive of me in my professional growth.
What are you most proud of accomplishing?
I am very proud to say that I earned my Bachelor of Science degree in 2016. It was a challenge because I juggled family, work, and school, but I made sure I achieved that goal.  Attaining my college degree has enhanced my life in numerous ways, and I work hard to support others who are working toward similar goals.
I am also so proud of the work relationships that I have here in the OBGYN department and outside the department. Being a part of the OBGYN department has been very rewarding. I have grown professionally in a way I never thought. I am so proud to be a part of the OBGYN department and UTHealth Houston.
What do you enjoy most about your work?
Honestly, I enjoy the work I do and being able to work with my amazing team and colleagues.
Why have you stayed?
The reason that I have stayed with UTHealth Houston is because I enjoy working in the OBGYN department so much.  I am so grateful to be able to continue to work with a team that literally changes the world every single day in countless ways.  Groundbreaking research, compassionate patient care, and excellent training for future generations of physicians -what could be better than all of this?
When you are not at work, how do you spend your time?
When I am not at work, I love spending time with my husband, two beautiful children, and three dogs. They all keep me very busy! But I enjoy every moment I have with my family.