April 19, 2023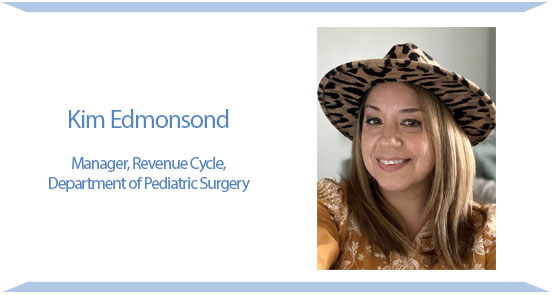 When did you join UTHealth Houston? What brought you here?
I originally started working at UTHealth as a summer hire in the MSRDP Central Business Office in 1986 where my mother, Ky Sutton, also worked. I worked three summers before being hired on full time in 1989 in the EOB Audit Department.
Tell us about your work history here.
After working in the EOB Audit Department for three years, I left to work at Baylor College of Medicine for one year. I then returned to UTHealth to work in the billing office for the Department of Pediatrics. In 1997, I started working with Dr. Kevin Lally in the Division of Pediatric Surgery. When a reorganization of all the billing positions was being done, I left for an opportunity with a different employer. In 2007, I was hired back with the Department of Pediatric Surgery where my sister, Crystal (Sutton) Sharp, was also working to manage their billing office. At the time, my mother, father, and sister all worked for UTHealth.
Some things have changed over the years as things usually do around UTHealth with positions and duties, but I am proud to say I have been with the Department of Pediatric Surgery and UTHealth for over 25 years, and I plan to stay until I retire.
What are you most proud of accomplishing?
I am most proud of having 25+ years of service with UTHealth and being adaptable to change through COVID and other reorganizational changes through the years. Also, I love the great team I have and now manage daily, as well as the trust I have built with the faculty and leaders I work with.
What do you enjoy most about your work?
I love the challenge of identifying problems and resolving them.  Knowing that I'm helping my surgeons get reimbursed for the services they've provided to patients paid, helping patients when they call regarding any bills they might have received, and the flexibility to work remotely.
Why have you stayed?
UTHealth offers great benefits and growth opportunities to their employees. I'm a 2nd generation UTHealth employee since both my parents and my sister have all worked here. I've seen how my parents were able to utilize the great retirement benefits at UTHealth, and I feel comforted knowing that I will have that as well when I do retire. I also work in the best department with some of the best faculty and staff. Pediatric Surgery has always been so supportive of me both professionally and personally.
When you are not at work, how do you spend your time?
I love volunteering for my church, for a committee with the Houston Livestock Show and Rodeo, as well as with the Pearland Silverlake Lions Club. I also try to spend quality time with my two kids, sister, niece, nephew, and my good friends.