May 31, 2023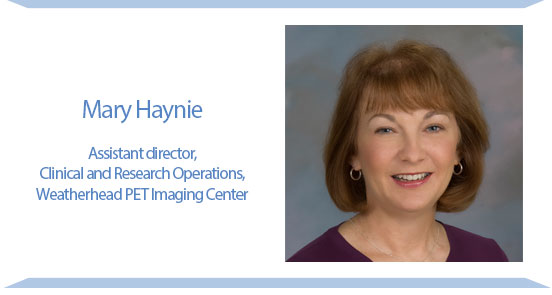 When did you join UTHealth Houston? What brought you here?
I joined UTHealth in 1985 after working for 3 years as a brand-new nurse on a cardiac unit in Hermann Hospital. I was always interested in cardiology since my father died of a heart attack at age 47, when I was 14 years old.  Drs. Lance Gould and Richard Smalling recruited me to become a research nurse in cardiology. I was interested because I had to opportunity to learn more about the root causes of heart disease and test new treatments for heart attacks.
Tell us about your work history here.
I was hired by Dr. K. Lance Gould, when he was chief of cardiology, to become the nurse conducting PET imaging research and at the same time was able to work with Dr. Smalling conducting some of the initial studies of clot-busting drugs for acute heart attack patients.  Most of my training was "on the job," but I was excited to be learning from the world's best cardiologists.  After completing my master's degree in business, I left to work for Memorial Hermann Hospital to help develop and market the cardiology service but soon realized that my heart was in cardiology, not the "business of cardiology."  At that time, Dr. Gould was developing his "Cardiac Prevention and Reversal Program" and hired me back to help run it.  Our team soon established the Weatherhead PET Imaging Center, and I have been the senior nurse manager and now assistant director since then.
What are you most proud of accomplishing?
There are really no individual accomplishments in science. However, there are many great scientific advancements that I am very proud to be a part of.  Our team developed PET imaging from an experimental imaging test to detect heart disease early into a clinical service with the most advanced heart imaging test, determining the right course of treatment for heart patients.  We also improved the survival of acute heart attack patients with clot-busting drugs and small mechanical pumps.  But I am most proud of the work I did directly with patients, teaching them about heart disease, diet, exercise, and medications to show them how to improve their lifestyle and PREVENT heart attacks and hospitalizations. I am proud of the "trusting relationship" I have been able to develop with patients and families — something that is becoming rare in today's health system. I am very proud to work closely with Dr. K. Lance Gould and to serve as the person who translates his complicated instructions into terms that patients can understand and carry out.  With me being able to take care of the "day to day" problems of patients, Dr. Gould has more time to spend writing scientific papers, teaching the future cardiologists, and running the PET Center.
What do you enjoy most about your work?
I enjoy the variety of nursing that I have been able to practice in my job.  I started out as a clinical nurse, I became a research nurse, I utilized my MBA in marketing and as a nurse manager in the PET Center.  I also enjoy working in a place where we can have the most scientifically advanced technology but still provide the personalized care that makes patients feel comfortable and well cared for.
Why have you stayed?
I have stayed at UT because of the great people that I work with and the opportunity to be a part of huge scientific advancements.  UT provides a very supportive environment for work and life balance and provides excellent benefits.  My "work family" has supported me through some tragic life events.
When you are not at work, how do you spend your time?
When not working, I enjoy spending time with my family and friends.   My daughter just completed her nursing degree, and my newest family member is my 19-month-old grandson.  I enjoy traveling with my four sisters, dancing at historic Texas dancehalls, and I am an avid "kayaker."  I love exploring the rivers and lakes of Texas in my pink kayak. I also enjoy gardening, reading, and birding.