May 17, 2023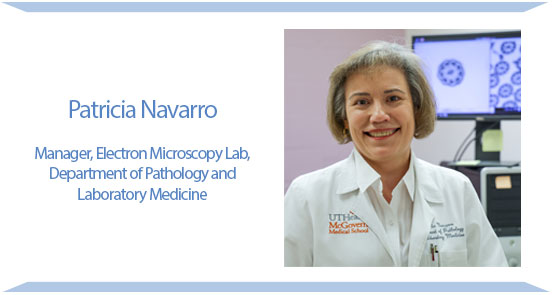 When did you join UTHealth Houston? What brought you here?
I began my employment at UTHealth Houston in 1991. I do believe it was fate that brought me to UTHealth. While completing my final semester at Texas A&M in College Station, one of my brother's best friends was installing A&M's first electron microscope. I had only read about these scopes and was so amazed by how they were utilized in a variety of scientific applications but, more so, how these scopes are utilized in healthcare. The engineer asked me if I had any job interviews lined up after graduation. I had a few but he informed that, if I was interested, there was a clinical EM lab at UT Medical School Department of Pathology that I should look into.  And here I am over three decades later.
Tell us about your work history here.
After interviewing with my mentors, Dr. Regina Verani (retired) and Dr. L. Maximilian Buja, I was offered a position working in the Department of Pathology Electron Microscopy Laboratory. It was fascinating how ultrastructural analysis of patient biopsies aided in rendering a final diagnosis for patients. I was introduced to a whole new world, diagnostic ultrastructural pathology! Ultrastructure is defined as "the fine structure within a cell that can be seen only with the high magnification obtainable with an electron microscope." This serves as a valuable diagnostic tool mainly in renal, neurological, and cardiac pathology. I was trained by my mentors to recognize and capture ultrastructural changes for multiple diseases in multiple tissue types for our staff pathologist. I was hired as a technologist and currently serve as Electron Microscopy Laboratory manager overseeing our ultrastructural renal, neuro, cardio, and primary ciliary dyskinesia (PCD) pathology services.
What are you most proud of accomplishing?
Oh goodness, a couple of things. Being part of one of the busiest renal services in the Texas Medical Center while continually providing a high level of ultrastructural evaluative expertise. I was here in 1997 when Hermann Hospital merged with Memorial Healthcare System and I knew then, this is going to be huge.
Prior to the merger, our renal service only received biopsies from Hermann Hospital and a few outside clinics. Currently, we provide full ultrastructural screening to all our Memorial Hermann affiliates and additional outside hospitals. Our native renal service has grown exponentially since the merger and the renal transplant service is currently expanding rapidly.
Our two Department of Pathology Histology laboratories provide quality preliminary histological studies, i.e. light microscopy, immunofluorescence, and both enzyme and immunohistochemistry etc. to correlate with our ultrastructural findings and to complete our growing renal, neuro, and cardio services.
Secondly, in 2019, I was involved in bringing our EM facility into an accredited Designated Center of Excellence for Primary Ciliary Dyskinesia. I have worked closely with Dr. Amanda Tchakarov, director of Renal Pathology Services; Dr. Ricardo Mosquera, director, Division of Pediatric Pulmonary; and Ms. Diana Martinez, research coordinator, in providing ultrastructural EM support. Most recently, Dr. Mosquera informed us that, as of August 2022, the UTH-Primary Ciliary Dyskinesia team has developed a new international outreach program to assist Latin American providers with diagnosing and treating PCD. I feel extremely honored to be a part of this endeavor in providing support toward the diagnosis of these young patients as symptoms appear shortly after birth or in early childhood.
What do you enjoy most about your work?
It is so rewarding to contribute to patient care while working with the Department of Pathology and Laboratory Medicine faculty, my colleagues, and especially my hard-working EM laboratory team of Steve Kolodziej, Nicole Berube, and Ralph Nichols. I enjoy working alongside them on a daily basis and witnessing their dedication to our field.
I also love the time I spend with Drs. Amanda Tchakarov, director of Renal Pathology Services; L. Maximilian Buja, director of Cardiovascular and Pulmonary Pathology; and Meenakshi B. Bhattacharjee, director of Neuropathology Services, all experts in their respective specialties, and so many more of our departmental pathologists in discussing their cases and localizing the ultrastructural changes they need for a final diagnosis.
Why have you stayed?
I just love what I do! To this day, I am still fascinated by the field of ultrastructural pathology and its contribution to both patient care and research. I love my everyday interactions with everyone around me in our department and deeply appreciate those who have helped me in my career path. All the pathologists and my amazing laboratory team members are the very best, creating an exceptional working environment that I have loved for over 35 years. In addition, I have enjoyed working with the residents and watching them grow and advance. Over the years it has been so nice to see some of our residents return as faculty and currently, having one serve as our new chairman. Our department also has a new director of Management Operations and director of Outreach Pathology. I look forward to working with our new leadership and to see the direction they have paved for the future of our department.
I also have to acknowledge the amazing individuals in our Facilities department. They have helped me more than once over the years to avoid any downtime with our EM scopes that could have led to possible delays in patient results. Their recognition of the importance of maintaining our scopes for our patient needs has allowed me to successfully oversee our EM ultrastructural services.
When you are not at work, how do you spend your time?
I spend time with my family – parents, siblings, and my wonderful nieces, nephews, and godchildren – every chance I get. My nieces and nephews are all grown, graduated, married, or about to get married. I have loved watching them grow into such beautiful young adults. They are my everything!
I also enjoy going to our family ranch out in the Hill Country. It's a nice getaway from the city. Not sure which I enjoy most, the sunrise with my morning coffee or the sunset when there is a natural peaceful silence.