April 05, 2023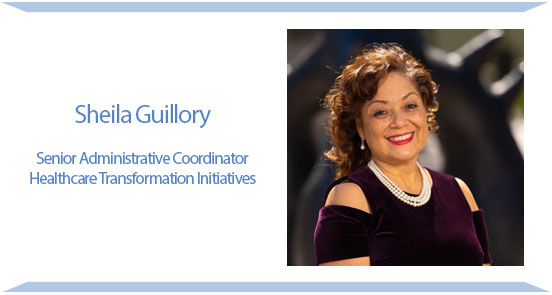 When did you join UTHealth Houston?
It was actually on my birthday, February 11, 1991.
What brought you here?
I'm a native Houstonian, and I've always found the Texas Medical Center to be amazing. The Medical Center provides the best healthcare for our Houston community, and I experienced that firsthand with my sister going through chemotherapy at MD Anderson Cancer Center. I've known several people who have traveled to the TMC for medical care from other states. I love seeing how the TMC has grown and developed over the years.
Tell us about your work history here.
My career at UT began in February 1991 and lasted until November 2000; I was a support specialist in Telecommunications throughout that entire time. Richard Riker served in the role of my superior. In November of 2000, I decided to give up my job at UT and pursue a career as a stay-at-home mother because I had a great desire to provide the very best support I could for my children. After my daughter had completed high school and went off to UT San Antonio to pursue her education, I returned to work at the University of Texas in September 2006 as a data collector in the Center for Health Promotion and Preventive Research department. Melissa Peskin and Kiara Spooner were both fantastic in their roles as my supervisors. March of 2008 was the month that I switched to the School of Public Health. Dr. Sarah Felknor, Dr. Elaine Symanski, and Dr. Sandra Tyson were remarkable people to work for in their respective fields. After Sandy's return to UTHealth with DSRIP and HTI, she contacted me to have me assist as her senior administrator. On February 1, 2015, still in the HTI department, my supervisor changed to Cynthia Huehlefeld. It has been my good fortune to work for exemplary supervisors who paved the way for my growth within the university.
What are you most proud of accomplishing?
Having the opportunity to work on various duties might be a challenge; nevertheless, pushing myself to master these many responsibilities so that I can provide good support to employees and managers is incredibly satisfying and valuable to both our organization and me as an individual.
What do you enjoy most about your work?
Every day at work presents an opportunity to contribute positively to the organization's expansion.
Why have you stayed?
The fact that there are people at this university who acknowledge and value my contributions and efforts serves as a strong incentive for me to continue working here.
When you are not at work, how do you spend your time?
Spending quality time with loved ones, including all five of my grandchildren, and having a fantastic time. My granddaughter, who is 9 years old, and I try to have lunch together every Friday. Also, I have been assisting my grandson, who is 15 years old, with his driver's education because his mother is reluctant to get in the car with him when he is driving. I do what I can to assist my daughter with her children so that she can concentrate on her doctoral studies in accounting. In addition, I help my father, an incredible individual who is now 88 years old and lives on his own. In addition, I enjoy gardening, reading, hosting get-togethers, and shopping, and I've been known to lend a hand to members of my extended family and friends in decorating their homes and businesses.