August 30, 2023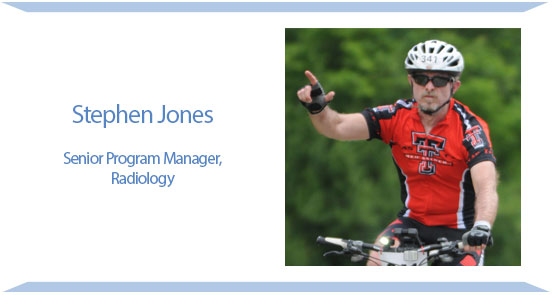 When did you join UTHealth Houston? What brought you here?
I joined UTHealth Houston in March 1993, while I was an undergraduate student at the University of Houston. During that period, I commuted to the med center with Amy, and my daily routine consisted of attending classes and then heading to the library to study and complete homework assignments. On most days, after finishing my tasks, I would have a few hours to spare while waiting for Amy to conclude her work.
It was during this time that I became acquainted with many faculty members in the Division of Pulmonary and Critical Care in the Department of Internal Medicine. One notable interaction was with Dr. Evelyn Shearer-Poor. After a conversation, she offered me an opportunity to assist her with a research project, which I gladly accepted and began a casual role, gathering data and photocopying journal articles. This initial experience paved the way for a part-time position in a pulmonary toxicology laboratory, marking the beginning of my journey at the university.
Tell us about your work history here.
As mentioned earlier, I began my career making copies for a pulmonary researcher during my free time, which eventually led to my initial role in a research laboratory. Over time, I transitioned from a part-time role to a full-time position in the toxicology lab. However, after a couple of years, I realized that bench work wasn't my calling. My PI, Andrij Holian, PhD, needed someone to assist him administratively with grants and to support the Toxicology Program at the GSBS and SPH, so I moved into that supportive role and continued with him until he left the university.
In 2000, when Dr. Holian accepted a position at the University of Montana, he offered me an administrative role there. However, after weighing the financial implications with Amy, I opted to seek another opportunity at the medical school. By January 2000, I had accepted a role with Laura Colletti, MD, in the Internal Medicine clinical clerkship, which laid the foundation for my career in education. When I assumed this role, I felt like I had stepped back in time. Even for the year 2000, using a dot-matrix printer and a typewriter (which my predecessor cherished) seemed archaic. With the onset of Blackboard as an educational management system, and within a year, I had transformed a paper-intensive clerkship, which used over 30,000 sheets of paper annually, into an efficient electronic system.
In 2003, I moved to Student Affairs, primarily focusing on conducting career planning workshops using a paper-based career exploration/advising tool called "Pathways." My responsibilities expanded over time, and I found myself overseeing the MS3 and MS4 clinical schedules and handling the applicant side of the Electronic Resident Application Service (ERAS) endorsed by the AAMC. The initial days of ERAS entailed scanning and uploading thousands of documents, ranging from personal statements to letters of recommendation and the pivotal Medical Student Performance Evaluation (MSPE). Working in the Office of Admissions and Student Affairs was always bustling but deeply fulfilling. Over 15 years, I had the privilege of engaging with more than 3,000 students.
By 2018, I took on the role of Program Manager for the Center for Interprofessional Education (IPE). This position allowed me to liaise with students from all six of our schools and expand my reach to students from Texas A&M College of Pharmacy and Texas Chiropractic College. In IPE, I coordinated monthly interprofessional patient simulations and played a key role in the annual mass casualty simulations. Watching students from diverse disciplines unite to triage and attend to 'injured patients' was both exhilarating and chaotic.
Surprisingly, an opportunity arose in the Department of Diagnostic and Interventional Imaging, where I assumed the position of Senior Program Manager for the diagnostic radiology residency program in 2020. Despite the uncertainties surrounding Covid, this transition felt right. I hadn't recognized how much I missed the daily interactions with students until I began forging new bonds with our residents. The learning curve was steep but gratifying. This experience mirrors my time in Admissions and Student Affairs, and I've felt welcomed as an integral member of the radiology team. In the brief span of three years in this role, alongside Dr. Emma Ferguson, we're proactively reaching out to students from Historically Black Colleges and Universities and other institutions lacking radiology programs. Our aim is to inspire these students to explore the specialty, ultimately enhancing the diversity within the field. I look forward to continuing the growth of our program until my retirement… sometime in the hopefully distant future.
What are you most proud of accomplishing?
Your question gives me pause, making me reflect on the many experiences I've had over the years. While I've contributed to and witnessed numerous changes and advancements in every role and department I've been a part of—and I genuinely hope they've been for the better—I don't primarily gauge the value of my time through accomplishments in the traditional sense. To me, the real measure of a life well-lived lies in the connections we make and the lives we touch. During my tenure at UTHealth Houston, I've had the unparalleled privilege to engage with faculty, staff, and trainees across various levels and disciplines. Each interaction, whether fleeting or long-standing, has been a lesson, a memory, a story. But more than any achievement, I'm most proud of the deep, lasting friendships I've forged with so many extraordinary individuals. These relationships have enriched my life in countless ways, serving as a constant reminder that at the heart of every professional endeavor are the people with whom we share our journey.
What do you enjoy most about your work?
What I enjoy most about my work? It's undoubtedly the people. I thrive on human connection and the collaboration I share with my colleagues. This not only boosts my productivity but also significantly alleviates stress. Within such a supportive environment, I never feel burdened with challenges alone. Similarly, I always strive to be supportive of others, hoping they can lean on me when in need.
Why have you stayed?
Staying at UTHealth Houston for all these years has been a conscious and heartfelt decision. Firstly, the institution has always fostered an environment of continuous learning and growth. Each position I've held has presented its own set of challenges but also immense opportunities for personal and professional development. I've always felt that here, I'm not just another employee but a valued member of a larger mission.
But beyond the professional aspects, it's the community that has truly anchored me. Over the years, UTHealth Houston has become more than just a place of employment; it has transformed into a second home. The connections, friendships, and the genuine sense of camaraderie are unparalleled. The institution's commitment to its employees, students, and the broader community has instilled a sense of pride and belonging in me.
Furthermore, I believe that when you find a place where your values align, where you feel heard, seen, and appreciated, and where every day brings new challenges and opportunities to make a difference, it's hard to imagine being anywhere else. And that's why, despite the ebb and flow of challenges, the heartening moments of triumph, and the ever-evolving landscape of healthcare and education, I've chosen to remain a part of UTHealth Houston. It's not just about work; it's about the impact, the people, and the shared journey toward a brighter, healthier future.
When you are not at work, how do you spend your time?
Cycling has become my passion outside of work. My journey began in earnest in February 2022, when I started training for the Texas MS150, an event to be held at the end of April where participants bike 150+ miles over two days. Prior to this, my cycling was sporadic and casual at best. However, participating in that event was transformative for me. Not only did I emerge as a Top 300 fundraiser that year, but I also discovered a fulfilling way to exercise and support a community of people who face daily challenges many of us might take for granted.
Embracing the world of virtual cycling, I joined a team for the Zwift Racing League in October 2022. To my astonishment, we secured 2nd place, intensifying my passion for the sport. For the 2023 MS150 event, I once again achieved the status of a Top 300 fundraiser. In just over a year since I began my cycling journey in earnest, I've covered more than 3,000 miles. A memorable highlight was this past May when I had the incredible experience of climbing Els Àngels in Girona, Spain, alongside my niece Nicole (a far better cyclist, pedals down). The ascent, covering 11.1 km with a 434-meter vertical gain, took us around an hour from base to summit. The exhilarating descent? Less than 10 minutes!
I am hoping to bring back a team to UTHealth Houston for the 2024 MS150.