July 26, 2023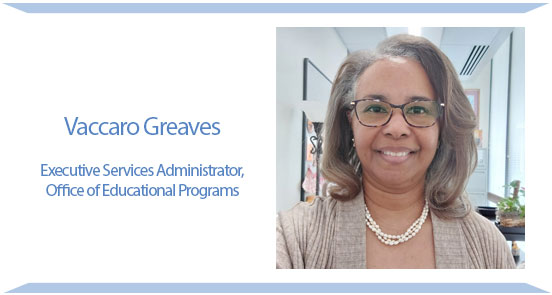 When did you join UTHealth Houston? What brought you here?
I joined UTHealth Houston again in 2006, having worked here previously (1998-1999) in the Internal Medicine Billing Office under the direction of Fred Abbott, and then Sandra Ford, at the time.  The office was initially housed in UCT – 26th floor and was then moved out to OCB.  I came back to UTHealth Houston from the MBA Program Office at Rice University, where I worked for five years.  What brought me back was the need for growth, and I have not been disappointed over the 17 years that I have been back.
Tell us about your work history here.
I started in the Office of Educational Programs (OEP) in August 2006, under the leadership of Dr. Patricia Butler.  I was hired as a coordinator, special programs, to coordinate the problem-based learning course.  Over the five years that I served in that position, the position title was changed to educational programs coordinator II and the courses FCM, EPI-EBM, and Clinical Applications soon followed; collectively working under course directors Drs. Donald Molony, John Foringer, Gary Rosenfeld, and Margaret Uthman.  In 2012, I was promoted to program manager to coordinate the Summer Research Program, Career Focus Tracks, Scholarly Concentrations, and Academy of Master Educators.  That was a special time as I think back to welcoming our international students in SRP, even having to board some of them for a short while, and they cooked authentic foods from their home country for my family and me!  In January 2016, I accepted the position of executive services administrator, serving directly under Dr. Butler after her ESA of 15 years retired in December 2015.  This is the role that I currently serve in, under the leadership of Dr. Mark Hormann.  He is a pleasure to work for, as are all of the other OEP deans.
What are you most proud of accomplishing?
My engagement with CME activities began in 2016; however, I am proud that as of March 1, 2022 I have been able to support the return of a Continuing Medical Education Office at MMS.  CME Committee Chair Dr. Zi Yang Jiang spearheaded the effort to regain ACCME accreditation at MMS.  Dr. Jiang is a pleasure to work alongside; he is very knowledgeable, patient, and kind.  I am glad that I can be a resource for the activity directors and coordinators in terms of training and support as we all navigate the new CME process.
What do you enjoy most about your work?
I am so happy that I can say that I have spent my entire tenure here after my return to UTHealth Houston in OEP, and that the whole of it has been great in terms of gaining university knowledge and promotability.  I enjoy interacting not only with faculty and staff in my department, but other departments as well.  I am constantly amazed at the different projects that land on my desk, but they all lend themselves to learning and growth opportunities.
Why have you stayed?
I stay because, wow, I love it here!  I would not have imagined when I came back that I would never want to leave.  There is a diverse culture that is warm and welcoming.  Even though I no longer have little ones at home, when I did, the work-life balance was, and still is, very important to me.
When you are not at work, how do you spend your time?
When not at work I like to spend time outside in the yard tending to and pulling the never-ending reoccurrence of weeds in my rock gardens.  My personal calendar is not chocked full of activities, but I enjoy making mental notes of places I would love to visit (and verbal notes to my hubby).  I also enjoy trying new restaurants, reading, kite flying, jigsaw puzzles, and watching the History and Science channels.