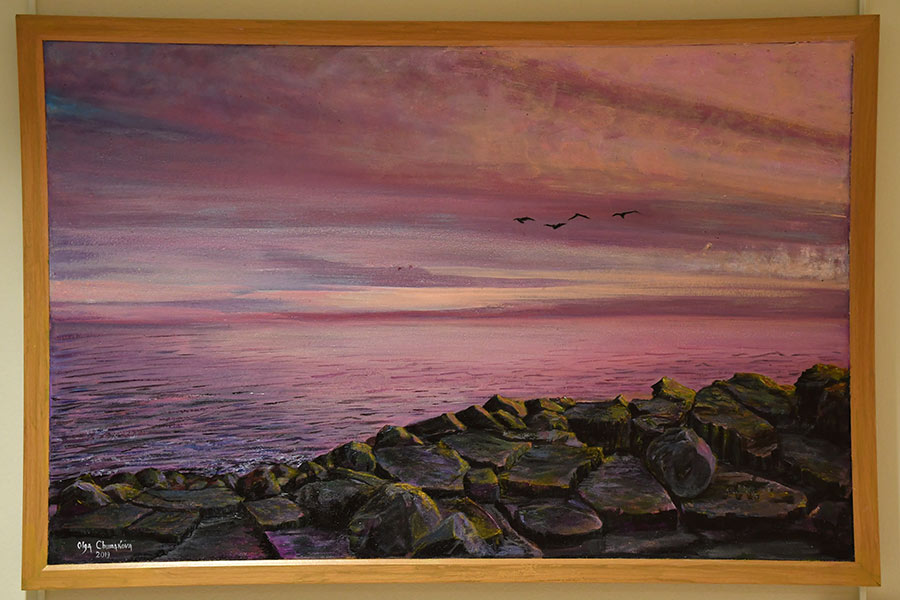 Paintings by Olga Chumakova, PhD. Photos of paintings by Dwight Andrews/Office of Communications
Paintings from Olga Chumakova, PhD, imaging research manager in the Department of Integrative Biology and Pharmacology, are currently on display on the McGovern Medical School Art Wall.
Chumakova is studying at the Draw Paint Academy (Dan Scott, Australia).
"Two paintings 'The field of my Ukraine. Summer 2022' and 'Ukrainian night' reflect the tragedy of millions of refugees forced to leave their country because of the war. Even having safely left, many of them feel unprotected and helpless, 'hanging in the air,' knowing that their beloved country is suffering."
"Motivated by the political events in Belarus in 2020, two paintings 'Braslav Lake in Belarus' and 'Sunrise' symbolize death and hope for rebirth. The two orange-violet 'University at High Speed' paintings evoke feelings of the beginning of the COVID-19 pandemic, when the light from the windows of UTHealth Houston at night gave some hope and faith that science would win."
"The old acrylic painted corkboard shows the Galveston beach at sunset with pelicans in flight. This corkboard has been in a family for a long time, children played with it a lot, and even traces of their toy bullets remained on it. Now it has a new life, combining old marks and young pelicans."
---