Flores named Geriatric Society Fellow
---
---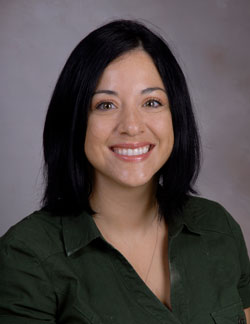 The American Geriatric Society has named Renee Flores, MD, associate professor in the Department of Internal Medicine, as a member of its 2023 Class of AGS Fellows.
AGS Fellow Status is awarded to AGS members who have demonstrated a professional commitment to geriatrics, contributed to the progress of geriatrics care, and are active participants in the Society's activities. AGS fellows join a specially recognized group of healthcare providers who are dedicated to geriatrics education, clinical care, and research, as well as to their own continuing professional development.
Fellows have distinguished themselves among their colleagues, as well as in their communities and in the Society by their service. The dedication and longstanding commitment to AGS is recognized by this mark of distinction.
"It is an honor to be part of this group in the American Geriatric Society Fellowship Status, because I am recognized for my longstanding professional commitment and dedication to caring for older adults," Flores said. "My devotion as a clinical educator, contributing to the healthcare education of medical students and residents, whether they specialize in geriatrics or move on to another field, where they may care for older adults in some other capacity, contributes to geriatrics care."
Flores is the medical director of the Acute Care of the Elderly Unit at Memorial Herman Hospital – Texas Medical Center, where she provides primary inpatient geriatric medicine and geriatric consultative service. She is also an AASECT certified sexual health counselor and educator and offers a specialty clinic in sexual medicine for older adults at the UT Physicians Center for Health Aging.
As an educator, Flores works closely with the Office of Diversity and Inclusion to support and advocate a culturally rich and inclusive educational environment of collaboration and innovation. She teaches geriatrics for medical student education, nursing, public health, graduate medical education, geriatric fellowship training, and the community.
As core faculty within the John P. McGovern Center for Humanities and Ethics, she is developing programs and curricula for skill-building via narrative medicine, reflective and creative writing, and for professional growth and humanization of patient care, bioethics, and social issues in medicine.
Members elected to Fellow of AGS are granted the privilege of using the initials AGSF after their name and are honored during the AGS Members Business Meeting at the AGS Annual Meeting in May.
---