Saver to present Fields Lecture Nov. 17
---
---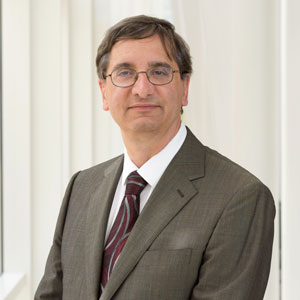 The Department of Neurology welcomes Jeffrey Saver, MD, professor of vascular neurology at UCLA Health in Los Angeles, to present the 2023 William S. Fields Lecture.
Saver's lecture titled "The Shape of Things to Come: Advances in Ischemic Stroke Management after the Reperfusion Revolution," begins at noon, Nov. 17 in MSB 3.001.
Saver holds the Carol and James Collins Chair at UCLA and has hospital affiliations with Ronald Reagan UCLA Medical Center and UCLA Santa Monica Medical Center. His areas of focus include lacunar stroke, ischemic stroke, transient ischaemic attack, cerebrovascular accident and carotid stenosis. He has twice been named to Los Angeles Magazine's Top Doctors (2018 and 2021) and is the recipient of the American Heart Association's Volunteer of the Year Award.
Saver received his medical degree from Harvard Medical School in 1986. He completed an internship (1987) and his residency in neurology (1990) from Brigham and Women's Hospital before completing a pair of fellowships in cognitive neuroscience at the University of Iowa Hospitals and Clinics in 1991 and in cerebrovascular disease at Rhode Island Hospital in 1992.
The Annual William S. Fields Lecture Series is named after the Department of Neurology's founder, Dr. William Fields, who established the department in 1972 with only six faculty. Since then, the department has grown exponentially, expanding the specialty programs to the areas of Epilepsy, Movement Disorders, Multiple Sclerosis, Neuromuscular Diseases, Neurocognitive Disorders, Neurorehabilitation, Brain Disorder Research, Diagnostic Neurology, and Stroke.
For more information about the event, contact Lucy Garza at 713-500-7582 or Lucila.M.Garza@uth.tmc.edu.
---