Clinical Training Sites
Our Teaching Hospitals

Memorial Hermann-Texas Medical Center is the primary teaching hospital for the McGovern Medical School at UTHealth.  Memorial Hermann-TMC (MHH-TMC) provides leading-edge care in heart, neuroscience, orthopedics, women's health, general surgery, organ transplantation and much more.  As one of only two certified Level I trauma centers in the greater Houston area, the hospital provides 24/7 emergency and trauma care.  Memorial Hermann Life Flight® provides emergency rescue within a 150-mile radius.
Our Pulmonary and Critical Care Medicine (PCCM) fellows rotate in the following units:
MHH Medical Intensive Care Unit

Focused critical care training on patients with a multitude of medical illnesses and multi-organ failure.  There are abundant opportunities to engage and support patients and their families through remarkable recoveries as well as through end of life discussions.  Fellows are expected to supervise residents, develop procedural competency, and participate in multidisciplinary rounds with nurses, social workers/case managers, nutritional services, and critical care pharmacy.

MHH Heart & Vascular Institute – Advanced Heart Failure Critical Care

Focused critical care training as a consultant on patients with advanced heart failure including those who may require mechanical circulatory support (MCS) devices, ECMO, heart transplantation and lung transplantation.

MHH Heart & Vascular Institute – Coronary Critical Unit

Focused critical care training as a consultant on patients with cardiac diseases including acute coronary syndromes and acute valvular heart disease.  This rotation offers exposure to patients with Interventional Cardiology procedures, including Transcatheter Aortic and Mitral Valve replacements.  To date, Heart & Vascular Institute maintains the leading TAVR program in the United States.

MHH Heart & Vascular Institute – Cardiovascular Surgical Intensive Care

Focused critical care training as a consultant on high acuity patients with cardiac surgical procedures include aortic aneurysms and aortic dissections, coronary bypass grafting, complex arrhythmia, valvular replacement and pericardial and thoracic procedures.

MHH Respiratory Intensive Care Unit/ENT Intensive Care Unit

Focused critical care training on patients with acute (including acute on chronic) respiratory failure and management of pre- and post-operative ear, nose, and throat patients.

MHH Transplant Surgical Care Unit 

Focused critical care training on patients with advanced liver and kidney diseases including patients who have received liver, kidney and pancreas transplantation.  Rotation on this service includes coverage of pulmonary consultations for inhalational lung injury in the John S. Dunn Burn Center.

MHH Neurological Trauma Intensive Care Unit

Focused critical care training at the Mischer Neuroscience Institute learning the management of pre and post-operative neurosurgical patients with both traumatic injuries and neurovascular diseases.

MHH Surgical Trauma Intensive Care Unit

Focused critical care training in our level I trauma center. Under the guidance of our Surgical Critical Care team, our fellows learn about the evaluation and management of acute traumatic injuries, surgical management of critical illness, and percutaneous gastrostomy and tracheostomy tube placement.
---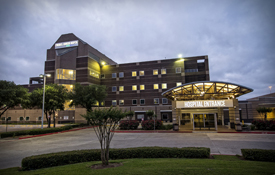 Lyndon B. Johnson Hospital is a 207 licensed-bed acute care hospital offering a full range of medical services. LBJ Hospital is a verified Level III trauma center and was the first such center designated in Texas. It also is the state's busiest Level III trauma center, with more than 70,000 emergency patient visits each year.  LBJ Hospital carries the distinction of being a regional center for neonatal intensive care for high-risk deliveries and very low birth weight infants and provides an array of specialized medical and surgical services.
At LBJ Hospital, our PCCM fellows have robust inpatient pulmonary consultation experience and high exposure to broad acuity and diverse pathology in pulmonary and intensive care settings.  Focused critical care training is received in the care of a critically ill under-served patient population and its unique pathology.  Widespread opportunities exist for ICU co-management with General and Thoracic Surgery.
---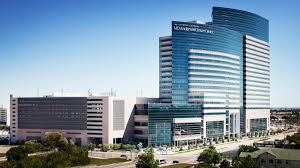 The University of Texas MD Anderson Cancer Center is one of the original three comprehensive cancer centers in the United States. MD Anderson is the largest, and widely regarded as one of the foremost cancer centers in the world.  MD Anderson ranks first in the number and amount of research grants awarded by the National Cancer Institute. By studying how cancer begins and responds to various treatments, we can help patients overcome disease and prevent recurrence.  MD Anderson Cancer Center has ranked as one of the top two hospitals in cancer care every year since U.S. News & World Report began its annual "America's Best Hospitals" survey in 1990.  Many physicians are frequently recognized as among the best in the nation by services including Best Doctors in America.
Our fellows receive focused training at MD Anderson's world-renowned interventional pulmonology program attaining skills using endobronchial ultrasound, rigid bronchoscopy, airway stents, navigational bronchoscopy, medical pleuroscopy and argon plasma coagulation.
---
Kindred Hospital Houston Medical Center is a 105-bed hospital treating chronically, critically ill patients with specialized care who require an extended stay in a hospital setting.  This hospital is a transitional care hospital (LTAC) featuring a 9-bed ICU and six negative pressure rooms. Kindred prides itself on specialized pulmonary care, wound care, diabetes management services, palliative and rehabilitative services, stroke and brain injury care, and organ transplant care.  Long term intravenous antibiotic therapy and post-intensive care syndrome care are additional services provided at this facility.
Our fellows manage and consult on inpatients in this LTAC facility; in conjunction with our Interventional Pulmonology service, fellows rounding at Kindred have ample opportunity for procedural competency and inpatient pulmonary disease management, including ventilator management.