About Us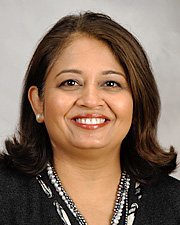 Our Division of Critical Care is primarily based at the largest teaching hospital in the world-class Texas Medical Center, Memorial Hermann-TMC. Through our enduring commitment to provide standard-of-care medicine to the communities to which we serve, our diverse academic faculty lead national healthcare quality initiatives, empower our fellowship trainees, and strive in the development of innovative research in the exciting field of critical care medicine.
The mission of our Team is simple: to provide excellent and compassionate care for the critically ill and their loved ones in the ICU, to train outstanding pulmonary and critical care specialists who will advance our field as leaders in clinical intensive care medicine and education, and to push quality as it applies to all aspects of medical education and healthcare.
With a warm welcome, I personally invite you to visit our Division pages. (Our Division of Pulmonary & Sleep is under my Interim leadership and may be visited here.)  Please take the time to meet our critical care faculty, to explore our highly coveted Pulmonary & Critical Care Medicine Fellowship programs, and participate in our online conversations on Twitter, Instagram, and Facebook.
Thank you for your time in visiting our Division!
Division Director of Critical Care Medicine
Vice Dean of Healthcare Quality
Professor of Medicine