Texas Center for Healthcare Quality Innovation
Team History
The Texas Center for Healthcare Quality Innovation (TCHQI) was established in late 2013 through the state of Texas's DSRIP (Delivery System Reform Incentive Payment) program as a collaboration between UTHealth Houston and Memorial Hermann – Texas Medical Center campus. The TCHQI has worked on improvement initiatives in inpatient and ambulatory settings.
Team Mission
TCHQI aims to accelerate quality and patient safety in healthcare through innovative data analytics, dashboards, and continuous improvement methodologies such as systems engineering and Lean Six Sigma.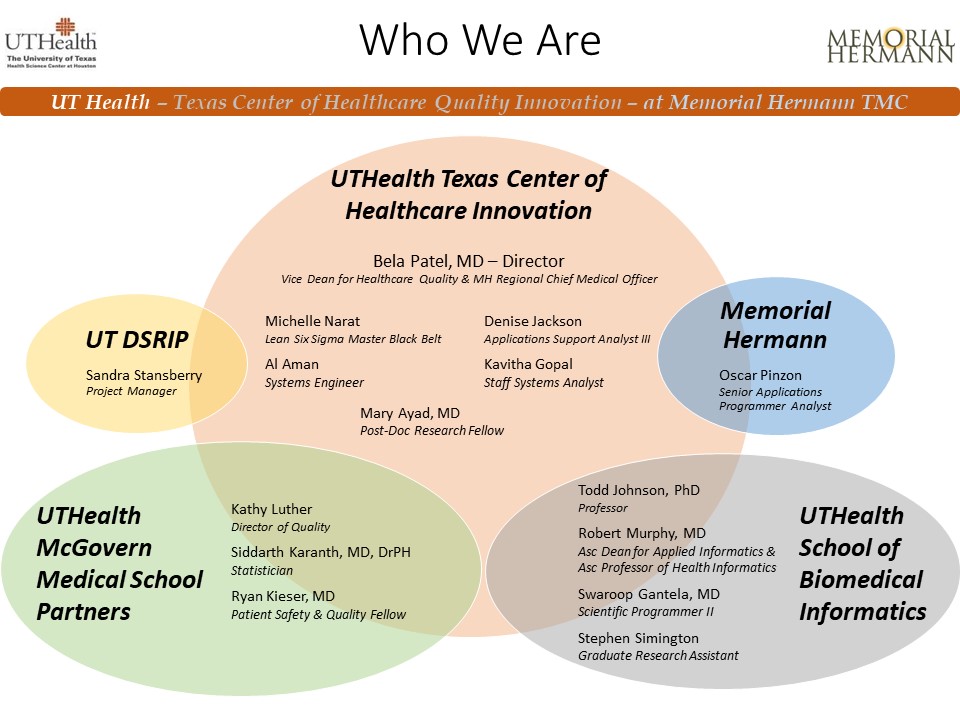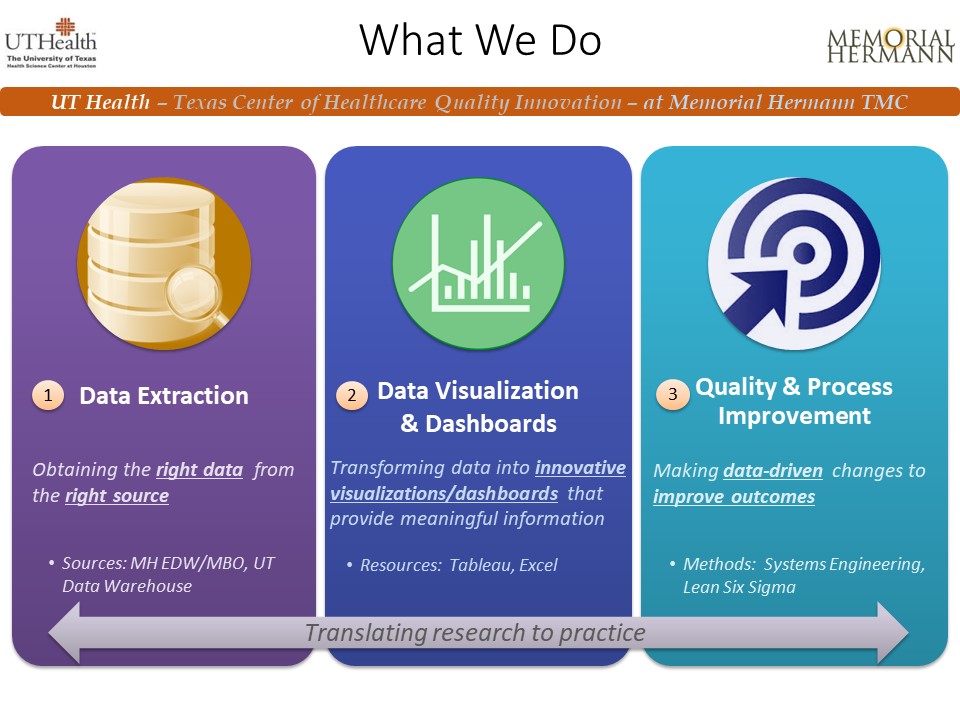 Current Projects
Since the group's inception, the TCHQI has been engaged in various initiatives and developed over 40 dashboards and reports that range in scope and size.  Some are at the individual patient level, where data elements are shown throughout an encounter, while others may be at an aggregate level, where data is summarized for patients within a unit or specified group.  The frequency of dashboard updates ranges from daily to weekly to monthly, depending on customer needs and appropriateness.
A few of TCHQI's main current projects are listed below: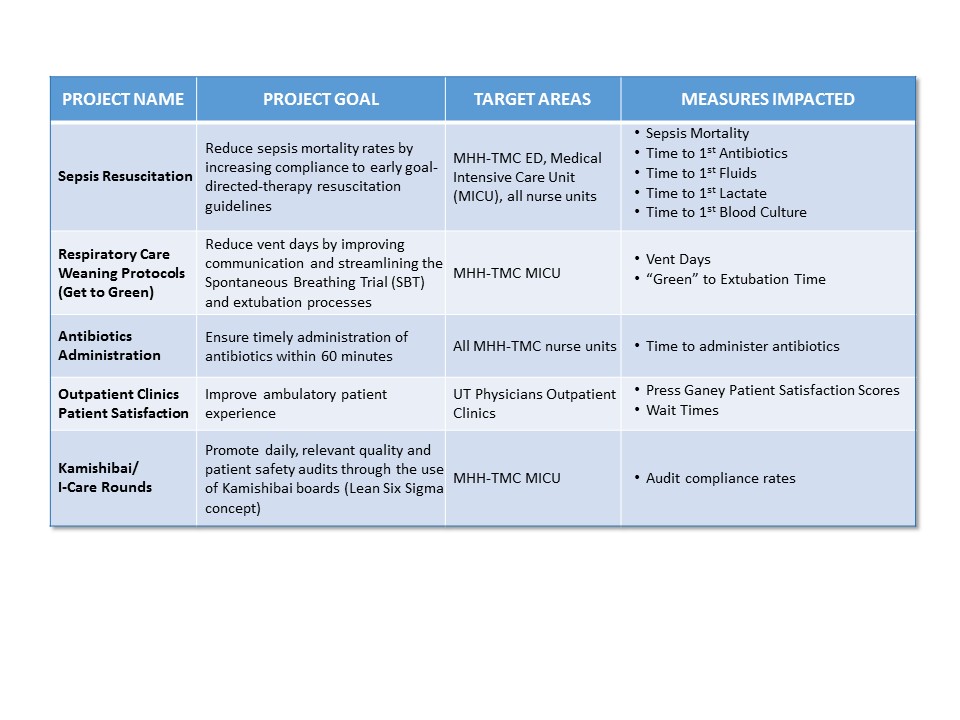 ProjectProfile: Get to Green
The "Get to Green" project has been one of TCHQI's ongoing initiatives (implemented in 2015) targeting the reduction of overall vent days in Medical Intensive Care Unit (MICU) patients. The main intervention in this quality project was implementing a "Get to Green" tool. This tool centralizes and serves as the main source of information in real-time about the patient's readiness for a Spontaneous Breathing Trial and, ultimately, discontinuation of the mechanical ventilator. The tool has been integrated into the MICU's daily workflow and clinical rounds.  There are efforts to implement an automated version of the Get to Green tool. This tool will integrate with the EMR system, allowing the electronic capture of the Get to Green data elements (instead of manual) and real-time notification once a patient meets the defined criteria. Since the start of Get to Green, average vent days have decreased from 4.90 to 3.10 (December 2017).
Impact to Healthcare
With the immense amount of healthcare data available and a wasteful healthcare delivery system, an opportunity exists to utilize timely and meaningful information to improve patient outcomes.  By giving the right people the right information at the right time, we are enabling data-driven changes in clinical and operational healthcare settings.
---
Team Members
Bela Patel, MD – Director (Vice Dean for Healthcare Quality & Memorial Hermann Hospital's Regional Chief Medical Officer)
Mary Ayad, MD – Post-Doctoral Research Fellow
Al Aman – Systems Engineer
Denise Jackson – Applications Support Analyst III
Kavitha Gopal – Staff Systems Analyst
Michelle Narat – Lean Six Sigma Master Black Belt
Memorial Hermann – Enterprise Analytics, Information Systems Division
Oscar Pinzon – Senior Applications Programmer Analyst
UTHealth Houston Healthcare Transformation Initiatives
Sandra Stansberry – Project Manager
UTHealth Houston McGovern Medical School Partners
Siddarth Karanth, MD, DrPH – Statistician
Jean McBride – Director, Process Quality and Improvement
UTHealth Houston McWilliams School of Biomedical Informatics
Swaroop Gantela, MD – Scientific Programmer II
Todd Johnson, PhD – Professor
Robert Murphy, MD – Associate Dean for Applied Informatics & Associate Professor of Health Informatics