Pulmonary & Critical Care Medicine Fellowship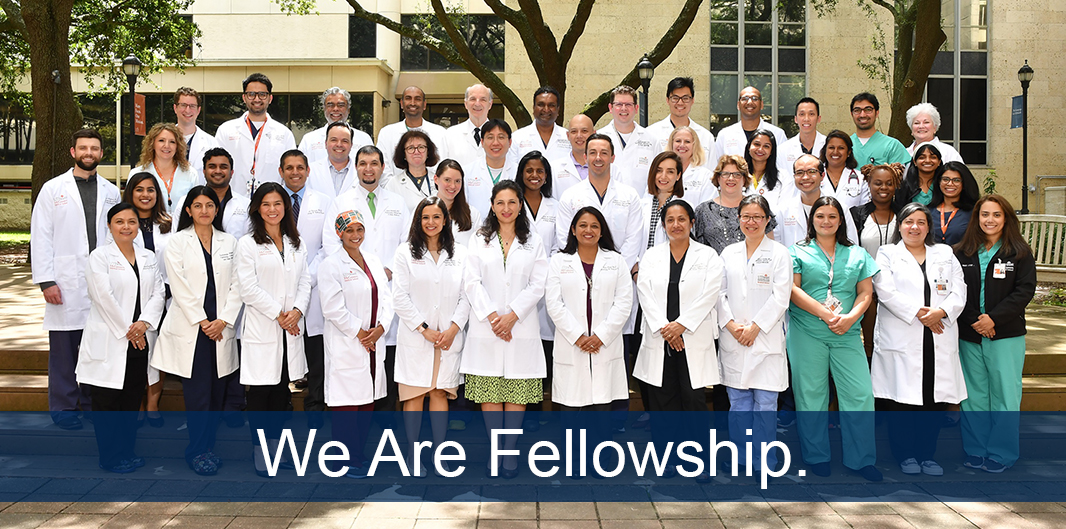 We offer a comprehensive clinical three-year Pulmonary and Critical Care medicine (PCCM) fellowship program for physicians who are board-eligible or board certified in Internal Medicine, as well as a two-year Critical Care Medicine fellowship program for trainees graduating from Emergency Medicine or Internal Medicine residency training or have completed a separate Pulmonary Disease Fellowship. Our program focuses on teaching the principles and management of pulmonary, critical care, and sleep medicine to the next generation of physicians.
Fellows engage in the following patient care and education realms:
Comprehensive Sub-Specialty Critical Care
Our fellows care for patients at Memorial Hermann-TMC, a tertiary referral center and the busiest Level One Trauma Center in the country. At Memorial Hermann, the fellow receives comprehensive clinical education in caring for critically ill patients across the spectrum of Intensive Care Units. Our fellows acquire specific skills insertion of thoracostomy tubes, management of difficult airways, right heart catheterization, and point-of-care ultrasound (POCUS), in addition to routine ICU procedures.
---
Pulmonology and Interventional Pulmonology
Our fellows care for diverse patients across the spectrum of acute and chronic lung disease at Memorial Hermann-TMC, Lyndon B. Johnson (LBJ) General Hospital (a part of Harris Health), MD Anderson Cancer Center, Kindred Hospital Houston Medical Center, as well as TIRR Memorial Hermann, a world-renowned rehabilitation hospital. Our fellows acquire specific skills in fiberoptic bronchoscopy, endobronchial ultrasound, electromagnetic navigational bronchoscopy, laser and argon plasma coagulation, insertion of tracheal and bronchial stents, endobronchial brachytherapy, cryobiopsy, and percutaneous tracheostomy.
---
Ambulatory Care
Our fellows care for diverse patients across the spectrum of ambulatory pulmonary and sleep services in UT Physicians Subspecialty Pulmonary Clinics, Memorial Hermann Medical Plaza Clinic, as well as both LBJ General Hospital and Smith Clinic (a part of Harris Health).
---
Scholarly Activity – Research and Quality Improvement
All fellows participate in research and quality improvement projects under the guidance of faculty mentors. The results of these projects are presented nationally at the American Thoracic Society, Society of Critical Care Medicine, and the American College of Chest Physicians meetings annually.
---
Sleep Medicine Experience
All Pulmonary Critical Care fellows gain invaluable sleep medicine experience during their three years. This includes exposure to polysomnographic reading (sleep staging and scoring) and interpretation at the sleep disorders center located at Memorial Hermann-TMC. They also participate in the outpatient evaluation of all sleep disorders (e.g. insomnia, REM sleep behavior disorder, narcolepsy, complex sleep apnea) and weekly sleep conferences.
Fellows interested in more in-depth training and a career in sleep medicine are encouraged to pursue a dedicated one year sleep medicine fellowship in our ACGME-accredited Sleep Medicine Fellowship Program.
For further information on the Pulmonary & Critical Care Medicine Fellowship (3 year PCCM track or 2 year CCM track), please contact:

Mark T. Warner, MD CMQ
Program Director, Pulmonary and Critical Care Medicine Fellowship
6431 Fannin Street | MSB 1.434 | Houston, Texas 77030
713-500-5431 tel | 713-500-6829 fax
Mark.T.Warner@uth.tmc.edu

Tanja Calixto, C-TAGME
Program Manager, Pulmonary and Critical Care Medicine Fellowship
6431 Fannin Street | MSB 1.434 | Houston, Texas 77030
713-500-6861 tel | 713-500-6829 fax
Tanja.Calixto@uth.tmc.edu