Smith Clinic Rotation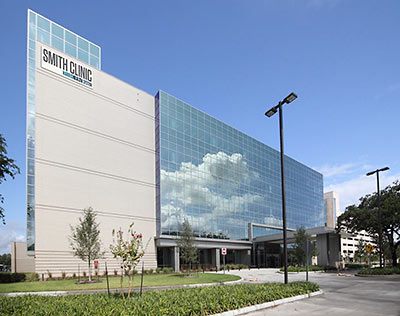 The county hospital also provides outpatient experience at a weekly sleep clinic for fellows with patient contact occurring in a ½ day per week (Thursday mornings-8 am to 12pm).
There are several unique aspects of the rotation through the Quentin Meese Hospital which adds great educational value to the overall experience for our sleep fellows:
The patient population covered by the Harris County Hospital District (HCHD) Sleep Center is unique. The Harris County Hospital District (HCHD) is the nation's fifth largest public metropolitan health system according to the American Hospital Association. The HCHD consists of three hospitals, eleven community health centers and five school-based clinics. We also serve Thomas Street clinic, a freestanding HIV/AIDS treatment facility providing medical and psychological services to residents of Harris County diagnosed with HIV/AIDS. Thomas Street Health Center provides health care services for more than 26,000 patients. Whereas the patients at Memorial Hermann Hospital are mostly funded, the patients seen and referred to the HCHD are mostly indigent with minimal resources.
This patient demographic provides unique learning opportunities. We see and treat many patients that have more advanced disease (e.g. obesity hypoventilation syndrome with severe pulmonary hypertension, decompensated congestive heart failure with Cheyne Stokes Pattern of breathing on polysomnogram). Our fellows will also learn how to manage, council and treat patients with little to no resources hence affording them experience in and strengthening their skills of system based learning. We also serve a generally overweight population and hence we see more severe obstructive sleep apnea. As part of HCHD policy, funding for CPAP/BiPAP/ASV is not currently provided. The fellows learn how to work with basic resources and practice tremendous interpersonal and communication skills when working with the patients, referring physicians and often durable medical equipment companies (who provide the CPAP machines) to work through the best treatment approach which often is multidimensional. We provide our patients with vendor options and provide additional assistance in attempting to find equipment to treat specifically obstructive sleep apnea. In addition, since we do see a fair number of Medicare and Medicaid patients, the fellows learn about the changes in the regulation of sleep medicine and often the obstacles to effective treatment of their patients. The fellows will gain a unique experience therefore in patient care, system based practice, practice-based learning and interpersonal and communication skills. In the past our fellows have worked on several quality improvement projects and will be continually encouraged to do so.
The fellows are also exposed to more practical aspects of sleep medicine (again due to the patient demographic and treatment limitations). Since the majority of our patients obtain their own CPAP machines, the sleep fellows get a hand on experience of setting CPAP pressures, checking existing pressures on CPAP machines and adjusting the pressures if so prescribed. They also are trained in CPAP mask fitting, educating the patients in regards to 'CPAP ramps' and 'humidifier applications' in addition to reviewing downloaded information from the 'smart card' to check for compliance. As part of our work up of patients who report insomnia we also provide Actigraph watches to those whom we deem are appropriate. The fellows will then interrogate the information with the help of a sleep diary and formulate a report in regards to sleep wake behavior and likely diagnosis. Patients are also referred to us from transporting companies for the screening and evaluation of potential sleep disordered breathing. The sleep fellows learn how to make a decision as to when it is appropriate to clear a professional driver for work. This includes knowledge of which patients are considered 'high risk' and what follow up is required to maintain a driving license. Some commercial drivers are sent for evaluation with maintenance of wakefulness test (MWT) which encourages the fellows understanding of when to order this test from a legal standpoint and how to conduct and interpret them.
We see a variety of insomnia patients ranging from paradoxical insomnia, psycho physiologic insomnia, and insomnia associated with a medical diagnosis and primary insomnia. Our fellows get the opportunity to work with these patients more extensively and learn about cognitive behavioral therapy and appropriate and inappropriate pharmacologic treatment options. We do not have all the pharmacologic treatment options that are available for the treatment of narcolepsy hence again the sleep fellows gain experience in using alternative medications (e.g. selective serotonin reuptake inhibitors) in the management of cataplexy.
https://www.harrishealth.org/locations-hh/Pages/smith-clinic.aspx
Harris Health Site Director
Dr. Majid (Ruckshanda.Majid@uth.tmc.edu)