Greetings from the Interim Division Director of Pulmonary and Sleep Medicine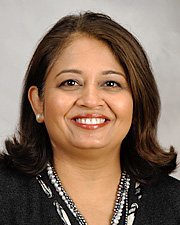 Welcome to our Division of Pulmonary & Sleep Medicine, here at the McGovern Medical School!  We are based in the largest teaching hospital at the world-class Texas Medical Center, Memorial Hermann-TMC.  Our talented academic faculty practices inpatient consultation and outpatient pulmonology as well as outpatient sleep medicine at multiple locations in beautiful Houston, Texas.  In order to offer broad convenience to our city's large diverse communities, all of whom we serve, we offer our unique skill-sets of pulmonary function testing, cardiopulmonary exercise testing, diagnostic and advanced interventional bronchoscopy techniques, thoracentesis, and sleep studies (polysomnogram is a sleep study).
Straightforward excellence in diagnosing and treating lung illness and sleep disorders is the fundamental reason why we do what we do.  Our mission is clear: to diagnose and to heal pulmonary and sleep disorders (like sleep apnea and insomnia), to palliate our patients' in their medical journey, and to train outstanding pulmonary and sleep specialists who will advance our field as leaders in clinical medicine and education.
I warmly welcome you to visit our Division pages (Our Division of Critical Care Medicine is under my leadership and may be visited here.).  Please, take the time to virtually meet our faculty and to explore our prestigious Sleep Medicine Fellowship Program.  Feel free to engage in our online conversations on Twitter, Instagram, and Facebook.
Thank you for stopping by our Division!
Interim Division Director of Pulmonary & Sleep Medicine
Division Director of Critical Care Medicine
Vice Dean of Healthcare Quality
Professor of Medicine