Clinic for Bronchiectasis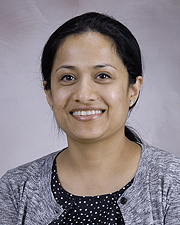 Reeba Mathew, MD
Bronchiectasis
Primary Ciliary Dyskinesia
CALL TO MAKE AN APPOINTMENT | 832-325-7222
Monday Afternoons: 1:00 pm to 5:00 pm
---
The Clinic for Bronchiectasis
---
At the Clinic for Bronchiectasis, we are committed to improving the lives of our patients with bronchiectasis.  Our priorities are to alleviate symptoms and improve the function of our patients' everyday lives.
As part of an academic tertiary referral center, our clinic offers state of the art, evidence-based management of bronchiectasis.  This includes confirmation of the bronchiectasis diagnosis, genetic testing, medication including antibiotic selection according to national guidelines, education on airway clearance techniques, inhaler use training, smoking cessation therapies, and pulmonary rehabilitation.  Also, in collaboration with our colleagues at Memorial Hermann Hospital-Texas Medical Center, we offer advanced therapies for selected patients with severe disease including procedure-based management of hemoptysis (coughing up large amounts of blood) and surgical intervention for the same and lung transplantation.
Our Clinic is also the adult extension for the pediatric Primary Ciliary Dyskinesia Clinic which is one of few designated Primary Ciliary Dyskinesia Foundation Research and Clinical Network Centers in the country and one of two in the state of Texas.
What is Bronchiectasis?
Bronchiectasis is a chronic irreversible lung condition in which there is inflammation and frequent infections in the airways. The airways become thickened and dilated, mucus builds up and airflow obstruction and infections develop. Patients have cough with thick sputum on most days. Other symptoms include shortness of breath, wheezing, coughing up blood and chest pain. Disease course involves frequent office visits, hospitalizations and need for antibiotics.
Bronchiectasis has multiple causes some of which include cystic fibrosis, primary ciliary dyskinesia, defective host immunity, Young's syndrome, rheumatic and systemic diseases, pulmonary infections, airway obstruction, allergic bronchopulmonary aspergillosis (ABPA) and cigarette smoking.
Testing involves lab tests such as blood counts, immunoglobulins, and microbiologic testing. Depending on the cause, additional tests such as sweat chloride test, genetic tests and rheumatologic tests are obtained. Chest X-ray, lung function test and chest computed tomographic (CT) scans are obtained for diagnosis and treatment.
Mission of Clinic for Bronchiectasis
We break down our mission statement into four key focus areas: clinical care, community, education, and research.
Clinical Care:  To provide a compassionate, comprehensive, state of the art, and evidence-based approach to the diagnosis and treatment of patients with bronchiectasis

Community: To disseminate awareness and educate the public about the spectrum of bronchiectasis

Education: To train future specialist physicians in the diagnosis and empathetic treatment of patient living with bronchiectasis

Research: To advance the science and contribute to the knowledge in bronchiectasis through cooperative and multidisciplinary involvement in discovering novel ideas on the causes, mechanisms of disease development, and disease progression, all while exploring new avenues of treatment
Meet Our Physician
The physician leading the Clinic for Bronchiectasis is Dr. Reeba Mathew.  Dr. Mathew is board certified in Internal Medicine, Pulmonary Medicine, Critical Care Medicine and Sleep Medicine.  She is an Associate Professor at the McGovern Medical School at UTHealth.
A dedicated leader, Dr. Mathew serves as the Medical Director of the UT Physicians Pulmonary and Sleep Medicine Clinic at University of Texas Professional Building (UTPB) and the Co-Director of the Sleep Disorders Center at Memorial Hermann Hospital – Texas Medical Center in Houston.
---
Clinic Location, Day and Times
UT Professional Building

6410 Fannin Street, Suite 600
Houston, TX 77030
Monday 1:00 pm to 5:00 pm
Ph: 832-325-7222; Fax: 713-512-2247
---
Patient Resources