Lyndon Baines Johnson Hospital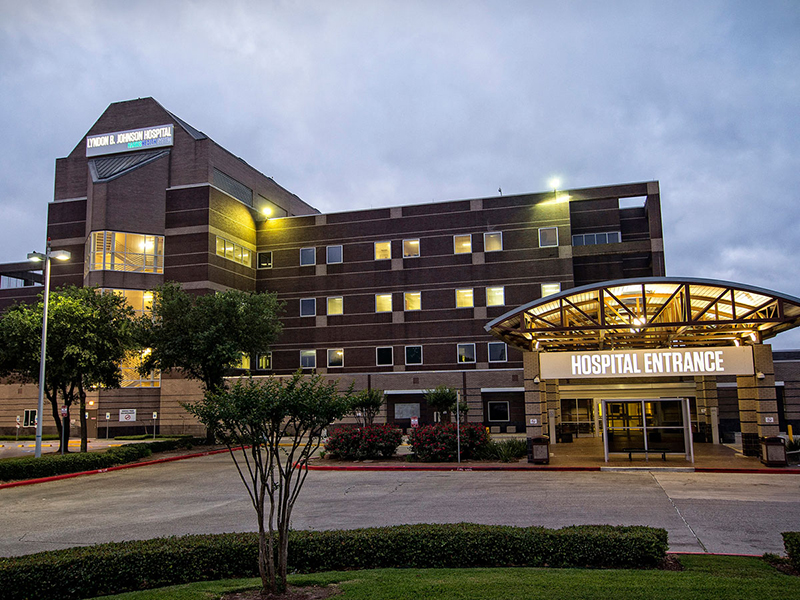 Lyndon Baines Johnson Hospital (LBJ) is a full-service general hospital which opened in mid 1989. The University of Texas took over its professional staffing in July 1990. It is owned and operated by the Harris Health System to handle patient care for the northern half of the county, which has over 300,000 residents registered for services. LBJ is located on the 610 Loop, twelve miles north-northeast of the medical school. This teaching hospital allows expansion of the school's educational, research, and clinical programs. Its volume of public patients with severe disease provides experiences complementary to those in the department's other clinical facilities.
The hospital has 430,800 square feet on four floors, with 328 beds, a joint medical-surgical intensive care unit, six operating rooms, laboratories, a heart station for non-invasive cardiac tests, and a suite for gastroenterology and pulmonary procedures. State of the art technology and equipment are available for monitoring patients and performing procedures. Most patient rooms have four beds, and the remaining rooms have one bed for isolation. The facility is currently being renovated to provide patient rooms with two beds and an expanded observation unit within the emergency department. There are 16 intensive care unit (ICU) beds and 16 monitored intermediate care beds.
There are eight general internal medicine teams, with each team on call every fourth day. Each team consists of one to two residents, two interns, and several students managing up to 20 patients. The ICU team consists of four upper level residents and four to five interns. Full-time Medicine faculty make teaching rounds daily. The Medicine Clinic on the first floor sees hospital follow-ups and internal medicine consultations. All subspecialties have weekly clinics and active consult services. Medicine house staff rotate in the emergency room as well.
Morning/intake reports take place daily in addition to daily noon conferences. Two chief residents are on site, staffing one medicine team and providing teaching and guidance for residents.
LBJ pediatrics includes general wards, ER, nursery, and a level II NICU, which are all staffed by residents. The Pediatrics department has 27 general beds, 13 NICU beds, 30 Newborn Special Care beds, and 40 bassinets for Normal Newborns. There is also a busy outpatient clinic, which is covered daily by one of the wards residents. The wards service consists of an upper level resident and three to four interns. The nursery is covered by one intern, with assistance of the floor team. The NICU is run by one to two upper level residents and three to four interns with a fellow always in house.