GSEC Career Development Seminars
The  Graduate Student Education Committee hosts yearly career development seminars to provide students with information about non-traditional career choices  in academia, industry, and entrepreneurial ventures.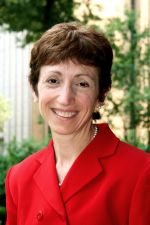 Roberta Ness, M.D., MPH
Professor
Vice President for Innovation
James W. Rockwell Professorship in Public Health
Department of Epidemiology, Human Genetics & Environmental Sciences
UTHealth School of Public Health
Wednesday, March 1, 2017
Noon – 1:30 p.m.
MSB B.500
"So you think you can innovate?"
Dr. Ness has often been called one of America's foremost experts in innovative thinking. She is author of Innovation Generation, a systematic method for how anyone can become more innovative and the accompanying workbook, Creativity in the Sciences. More recent books include: Genius Unmasked, the story of how genius scientists think, and The Creativity Crisis, about how our system of science could better support revolutionary creativity.
Dr. Ness has given over 60 talks and workshops on innovative thinking at America's top universities, professional societies, and R&D intensive corporations.
Past Speakers
November 7, 2016
Nancy Gough, Ph.D., Editor, Science Signaling
November 13, 2015
Joan Slonczewski, Ph.D., Professor of Biology, Kenyon College, science fiction author
February 27, 2014
Jack Gill, Ph.D., co-founder, Vanguard Ventures, Research Scientist, Lecturer and Faculty at Rice University, Harvard Medical School and MIT
March 20, 2013
Neal Lane, Ph.D. , Senior Fellow, Science and Technology Policy,  James A. Baker III, Institute for Public Policy, Rice University
March 28, 2012
Kalyani Narasimhan, Ph.D. Chief Editor, Nature Neuroscience
Bruce Butler, Ph.D. Vice President, Research and Technology, UTHealth
January 14, 2011
Katrina Kellner, Ph.D. Editor, Translational Medicine, Science
Peter Seferian, Ph.D. Patent Manager, The University of Texas Medical School at Houston
March 17, 2010
Amy Cheng Vollmer, Ph.D. Professor, Swarthmore College
October 15, 2009
Aurora Seminara, Ph.D. Sr. Scientific Director, FCB Healthcare
Karen Uray, M.D. Assistant Professor, The University of Texas Medical School at Houston
April 7, 2009
Alex Hoffmaster, Ph.D. Chief, Zoonoses and Select Agent Laboratory, Bacterial Zoonose Branch, Centers for Disease Control and Prevention
Meredith Moore, Ph.D. Assistant Professor, The University of Texas Medical School at Houston
March 3, 2008
Alicia Dombroski, Ph.D. Deputy Director, Division of Extramural Activities, National Institute of Dental and Craniofacial Research
Jun Liu, Ph.D. Assistant Professor, The University of Texas Medical School at Houston
November 29, 2007
Joye Purser, Ph.D. Senior Legislative Assistant to Congresswoman Eddie Bernice Johnson, Representative 30th Congressional District, Texas
Kirsten Matthews, Ph.D. Program Manager, Science and Technology, The Baker Institute, Rice University
April 17, 2007
Julie Harless, Ph.D. Professor of Biology, Montgomery College
Jason Moore, MS, MBA Director, Industry Programs, BioHouston Organization
March 22, 2006
C. Thomas Caskey, M.D. Scientific Director, Institute for Molecular Medicine, The University of Texas Health Science Center at Houston
If you have topic suggestions for career development activities, please email us or call GSEC at 713.500.5605.