Conferences
Conferences are targeted to enhance the medical knowledge of our trainees through didactics and interactive learning. The structure and frequency are described further below.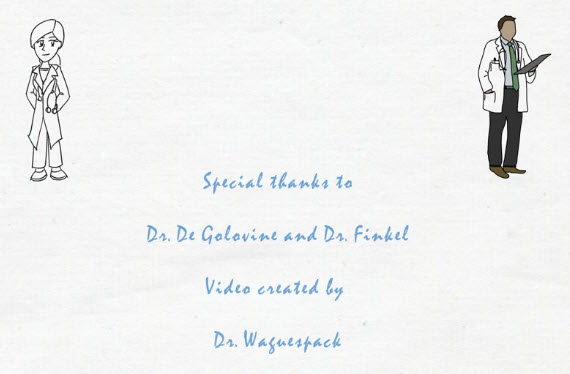 To view the full video, visit
https://sho.co/1CXY8
Fellows Introductory Series: Lectures in the first two months geared to provide important didactic information on core topics.
Glom-Con Video Conference: Held on Tuesdays online at 10:00am year-round. Online didactic presentations on glomerular kidney disease led by invited experts in their field.
Renal Grand Rounds: Held on Wednesdays at 1:30pm year-round at Methodist Hospital, Bluebird Auditorium, Neurosensory Building, 1st Floor. CME accredited. This is a clinical conference, which includes a core course in renal pathology, radiology and urology along with series of clinical talks on renal related subject matter from experts in the field across the local and national level.
Nephrology Monthly Conferences: Faculty-Led conferences that meet on Mondays year-round. They will include Renal Morning Reports, Renal Physiology Conference, and Morbidity and Mortality. Conferences to be led by Dr. Finkel and will include faculty and fellows to have roundtable, case-based discussions from recent renal consults.
Nephrology Journal Club: Fellows-led journal club will consist of faculty assigned articles to be summarized and discussed with the fellows, faculty, and rotating residents. The selected articles will stimulate discussion on a topic relevant to the current clinical practice of nephrology. Lunch is provided.
Renal Pathology Conference: Meets once monthly from September-June. The assigned fellow will prepare the case history for distribution prior to the scheduled conference with the assistance and case selection by Dr. Glass, UT Renal Pathologist. Fellows are expected to come to conference prepared with a differential diagnosis. Fellows will be chosen to share their differential diagnosis as well as review the biopsy slides with the assistance of Dr. Glass.
Board Review: Bi-Monthly meeting among fellows, led by the chief fellow. Content will include board type questions for review and discussion.
UTH Renal Grand Rounds: Renal didactics to be held quarterly. Select renal faculty with the division will present fellow level didactic lectures aimed to cover ACGME approved nephrology topics.
Nephrology Wellness Meetings: Held monthly to discuss on-going and upcoming fellowship issues and ideas and to promote fellow appreciation. Lunch is provided.
Transplant Biopsy Conference: Meets monthly on Tuesday, led by renal pathology and transplant nephrology.
Internal Medicine Grand Rounds: Thursday at noon, Weekly didactic lecture by faculty or visiting Professors on a wide range of topics, many relevant to nephrologists.