Tympanogram
The TYMPANOGRAM measures the mobility of the ear drum and the small bones in the middle ear. The ear drum moves in and out when varying pressures are applied to the ear canal. The movement of the drum is recorded on a graph.  Examples of the three most common types of tympanograms are included below:
TYPE A:  Normal movement of the drum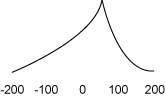 TYPE B: No movement of the ear drum, most likely due to long standing fluid in the ear or scarring. (Remember B is for bad.)


TYPE C: Decreased movement of the ear drum, suggestive of possible fluid in the ear with negative pressure.

CONTRAINDICATIONS:
NEVER DO TYMPANOGRAM ON A PATIENT WITH A BASE OF SKULL FRACTURE OR HEAD TRAUMA!
NEVER DO TYMPANOGRAM ON A PATIENT WHO HAS HAD RECENT EAR SURGERY!
For a more complete detailed explanation of audiometry and tympanometry please refer to any standard Audiology or ENT (Ears Nose, and Throat) textbooks.