Morcos named chair of neurosurgery
---
---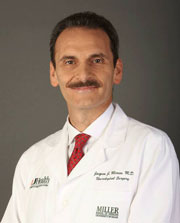 Executive Dean John Hancock, MA, MB, BChir, PhD, ScD, announced that following an international search, Jacques Morcos, MD, a highly renowned neurosurgeon, will join McGovern Medical School as the new chair of the Vivian L. Smith Department of Neurosurgery, effective Dec. 11. He will serve as co-director of UTHealth Houston Neurosciences alongside Louise McCullough, MD, PhD, chair of the Department of Neurology, and will be appointed as the Nancy, Clive and Pierce Runnells Distinguished Chair in Neuroscience.
Morcos is currently co-chair of the Department of Neurosurgery at University of Miami Health System. He is a professor of clinical neurosurgery and otolaryngology, director of cerebrovascular surgery, director of skull base surgery, and division chief of cranial neurosurgery at Jackson Memorial Hospital in Miami. He has served on the University of Miami Miller School of Medicine faculty for 28 years, joining in 1995 as an assistant professor of clinical neurosurgery and otolaryngology.
A native of Lebanon, Morcos attended the American University of Beirut, where he earned his medical degree. He completed a residency in neurological surgery at University of Minnesota Hospital and Clinics, a fellowship in cerebrovascular surgery at University of Florida College of Medicine, and a fellowship in cerebrovascular and skull base surgery at Barrow Neurological Institute in Phoenix.
His clinical areas of expertise span cerebrovascular lesions, including aneurysms, brain AVMs and cavernous malformations, moyamoya disease, stroke, carotid endarterectomy, bypass surgery, microvascular decompression for trigeminal neuralgia and hemifacial spasm, as well as skull base lesions such as pituitary adenomas, meningiomas, acoustic neuromas and head and neck cancers, as well as radiosurgery.
Morcos' research includes virtual reality applied to neurosurgical navigation, an AVM registry and he is co-founder of the International Registry for STA-MCA bypass in cerebral ischemia. He has trained dozens of fellows in cerebrovascular and skull base surgery and is highly active in national and international neurosurgical societies. He is currently president-elect of the American Association of Neurological Surgeons, assuming the presidency in 2024, as well as president-elect of the World Federation of Skull Base Societies and will assume the presidency in 2025.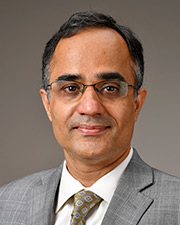 Hancock also announced that Nitin Tandon, MD, will take on a new role as the first vice president for strategy and development at UTHealth Houston Neurosciences, effective Sept. 1.  He will work closely with the Dean's Office, UTHealth Houston President Giuseppe N. Colasurdo, MD, and Morcos to bolster UTHealth Houston Neurosciences' national reputation, research rankings, and fundraising activities.  Tandon, who will continue serving as chair ad interim for the department until the arrival of Morcos, will remain professor of neurosurgery, director of the Epilepsy Surgery Program, co-director of the Texas Institute for Restorative Neurotechnologies, and director and leader of UTHealth Houston Neurosciences' glioma and epilepsy clinical programs.
"We look forward to the continued growth of the Vivian L. Smith Department of Neurosurgery and UTHealth Houston Neurosciences, and congratulate Dr. Morcos and Dr. Tandon on their new roles," Hancock said.
---