Arias named AAC Editor-in-Chief
Cesar Arias, MD, PhD, Margaret and Herbert DuPont Chair in Infectious Disease and professor of internal medicine, has been named the editor-in-chief of Antimicrobial Agents and Chemotherapy (AAC), an interdisciplinary journal produced by the American Society for Microbiology (ASM). Arias'…
---
McGovern students give back while social distancing
Even in the midst of a pandemic, and facing unprecedented changes to their school curriculum and social lives, students at McGovern Medical School are finding ways to give back and support their community. More impressively, they are doing it all…
---
Task force unites COVID-19 research
Recognizing the importance of a coordinated approach, UTHealth has convened a university-wide task force to help steer the university's response on COVID-19 research. The pandemic has resulted in research interest throughout the world with substantial funding opportunities. Charles "Trey" Miller,…
---
Faculty pivot during new normal
COVID-19 has wrought has unprecedented new normal to McGovern Medical School. School shutdowns, mandates from local governments, and a novel coronavirus are forcing faculty to reimagine clinical care and employ new technologies as the work-life balance boundaries stretch to the…
---
Facts versus fiction – breaking down COVID-19 myths
Since the outbreak of COVID-19, rumors and misinformation about the virus seem to be spreading just as quickly, if not more quickly, than the virus itself. In the midst of a pandemic, false information can be dangerous and lead to…
---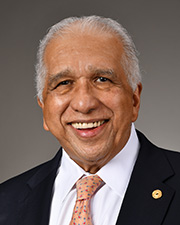 Rios selected for Panamanian Independence honor
Adan A. Rios, MD, professor of oncology in the Department of Internal Medicine, has been selected as the Flag Bearer for the Independence Day Celebration in his native country of Panama Nov. 3. Rios received a letter from Panamanian president…
---
---
LBJ Hospital wins national award for its Farm Food Program
​A farm-to-hospital nutritional program at Harris Health System's Lyndon B. Johnson Hospital for patients suffering from food insecurity won top honors as Grand Prize Winner of the 2019 Innovation Challenge Award by the American College of Physicians. The hospital's national…
---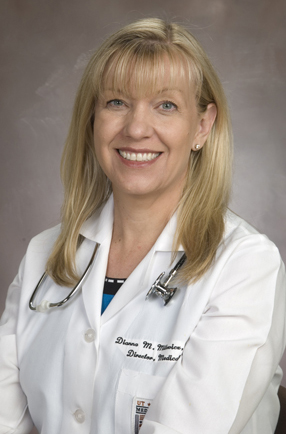 Milewicz receives AHA Merit Award
Dianna Milewicz, MD, PhD, President George Bush Chair in Cardiovascular Medicine, received the American Heart Association's $1 million Merit Award to investigate the genetics related to life-threatening strokes suffered by thousands of children every year.
---
In memoriam: Herbert Fred, MD
Herbert Fred, MD, MACP, 89, died Dec. 30, 2018. He was a professor of internal medicine at McGovern Medical School from 1971 until his retirement in 2016, when he was then appointed professor emeritus.
---