Hazim J. Safi, MD Honored with a Festschrift
---
---
On the morning of Wednesday, March 4, 2020, founding chair and professor of Cardiothoracic and Vascular Surgery at McGovern Medical School, Hazim J. Safi, MD, was presented with a Festschrift, a German term defined as "a book or journal published in honor of a scholar." Throughout his 40+ year career, Safi is credited with the innovation and development of internationally recognized surgical techniques. His work has significantly decreased the rate of paralysis following surgical treatment of aortic disease, and the dissemination of his work has increased the quality of life for thousands of patients around the world.
He has influenced the ways in which surgeons approach aortic repair, and has served as a mentor to countless medical professionals throughout his career; a practice he continues to this day. At Dr. Safi's Festschrift Lecture, his colleagues and peers from all corners of the world, gathered to present on these accomplishments, and reflect on Dr. Safi's contributions and advancements to cardiovascular medicine and surgery. Giants and leaders in the field of Cardiovascular Disease came together to present and celebrate Safi's work with presentations by:
Chair and Professor of Cardiovascular Surgery at Houston Methodist, Alan Lumsden, MD
Vice chair and chief of cardiovascular surgery at Baylor College of Medicine, Joseph Coselli, MD
Chancellor and Professor of Louisiana State University Health, Larry Hollier, MD
Professor, Chief Cardiothoracic Surgery at Westchester Medical Center, Steven Lansman, MD, PhD.
Professor and Chair Ad-Interim of Cardiothoracic and Vascular Surgery at UTHealth, Anthony L. Estrera, MD
Associate Vice President for Clinical Research and Health Care Quality, Professor, and Associate Dean for Hospital Quality at UTHealth, Charles C. Miller, PhD.
Professor and Director of Vascular Surgery at Cedar Sinai Medical Center, Ali Azizzadeh, MD
Professor Emeritus of University Michigan Medicine, Ramon Berguer, MD, PhD.
Professor and Distinguished Teaching Professor at UTHealth, L. Maximillian Buja, MD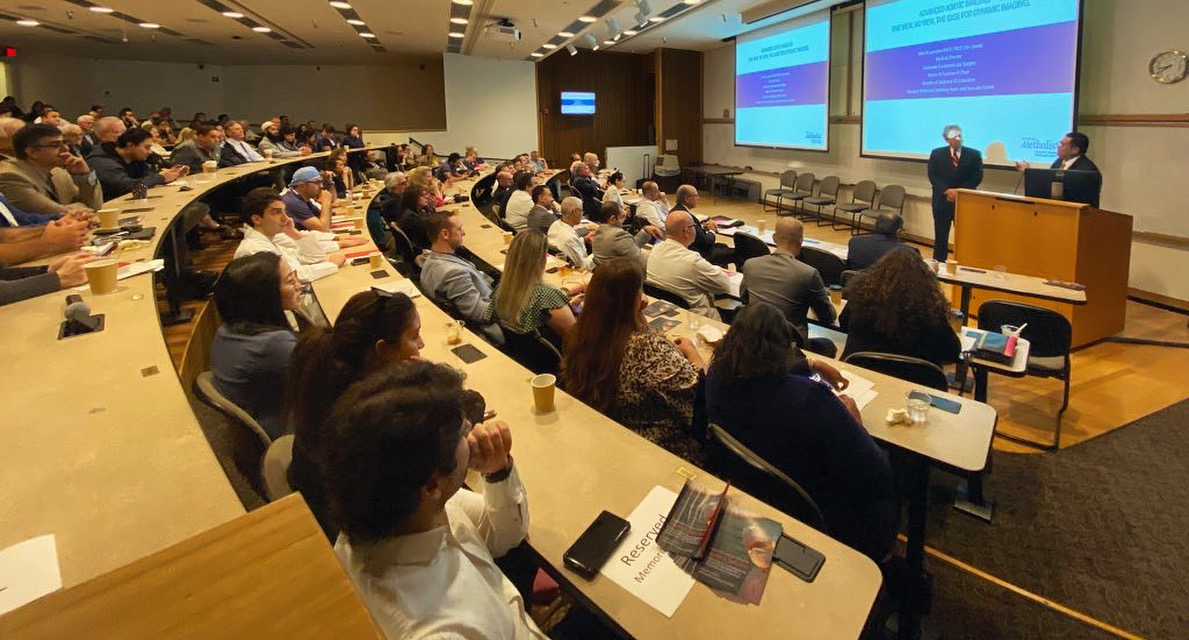 With nearly 200 attendees, a delicious breakfast, and commemorative table with guest book and old photos, the morning was full of reunions, laughs, and a sense of light-heartedness as everyone made their way into the McGovern Medical School Lecture Hall. Making sure to cover the full spectrum of Dr. Safi's career, presentation topics covered the range of his upbringing in Baghdad, his training with E. Stanley Crawford and Michael DeBakey, and his clinical research on Thoracoabdominal Aortic Aneurysm, all the way to his leveled and fair treatment of his coworkers and the devotion he offers as a husband and father. As noted by Dean of McGovern Medial School at UTHealth, Barbara J. Stoll, MD, "This medical school and countless patients, colleagues, students, and trainees are grateful to Dr. Safi for serving as the founding chair of the Department of Cardiothoracic and Vascular Surgery and for his many contributions to science and medicine."
Several components of the Festschrift Lecture are currently available for viewing and reference. We look forward to continuing to work with and learn from Dr. Hazim Safi in the years to come, and congratulate him on his work and legacy in the field of Cardiothoracic and Vascular Surgery.
Recording of the morning's entire lecture series
JVS Cover & Festschrift Program
PowerPoint Slides:
Questions about the event can be directed to: info.ctvs@uth.tmc.edu
-Caliann Ferguson
---