Emergency medicine physician recognized by young physicians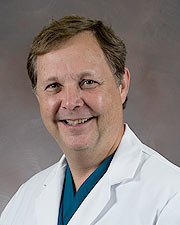 Clinical professor of emergency medicine Dr. Arlo Weltge recently received the J.T. "Lamar" McNew, MD, Award for his service to physicians in training. Weltge was recognized by the Texas Medical Association Resident and Fellow Section (TMA-RFS) during TexMed, TMA's annual conference, in Fort Worth.
The award honors a TMA physician who has provided outstanding mentoring and service to young physicians.
"This is a wonderful award from our new and emerging physician leaders," said Weltge upon receiving the award. "My experience is that no kindness shown to medical students and residents goes unappreciated, but to be recognized for this is a real honor and privilege."
A physician for more than 30 years, Weltge practices emergency medicine at the Memorial Hermann-Texas Medical Center hospital, a Level I Trauma Center, and the Lyndon Baines Johnson General Hospital, a Level III Trauma Center. He is a clinical professor and faculty member in the Emergency Medicine Residency program at The University of Texas Medical School at Houston and serves as medical director for the Emergency Medical Services program at Houston Community College.
Weltge has been active in organized medicine for many years. He has been a member of the TMA House of Delegates for 13 years and has been a consultant to TMA's Council on Legislation for more than 10 years. Currently, Weltge chairs the TEXPAC (TMA's political action committee) Committee on Membership and sits on its Executive Committee.
He has been speaker for the American College of Emergency Physicians and has served on its Board of Directors. Weltge also has served as president of the Texas College of Emergency Physicians.
Weltge served on the Board of Directors of the Texas Alliance for Patient Access in 2002-04 during Texas' medical liability reforms. In Houston, he serves on the Executive Committee for the Star of Hope Mission for homeless residents.
Weltge received his medical degree from UTHealth Medical School, and, in 2013, received its Distinguished Alumnus Award. He completed his residency at Baylor College of Medicine in Houston, and received his MPH from the UT School of Public Health.
The award is named for Dr. McNew, a retired Bryan physician who served in the Brazos Valley region for many years, and who was a primary provider of obstetrical services to women on Medicaid in the area. He also taught at the Texas A&M University System Health Science Center for 20 years.
TMA is the largest state medical society in the nation, representing more than 47,000 physician and medical student members. It is located in Austin and has 112 component county medical societies around the state. TMA's key objective since 1853 is to improve the health of all Texans.
-Pam Udall, Texas Medical Association