Ultrasound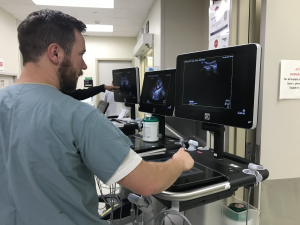 Ultrasonography is a central part of the department's clinical care, education activities, and research. Emergency Medicine residents benefit from a longitudinal ultrasound curriculum integrated with the month to month didactics, a dedicated rotation in the intern year, and opportunities for a senior resident elective, and more. The Emergency Ultrasound Section also assists, where needed, with ultrasound training for medical students, nursing, nonemergency medicine residents, fellows, and faculty.
Equipment available at our facilities
Memorial Hermann-Texas Medical Center
5 GE Venue
8 Sonosite Edge
Lyndon B. Johnson Hospital
3 Sonosite X-Porte
3 Sonosite Edge II
All images are archived for weekly quality assurance reviews.