2024 Residents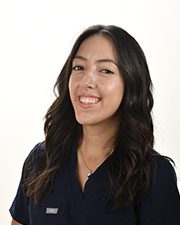 Angie Garay Aceves, MD
Medical School: McGovern Medical School
Undergrad: University of Houston
Hometown: Houston Texas
Activities/Hobbies: Weight lifting, foodie, full time dog mom, longboarding
Why McGovern: From rotating here during my third year and again in fourth year in medical school I was continuously impressed by the character, work ethic, and comradery found in this program. Everyone I worked with was always so kind and helpful and made me feel part of the team.
Interests Within EM: Pain management, global health, ultrasound
Fun Fact: I recently became a parent of a whippet puppy after a decade of wanting one.
---
Phil J. Barker II, MD
Medical School: University of North Carolina Chapel Hill
Undergrad: The Ohio State University
Hometown: Houston, TX
Activities/Hobbies: Exploring new places, all types of food and drinks, anything social, experiencing Houston and being a part of the community
Why McGovern: The emergency department is many people's only access to care, and because of this serves as one of medicine's only true opportunities to meet patients where they are at no matter who they are. With skilled care in the emergency department, patients are able to receive the treatments that they require and healthcare systems are able to adequately address the needs of their patient population. McGovern upholds very similar values as its' healthcare workers address the needs of their unique patient population. It is because of this that I knew McGovern would be an ideal location to train and grow as a Physician.
Interests Within EM: Social EM and Disaster Medicine
Fun Fact: I grew up riding horses. (Yes, should've been a cowboy is my favorite country song.)
---
Connor Barry, MD, MBA
Medical School: Texas Tech University Health Science Center – Lubbock
Undergrad: Texas A&M
Hometown: The Woodlands, TX
Activities/Hobbies: Trying new restaurants, running and traveling to national parks
Why McGovern: Trifecta of a fantastic training environment, superb education and research opportunities, all while being a down to earth program with supportive and encouraging faculty and residents. Huge added bonus of being in Houston- an incredible city in regards to diverse patient population, hospitality and opportunities. Plus it's close to family!
Interests Within EM: Medical Innovation, Education and Administration
Fun Fact: I've started a nuclear reactor
---
Lauren Bayliss, MD
Medical School: University of Texas-Rio Grande Valley School of Medicine
Undergrad: University of Texas at San Antonio
Hometown: Seguin, Texas
Activities/Hobbies: Foodie, Volleyball (indoor and beach), Interior Design/DIY home projects
Why McGovern: I'm pretty open-minded regarding my future in EM. Advisors recommended I try and narrow down residencies by county vs community vs academic location but I didn't want to limit my experience. I was looking for a program that could provide great teaching experiences in all three sections of EM and between the Memorial Hermann system, LBJ county hospital, and McGovern Medical School this program definitely stood out. Additionally, the high volume, high acuity, pediatric, and trauma experiences that you want in a training program were easily checked off my 'residency wish list'. I have a interest in quality improvement and knew there would be opportunities to work with the Quality Assurance/Admin fellows here. Just from reading their website and attending a few virtual meet and greets I felt like this program would be a great fit for me. McGovern sealed the deal by having some of the kindest faculty, program leadership, and residents I met along the interview trail and being located in a great city in my home state. I was extremely excited when I matched here.
Interests Within EM: Quality Improvement/Patient Safety, Advocacy, Leadership Development
Fun Fact: I played college volleyball at UTSA. We were conference champions three times during my four years there.
---
Sam Beger, MD, MA
Medical School: University of Arizona College of Medicine – Phoenix
Undergrad: Arizona State University
Hometown: Phoenix, Arizona
Activities/Hobbies: Coffee Roasting, Bicycle Touring, Soccer, Pickleball, Tennis, Ice Cream
Why McGovern: Busiest level 1 trauma center in North America? Located in the heart of the most diverse city in the USA? Nasa Astronauts train in the ED here? There is no question this is the place to be. McGovern is a clinical juggernaut with unequivocal training and amazing, invested faculty. The world is your oyster here.
Interests Within EM: Aerospace Medicine, Research, Global Health, Public Health, Ultrasound
Fun Fact: I own a coffee roasting company in Arizona.
---
Omoyeni Clement, MD
Medical School: Zucker School of Medicine at Hofstra/Northwell
Undergrad: Columbia University
Hometown: San Diego, California
Activities/Hobbies: cheffing (not cooking), curating culinary events, taking hip hop dance classes, anything afrobeat, soundcloud remixes, Soulection Radio, outdoor music events, visiting gallery spaces/museums.
Why McGovern: Incredible training, humble personalities, the way current residents spoke of leadership, and importantly: Houston being Black and a Nigerian-heavy city felt like coming home.
Interests Within EM: Pediatrics
Fun Fact: I have triple citizenship
---
Zoë Fisher, MD
Medical School: Saint Louis University
Undergrad: Loyola University Chicago
Hometown: Denver, CO
Activities/Hobbies: photography, outdoor sports, furniture rehab/creating
Why McGovern: Love this city of Houston and the warm weather. Wanted to go to a hospital where the residency training is rigorous and robust so when I'm practicing on my own, I don't feel nervous. McGovern has one of the biggest EDs, huge trauma center, diverse patients, and flight med which made it a great choice.
Interests Within EM: Disaster medicine, women's health, admin
Fun Fact: I was born with 12 fingers – they cut the extra ones off, don't worry 🙂
---
Julia Guo, MD
Medical School: David Geffen School of Medicine at UCLA
Undergrad: University of California San Diego
Hometown: Xi'an, China/Cupertino, CA
Activities/Hobbies: Traveling, doodling, raising plants, and keeping my cat children entertained.
Why McGovern: I have lived in China and California my whole life, and I was ready to explore a new place during residency. I was immediately drawn to the diverse population of Houston and the wide variety of experiences offered at McGovern, from the busiest level I trauma center in the US to LifeFlight to high volume of procedure opportunities. Importantly, I genuinely enjoyed meeting all of the faculties and residents during my interview day!
Interests Within EM: Ultrasound, medical education, and PEM
Fun Fact: I was a dog person until I met my cats
---
Neha Gupta, MD
Medical School: SUNY Downstate
Undergrad: Brooklyn College
Hometown: Queens (NYC)
Activities/Hobbies: Beaches, restaurants, nightlife, dogs, parks, big trees, reading, multi-tasking, cooking, chill hangouts, rager hangouts, all the hangouts
Why McGovern: I was blown away by my interview day and I actually had a fun time during my zoom social (did not have to fake laugh even once)! I've never lived anywhere outside of NYC before so I wanted to venture out. I wanted a big city with diversity in people and activities. I love that McGovern offers phenomenal training, high level of exposure, and a very friendly, welcoming environment.
Interests Within EM: Youth mentorship, teaching, international work, disaster relief
Fun Fact: I volunteered with horses during my free time in MS4 at a therapeutic facility that gives rides to people with mental/physical disabilities.
---
Sullivan Hanback, MD
Medical School: University of Alabama SOM
Undergrad: University of Alabama at Birmingham (UAB)
Hometown: Florence, AL
Activities/Hobbies: Foodie, Bartending, Urban Running, Hiking, Yoga
Why McGovern: I had a great time meeting the residents virtually. This program really gave me a tight-knit family feel where the residents are pushed to do better and supported when they falter. They seemed like a great group of people I could really jive with. Dr. Van Meter was also extremely easy to talk to and demonstrated what I was looking for in a PD. I knew training at the largest medical center in the world and the largest trauma center in the USA would prepare me for anything I may encounter later in my career. The diversity of the patient population here in Houston was also a huge draw. I left my interview day at McGovern with a gut feeling of this is where I am supposed to be.
Interests Within EM: Toxicology, Ultrasound, Medical Education
Fun Fact: Previously hit by a car as a pedestrian.
---
Sadia Jamshad, MD
Medical School: Medical College of Georgia
Undergrad: Augusta University
Hometown: Marietta, GA
Activities/Hobbies: Relaxing, volleyball, ukulele, horseback riding
Why McGovern: After discovering it is one of the busiest EDs in the country, I knew I would get the best training here and that it would prepare me to work in almost any setting after residency. Also, during my interview, all the current residents seemed very friendly, happy, and proud to be a part of the program (which is a great sign!). Plus everyone is so diverse here – in both the program and in Houston in general
Interests Within EM: Ultrasound, medical education, public health
Fun Fact: I can drive manual transmission
---
Emily Leede, MD
Medical School: Dell Medical School
Undergrad: Dartmouth College
Hometown: Fredericksburg, TX
Activities/Hobbies: Running, Cycling, Jump rope, Cuddling with my Cat (Spock)
Why McGovern: Level 1 training + working with populations marginalized by the healthcare system
Interests Within EM: Research, Rural Medicine, Academic Medicine
Fun Fact: I trained for an ran an ultra marathon in Zion National Park (50k) during COVID
---
John McCarthy, MD
Medical School: McGovern Medical School
Undergrad: University of Georgia
Hometown: Houston, TX
Activities/Hobbies: Hot yoga, surfing, abstract painting, trivia
Why McGovern: I loved my EM rotation as an MS4 at McGovern, even though it took place deep in the heart of COVID. The residents, fellows, and attendings were so impressive in the breadth and depth of their knowledge, and they seemed to legitimately love their jobs. I also just love the city of Houston, so it is an honor to be able to serve its population.
Interests Within EM: Pediatric EM
Fun Fact: I was in a movie and a few commercials when I was like 8 years old– I peaked at a young age.
---
Felisha Perry‐Smith, MD
Medical School: Saint Louis University School of Medicine
Undergrad: Boston University
Hometown: Andover, MA
Activities/Hobbies: Brunch, DIY Crafts, Candle Collecting, Netflix, Online Shopping, Traveling
Why McGovern: Houston is an amazing city with lots of diversity. As someone who intends to work in an underserved population, McGovern's commitment to doing that resonated deeply with me. The variety of the program's training sites, patient population, pediatric exposure, high acuity, and overall volume made McGovern stand out to me as an unparalleled training experience.
Interests Within EM: Addiction Medicine, Event/Pre-hospital Medicine, Health Policy, Social EM
Fun Fact: I was in an internal company commercial for Kroger before self-check was common technology and acted as a customer modeling how to properly use the machine.
---
Lara Samarneh, MD
Medical School: UTHealth McGovern Medical School at Houston
Undergrad: The University of Texas at Austin
Hometown: Houston, TX
Activities/Hobbies: Camping, hiking, yoga, fostering cats, and exploring restaurants and bars around Houston
Why McGovern: The Memorial Hermann ER in the Medical Center was my first exposure to Emergency Medicine as an MS1. My EM experience as a medical student here is the reason I ultimately chose this incredible specialty. I appreciate the diversity of our patient population, the eagerness to teach by our faculty, and the excellent level of care given to every patient who enters our ER. I feel extremely comfortable and supported by everyone at McGovern, and know this is an amazing place to become an outstanding Emergency Physician.
Interests Within EM: Ultrasound, Wilderness Med, Global Health, Education
Fun Fact: After graduation, I was fortunate to be able to go on a month long camping trip out West.
---
Fauniel Self, MD
Medical School: McGovern Medical School
Undergrad: UT Austin
Hometown: Grapevine, Tx
Activities/Hobbies: Tennis, going on walks with my husband and our puppy Snoopy, trying out new recipes
Why McGovern: McGovern EM is a great place to train for so many reasons. At McGovern EM, you are a part of a caring and supportive group that strives to provide excellent care to a diverse group of patients with a wide variety of illnesses and pathologies in excellent training facilities. Additionally, Houston itself is a fun and vibrant city with so much to do and explore!
Interests Within EM: Medical education, disaster medicine, health policy and advocacy
Fun Fact: I went to the same high school and was in the same year as Post Malone
---
Audrey Sharp, MD
Medical School: The University of Tennessee Health Science Center
Undergrad: The University of Memphis
Hometown: Memphis, TN
Activities/Hobbies: Working out/running, anything outdoors, spending time with my dog, reading, traveling, trying new foods
Why McGovern: The quality of the both the training and the people. I truly believe there is no better place to train in EM. Between the high volume, high acuity and diversity of patients, McGovern offers a chance to see anything and everything you could imagine. But beyond that I felt an instant connection with both the residents and my interviewers. I knew that at McGovern I would work with people from diverse backgrounds and always feel supported as a female physician. I actually walked away from my interview day with the warm fuzzies.
Interests Within EM: Global Health, Wilderness Medicine, Disaster Medicine
Fun Fact: In high school, I was featured in an article in the local paper about the barefoot running craze. I was referred to as "a poster girl for barefoot running."
---
Mary Spring, DO
Medical School: Nova Southeastern University College of Osteopathic Medicine
Undergrad: Rollins College
Hometown: Fort Lauderdale, FL
Activities/Hobbies: Soccer, Paddle Boarding, Crossfit, Hiking, Anything outside, Food, Petting all the dogs
Why McGovern: McGovern not only felt like the perfect fit for me, but also the place that I would grow the most. Even through a zoom interview, I was able to get to know the residents and faculty and see how much they cared for each other. I always found myself thinking back to the interview day, the program, and the people. I loved that we get to have such a diverse training experience being at both LBJ and MHH. Lastly, Houston is an exciting city with all the best food!
Interests Within EM: EMS, Wilderness medicine, MedEd, Global health
Fun Fact: I played soccer in college, and we were NCAA National Championship finalists.
---
Joseph Stockhausen, MD
Medical School: Medical University of South Carolina
Undergrad: Carnegie Mellon University
Hometown: Cleveland, OH
Activities/Hobbies: Anything in the outdoors or on the water, foodie, reading, sports, scuba diving, flying
Why McGovern: There are so many reasons why I chose McGovern. I knew that I wanted to be challenged as much as possible during the short three years of residency so that I'm able to be there for any patient with any emergency while managing a busy ED. McGovern provides that challenge while supporting you with such an amazing and welcoming team. Being a large academic program, McGovern also provides so many unique opportunities. During my interview social, it was apparent just how excited the residents were to be at McGovern and how they felt as a family. I'm thrilled to be part of that family.
Interests Within EM: Critical Care, EMS, Sports Medicine
Fun Fact: I lived a year in Germany, a year in Switzerland, and a summer in China in high school/college.
---
Zack (John) Timmons, MD
Medical School: Dell Medical School at The University of Texas at Austin
Undergrad: Rice University
Hometown: Robinson, TX
Activities/Hobbies: Long-distance backpacking, hand-making pasta, downhill skiing, indoor and beach volleyball, happy hour with my co-residents
Why McGovern: Even during virtual interviews, I really vibed with the residents and faculty, and I appreciated how genuinely down to earth and happy people were. The program fundamentals speak for themselves, and I knew McGovern would prepare me to become an incredibly capable EM doc and a better human.
Interests Within EM: Entrepreneurship, Social EM, Critical Care
Fun Fact: In my previous career, I was once paid in Taylor Swift concert tickets