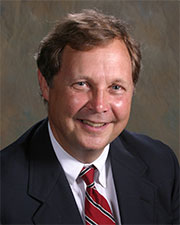 Biography
Dr. Weltge is a clinical professor of Emergency Medicine at UTHealth. He entered the practice of Emergency Medicine in 1979. He was founder and director of Southeast Texas Emergency Physicians, a multihospital democratic Emergency physician group based in Houston.  He joined the faculty of UT Houston in 1989 as the first board-certified emergency physician as part of the initial efforts to begin the residency program in emergency medicine.
Dr. Weltge has served as medical director of the Memorial Hermann Hospital ED and on various committees of the UT Medical School, Memorial Hermann Hospital and the Harris County Hospital District. He was founder and course director of the Technical Skills Program for UT Houston Medical School and served on the Curriculum Committee for four years.  He's served on the UT Health Science Center's Committee for the Protection of Human Subjects (CPHS) since 1992. He is co-director, with Dr. Angela Fisher (of BCM), of the 'Business of Medicine' course for UT & Baylor medical students which is sponsored by the Harris County Medical Society.
Dr. Weltge has an interest in Occupational and Environmental Medicine and Emergency Medical Services (EMS).  He has served as medical director and adjunct faculty for the Houston Community College (HCC) Program in EMS and as medical director for AMR Ambulance Service's Houston operations and previously as medical director for several local community EMS agencies and the Houston Tenneco Marathon.
Dr. Weltge has been active in emergency medicine, served as president of the Texas Chapter of the American College of Emergency Physicians in 1994 and most recently completed four years of services to the American College of Emergency Physicians as Speaker in October of 2011.  He has served on the American Heart Association's Emergency Cardiac Care (ECC) Subcommittees and as part of the Center for Disease Control's (CDC) National Center for Injury Prevention and Control (NCIP) Acute Care Research Agenda in 2004.  He is currently an officer for the Harris County Medical Society's (HCMS) delegation to the Texas Medical Association (TMA) and has served on various councils and committees of the TMA and was recently elected as a TMA alternate delegate to the American Medical Association (AMA).
Dr. Weltge has been involved in the community.  He is an officer and board member of the Houston-based Star of Hope Mission, one of the largest homeless missions in the country.  He was recently appointed as a board member of the City of Houston's Houston Recovery Center (LGC) and has served on various city and county commissions and task forces.  He is active in First Presbyterian Church and has participated in youth mission trips to Jamaica, Belize and Costa Rica.
Education
BS

Massachusetts Institute of Technology (MIT)

MD

University of Texas Medical School at Houston, Houston, TX

PhD

School of Public Health, University of Texas Health Science Center at Houston

TMP

Rice University, Jones School of Business

MPH

School of Public Health, University of Texas Health Science Center at Houston

Residency

Medicine, Affiliated Hospitals of Baylor College of Medicine (SLEH, TMH, Ben Taub)

Fellowship

Teaching Fellowship, ACEP
Areas of Interests
Clinical Interests
Emergency Care quality and performance; Clinical and medical education; Emergency Medical Services (EMS); Health care delivery and policy
---
Research Interests
EMS & resuscitation; Occupational and environmental medicine; Health care policy and delivery
Additional Roles
Speaker, TMA House of Delegates, 2019- (Vice Speaker 2014-19)
Texas Medical Association
Medical Director, Program in EMS, 1988-
Houston Community College
Medical Director, Houston Operations, 1985-
Global Medical Response (aka American Medical Response)