Arts & Resilience presentation by Laura Spector discussed in McGovern news
---
---
The McGovern Medical School Center for Humanities and Ethics marked the return of its Arts & Resilience program with a virtual performance from performance and video artist Laura Spector, Sept. 22.
Spector, who began her work as an artist in 1994, created her acclaimed Museum Anatomy project in 1996. Spector and colleague Chadwick Gray worked with curators of museums from 12 countries in search of paintings from the 19th century. The duo specifically sought paintings that had been damaged or were in storage facilities, hidden away from the public.
"I'm keeping in mind the idea of a multi-stable perception throughout my work," Spector said of her work. "I kind of look at life like this. Life is never just one thing that you see. There are multiple things that you can see simultaneously, and I think some people forget this from time to time."
Another key change in perspective for the project was that where typically art history features a man painting a woman, the Museum Anatomy project reinterprets that thinking to feature a woman, recreating a woman, onto a man.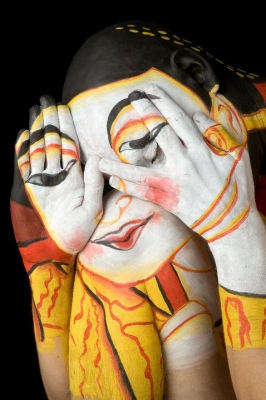 After Chadwick and Spector select a piece of art, the duo created a new work of art, inspired by the original painting, with Spector painting the piece onto Chadwick's body using special effects make-up. The paintings take 8-15 hours to complete and then are documented with photography to be enlarged and displayed as contemporary art.
The Museum Anatomy Project took Chadwick and Spector to a multitude of museums such as The Victoria & Albert Museum, The Prado, The National Gallery (Prague), The National Gallery (Athens), MuseuMAfricA, The Civica Museum (Palermo), Berkeley Art Museum (Berkeley), National Gallery (Bangkok), and others.
Prior to the Museum Anatomy project, Chadwick and Spector produced street performance art, where Spector would paint a full-body painting onto Chadwick and go out into the public in San Francisco and create an action.
After 18 years, Chadwick and Spector pivoted the project to include sculpted pieces cast from Chadwick's body, opening the door for new possibilities to the project. The complex castings were a way for them to expand their canvas. For example, "Chadwick may hold a plaster cast of his hand which is integrated into the composition creating the illusion that he has three hands."
As more and more art galleries around the world began to move online, the hunt for hidden photos became too easy for Chadwick and Spector. So, taking on another challenge, they became inspired by stolen paintings, leading to a new development of their artwork called "Museum Anatomy – Heist." The project features traditionally rendered oil paintings based on stolen artwork onto plaster casts of Chadwick's body.
"I started learning more and more about the FBI's Art Crime Team," Spector said. "Anyone can access it online, and you can look at the thousands of works of art that have been stolen or destroyed. I started combing through those works and finding the interesting stories.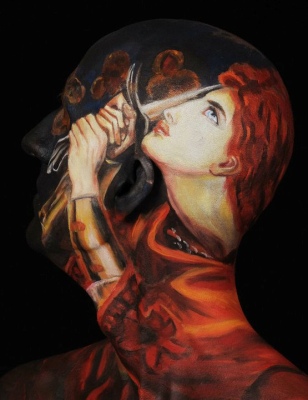 Spector became particularly interested in works stolen from a tiny museum outside of Berlin during WWII. Almost eight decades later, none of the works of art stolen from the museum have been recovered.
"It's chilling to me, because it's like people being stolen or something, but they're paintings," Spector said. "So I started recreating them. It's kind of like revising or revitalizing history that no longer exists. I'm not forging it, I'm not copying it, I'm trying to create something else inspired by history."
Currently, Spector teaches at the Susanne M. Glasscock School for Continuing Studies at Rice University, Art League Houston, and gives private classes at her Houston studio, Watercolor Art Society – Houston, and the Pacific Art League in the Bay Area of California.
Spector is a fellow of the New York Foundation for the Arts, an Individual Green Recipient of the Houston Art Alliance, and the Artist-in-Residence recipient of the Joan Mitchell Foundation. In 2016, she was awarded the Artist-in-Residence at AtelierHaus Hilmsen (Germany).
The next installment of the Arts & Resilience series features Brandon Tho Harris, an interdisciplinary artist and arts professional based in Houston, and will held Nov. 10, via Cisco Webex. Harris' creative work explores his identity as a child of war refugees. To register for the event, visit the McGovern Center's website.
---