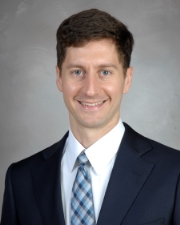 Assistant Professor
Director, Will Erwin Headache Research Center
Contact
(713) 486-8100
(713) 486-8101 fax

Biography
Mark J. Burish, M.D., Ph.D., who is board certified in neurology and fellowship trained in pain medicine, specializes in the treatment of neck pain, back pain and neuropathic pain. His research interests focus on headaches and facial pain.
A cum laude graduate of Princeton University, Dr. Burish received his M.D./Ph.D. in the Vanderbilt Medical Scientist Training Program at Vanderbilt University School of Medicine. He completed his residency in neurology at the University of California at San Francisco, where he was co-chief resident of the UCSF Moffitt-Long Service and was inducted into Alpha Omega Alpha Honor Medical Society. During his residency, he was also honored with the Core Clerkship Teaching Award, voted by third-year medical students as one of five residents who went "above and beyond in terms of dedication to teaching, mentorship, community-building, patient care and medical student development and support." He completed his fellowship in interventional pain management in the department of Anesthesiology at UCSF.
Dr. Burish is a co-author of articles that have appeared in the Journal of Comparative Neurology, The Neurohospitalist, Brain Behavior and Evolution, Proceedings of the National Academy of Sciences, Cerebral Cortex, Journal of Neurophysiology and the Journal of Neuroscience, among others.
In addition to his membership in Alpha Omega Alpha, he is a member of the American Academy of Neurology, American Pain Society, American Society of Regional Anesthesia and Pain Medicine, and the North American Neuromodulation Society.
Dr. Burish is committed to providing superior care UTHealth Houston Neurosciences. His clinical interests include:
Low back pain such as injuries of the nerve roots (radiculopathy), facet joints (facet arthropathy) or sacroiliac joints (sacroiliac dysfunction)

Neck pain, including radiculopathy and facet arthropathy

Neuropathic pain conditions, including painful diabetic neuropathy, post-herpetic neuralgia and central post-stroke pain
He also enrolls patients who qualify in clinical trials for the treatment of headaches.
Board Certifications:
American Board of Psychiatry and Neurology
For Patients
If you are interested in learning more about Dr. Burish's clinical practice, please click below.
Education
Graduate School

Vanderbilt University

Internship

University of California, San Francisco

Residency

University of California, San Francisco (Neurology)

Fellowship

University of California, San Francisco (Pain Management)
Publications
Publications:
Burish MJ, Fredericks CA, Engstrom JW, Tateo VL, Josephson SA. 2015. Predicting success: What medical student measures predict resident performance in neurology? Clin Neurol Neurosurg 135:69-72.
Burish M, Thoren K, Madou M, Toossi S, Shah, M. 2015.  Hallucinogens causing seizures? A case report of the synthetic amphetamine 2,5-dimethoxy-4-chloroamphetamine (DOC). The Neurohospitalist 5:35-42.
Burish MJ, Aysenne A, Singh V. 2014. Multifocal subdural hematomas as the presenting sign of Acquired Hemophilia A; a case report. BMC Research Notes 7:134.
Qi HX, Reed JL, Gharbawie OA, Burish MJ, Kaas JH.  2014.  Cortical neuron response properties are related to lesion extent and behavioral recovery after sensory loss from spinal cord injury in monkeys. J Neurosci, 34:4345-4363.
Stepniewska I, Gharbawie OA, Burish MJ, Kaas JH. 2014.  Effects of muscimol inactivations of functional domains in motor, premotor and posterior parietal cortex on complex movements evoked by electrical stimulation. J Neurophysiol, 111:1100-1119.
Bowes C, Burish M, Cerkevich C, Kaas J. 2013. Patterns of cortical reorganization in the adult marmoset after a cervical spinal cord injury. J Comp Neurol 521(15):3451-63
Reed JL, Pouget P, Qi HX, Zhou Z, Bernard MR, Burish MJ, Kaas JH. 2012.  Effects of spatiotemporal stimulus properties on spike timing correlations in owl monkey primary somatosensory cortex. J Neurophysiol 180(12), 3353-3369.
Bowes C, Massey JM, Burish M, Cerkevich CM, Kaas JH. 2012. Chondroitinase ABC promotes selective reactivation of somatosensory cortex in squirrel monkeys after a cervical dorsal column lesion. Proc Nat Acad Sci USA 109(7), 2595-600.
Burish MJ, Peebles JK, Baldwin MK, Tavares L, Kaas JH, Herculano-Houzel S. 2010. Cellular scaling rules for primate spinal cords. Brain Behav Evol. 76(1), 45-59.
Reed JL, Qi HX, Pouget P, Burish MJ, Bonds AB, Kaas JH. 2010. Modular processing in the hand representation of primate primary somatosensory cortex coexists with widespread activation. J Neurophysiol. 2010(104), 3136-3145.
Reed JL, Qi HX, Zhou Z, Bernard MR, Burish MJ, Bonds AB, Kaas JH. 2010. Response properties of neurons in primary somatosensory cortex of owl monkeys reflect widespread spatiotemporal integration. J Neurophysiol 103(4), 2139-2157.
Gharbawie OA, Stepniewska I, Burish MJ, Kaas JH. 2010. Thalamocortical Connections of Functional Zones in Posterior Parietal Cortex and Frontal Cortex Motor Regions in New World Monkeys.  Cereb Cortex [Epub ahead of print]
Kaas JH, Qi H-X, Burish MJ, Gharbawie OA, Onifer SM, Massey JM. 2008. Cortical and subcortical plasticity in the brains of humans, primates, and rats after damage to sensory afferents in the dorsal columns of the spinal cord. Exp Neurol, 209, 407-416.
Burish MJ, Stepniewska I, Kaas JH. 2008. Microstimulation and architectonics of frontoparietal cortex in common marmosets (Callithrix jacchus). J Comp Neurol 507(2), 1151-1168.
Wang SS-H, Shultz JR, Burish MJ, Harrison KH, Hof PR, Towns LC, Wagers MW, Wyatt KD. 2008. Functional Trade-Offs in White Matter Axonal Scaling. J Neurosci 28(15), 4047-4056.
Reed JL, Pouget P, Qi HX, Zhou Z, Bernard MR, Burish MJ, Haitas J, Bonds AB, Kaas JH. 2008. Widespread spatial integration in primary somatosensory cortex. Proc Nat Acad Sci 105(29):10233-10237.
Burish MJ, Kueh HY, Wang SS. 2004. Brain architecture and social complexity in modern and ancient birds. Brain Behav Evol.63(2):107-24.
Moore MC, Burish MJ, Farmer B, Neal DW, Pan C, Cherrington AD. 2003. Chronic hepatic artery ligation does not prevent liver from differentiating portal vs. peripheral glucose delivery. Am J Physiol Endocrinol Metab. Oct;285(4):E845-53.
Chu CA, Galassetti P, Igawa K, Sindelar DK, Neal DW, Burish M, Cherrington AD. 2003. Interaction of free fatty acids and epinephrine in regulating hepatic glucose production in conscious dogs. Am J Physiol Endocrinol Metab. Feb;284(2):E291-301.