Cerebrovascular Center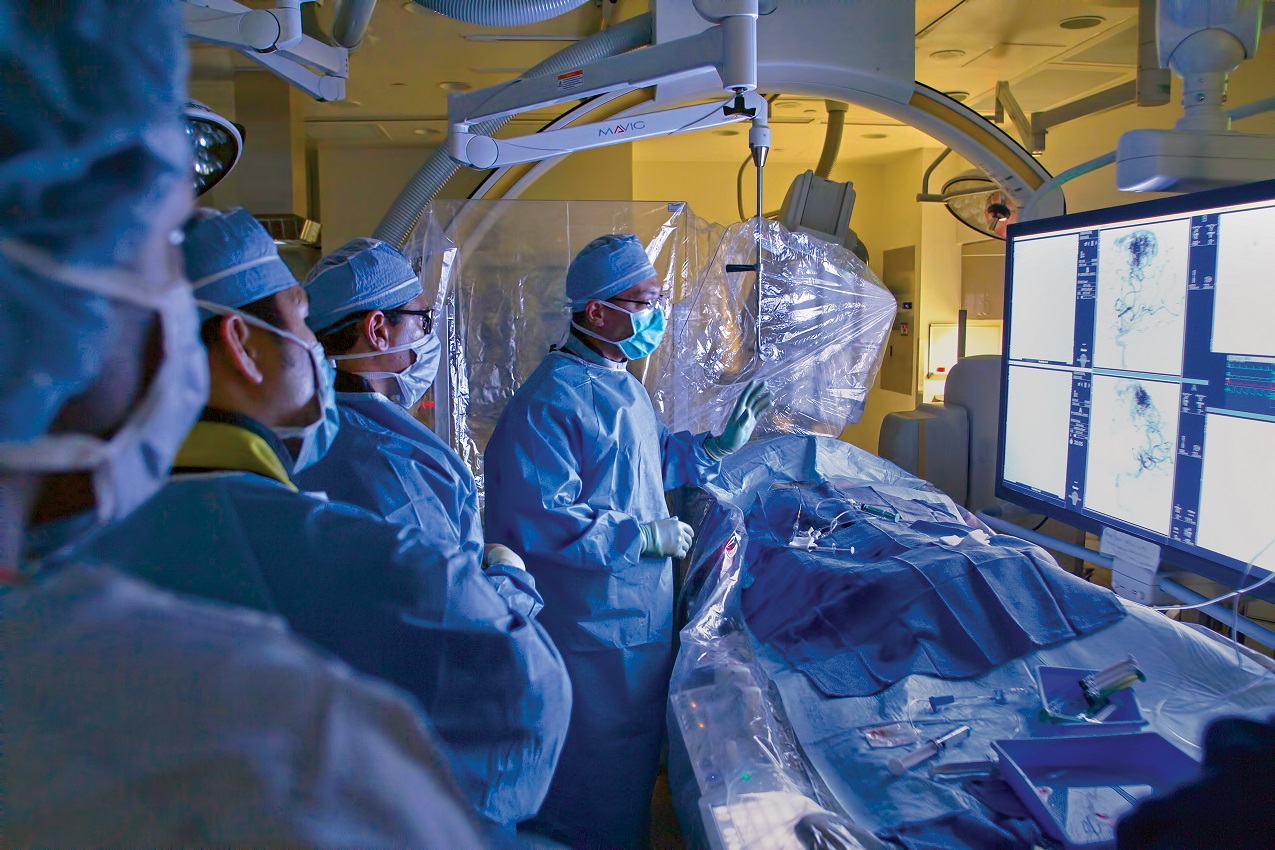 In 2013, UTHealth Neurosciences and the Mischer Neuroscience Institute received the highly coveted Comprehensive Stroke Center (CSC) certification from The Joint Commission and the American Heart Association/American Stroke Association. Under the direction of Sean Savitz, M.D., the Comprehensive Stroke Center at the Mischer Neuroscience Institute was the first stroke program in the state of Texas to meet The Joint Commission's rigorous standards, solidifying its position among an elite group of providers in the country focused on complex stroke care.
The Institute remains the only facility in the Greater Houston area with the CSC certification. Less than a year later, the AHA recognized the program with the Get With The Guidelines® — Stroke Gold Plus Achievement Award. The AHA recertified the hospital in 2015. The Stroke Center's cerebrovascular continuum of care spans the gamut, from pre-hospital ambulance care to the emergency-center setting, and extends through a 12-bed dedicated inpatient stroke unit to neurorehabiliation provided in a 23-bed inpatient unit and at TIRR Memorial Hermann, an international leader in rehabilitation and research. Patients benefit from comprehensive inpatient and outpatient services, state-of-the-art technology, and innovative therapies and techniques.
---
History of Excellence in Stroke Care
Opened in 1988 as one of the first dedicated stroke programs in the world, the Stroke Center is home to the 10-county Greater Houston area's largest onsite stroke team. Neurologists affiliated with the Center use leading-edge technology to diagnose and treat more than 2,000 stroke and aneurysm patients annually, ensuring that each patient gets the appropriate treatment as quickly as possible. By working closely with the Houston Fire Department and local EMS services, the stroke team has logged an impressive record of success in the administration of tPA – more than 10 times the national average of 2 to 3 percent.
In addition to breakthrough treatments for stroke, the cerebrovascular team provides coordinated care for patients with aneurysms, carotid occlusive disease and intracranial vascular malformations, including open surgical and endovascular treatments such as angioplasty, stenting and embolization. Also available is the Pipeline™ endovascular flow-diverting stent, a device that reconstructs the parent vessel lumen of difficult to- reach aneurysms as an alternative to clipping or endovascular coiling. Affiliated neurosurgeons are skilled at microvascular clipping of aneurysms, using the best skull base approaches to minimize brain manipulation, extracranial-intracranial bypass procedures, carotid endarterectomy and hemicraniectomy for severe strokes. State-of-the-art radiosurgery using the Leksell Gamma Knife® Perfexion™ is regularly used for vascular malformations best treated non-surgically.
---
The Stroke Center and Telemedicine
The Stroke Center currently is staffed by three full-time academic neurosurgeons dedicated to cerebrovascular practice: Arthur L. Day, M.D.; P. Roc Chen, M.D.; and Mark Dannenbaum, M.D. Drs. Chen and Dannenbaum are dually trained in both open and endovascular neurosurgery. With the addition of a fourth practitioner, Spiros Blackburn, M.D., UTHealth Neurosciences has extended its cerebrovascular program to Memorial City. Dr. Blackburn specializes in cerebrovascular and skull base surgery and endovascular neurosurgery.
The UTHealth Telemedicine Program, directed by Teddy Wu, M.D., extends stroke and neurology expertise far beyond the Institute's walls, helping emergency physicians in community hospitals throughout Southeast Texas make accurate diagnoses and save lives. Remote presence robotic technology has enhanced the telemedicine program by linking outlying hospitals electronically to the Neurology department, providing real-time visual interaction between neurologists and patients, and allowing affiliated neurologists to review CT scans and advise local physicians on treatment protocols. Through telemedicine, physicians can now offer patients in outlying communities an opportunity to participate in clinical trials that otherwise would be unavailable to them, which expands medical knowledge as it saves lives.
---
Cerebrovascular Research
Physicians at UTHealth Neurosciences conduct more research than any other stroke program in the south or southwestern United States, participating in multicenter and single center clinical trials testing new treatments for patients who cannot be treated elsewhere. The stroke center was chosen as the only regional coordinating center in Texas and the Southwest United States to serve in StrokeNet, a national network funded by the National Institute of Neurological Disorders and Stroke to conduct clinical stroke trials across the country. The Stroke Center is serving as the flagship to coordinate clinical stroke trials throughout the region.
Pioneering stroke research at UTHealth and the Mischer Neuroscience Institute has included thrombolytic treatment for wake-up stroke, the safety of pioglitazone for hematoma resolution in intracerebral hemorrhage, argatroban in combination with recombinant tissue plasminogen activator for acute stroke, multi-agent vasodilator infusion therapy versus current typical single-agent therapy for cerebral vasospasm, and autologous bone marrow stem cell treatment for acute ischemic stroke. Investigators also seek to increase the effect of standard-of-care treatment by combining tPA with ultrasound, anticoagulants and hypothermia, as well as exploring new methods of stroke prevention. Finally, with the advent of recent clinical trials showing the benefit of intra-arterial endovascular therapy for acute ischemic stroke, Amrou Sarraj, M.D., has been awarded a grant from Stryker Neurovascular to conduct a multicenter trial to determine which patients will benefit most from this treatment.