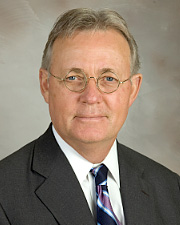 Professor and Vice Chair, Vivian L. Smith Department of Neurosurgery
Director, Residency Program
Director of Clinical Education, Mischer Neuroscience Institute
(713) 486-8000
(713) 486-8088
Gina Collier
(713) 486-8056 Assistant

Biography
Background
Arthur L. Day MD was born in Boston but raised in a small town in Louisiana. He graduated from Louisiana State University Medical School in New Orleans in 1972, and completed his neurological surgery residency training at the University of Florida (UF) in 1977.
Following a fellowship in brain tumor immunology, he joined the UF neurosurgery faculty in 1978, where he ultimately became a professor and the Eblen Eminent Scholar in Cerebrovascular Surgery; he also served as the Co-Chairman and Residency Program Director. While there, his clinical research interests centered principally on cerebrovascular diseases and sports medicine, while his basic research activities focused on cerebral ischemia and neural protection, particularly as affected by estrogens.
In 2002, Dr. Day moved to Boston where he was appointed a Professor of Surgery at Harvard Medical School and Associate Chairman and Residency Program Director of the Department of Neurological Surgery at the Brigham and Women's Hospital (BWH).  He also served as an attending staff physician at BWH and a consulting physician at Children's Hospital Boston. From 2007 – 2010, he was the Chairman of the Department of Neurosurgery of the Brigham and Women's/Children's Hospitals Boston.
In July 2010, he moved to Houston to assume his current position as Professor and Vice Chairman, and Program Director of the residency training program for the Department of Neurosurgery, University of Texas Medical School at Houston.  He is also the Director of Clinical Education at the Mischer Neuroscience Institute.
Dr. Day has been a visiting professor at numerous universities and hospitals, both in the United States and abroad.  He has published nearly 170 journal articles and book chapters, and co-edited a book on neurological sports injuries. He has also served as President of the Alachua County Medical Society, the Florida Neurosurgical Society, the Joint Section of Cerebrovascular Surgery of the American Association of Neurological Surgeons (AANS)/CNS), the Sports Medicine Section of the AANS, and the Congress of Neurological Surgeons (CNS). He was Chairman of the AANS/CNS Washington Committee, served as the Treasurer and Vice-President of the AANS, and was Chairman of the American Board of Neurological Surgery. He has been a member of the Residency Review Committee for neurosurgery, and recently completed his term as President of the Society of Neurological Surgeons (SNS). He now current serves as Chairman of the CAST Committee for the SNS.
Specialties
Intracranial aneurysms and other vascular lesions
Vascular malformations, arteriovenous (AVM's) and cavernous malformations
Brain tumors
Meningiomas, especially those of the skull base affecting vision
Pituitary tumors
Minimally invasive spine surgery
Trigeminal neuralgia / hemifacial spasm
Intra-spinal tumors
Board Certifications
American Board of Neurological Surgery
For Patients
If you are interested in learning more about Dr. Day's clinical practice, please click below.
Education
Graduate School

Louisiana State University, New Orleans, Louisiana

Internship

Carraway Methodist Hospital, Birmingham, Alabama (Surgery)

Residency

University of Florida, Gainesville, Florida (Neurological Surgery)

Fellowship

University of Florida, Gainesville, Florida (Neuropathology: Brain Tumor Immunology)
Publications
Publication Information
Peer-Reviewed Articles (only last 10 years listed)
Day AL, Fine AL, Beauregard C: Infratentorial-Arteriovenous Malformations of the Cerebellar Vermis and Hemispheres, in Stieg, Batjer & Samson (ed.): Intracranial Arteriovenous Malformations. St. Louis. Quality Medical Publishing, 2006. 285-296.
Dunn, IF, Proctor MR, Day AL: Lumbar spine injuries in athletes. Neurosurg Focus 2006 Oct 15;21 (4):E4. Review.
Liu R; Yang SH, Cutright J, Yi KD, He YJ, Day AL, Simpkins JW: Dose dependence and therapeutic window for the neuroprotective effects of 17β-estradiol when administered after cerebral ischemia. NeurosciLett, 2007 Mar 30;415(3):237-41.
Slotkin JR, Mislow JMK, Day AL, Proctor, MR: Pediatric Disk Disease, in Neurosurgery Clinics of North America 18, 2007. 659-667.
Day, AL, Du R, Maher, C: Ophthalmic Segment Aneurysms. Vascular Neurosurgery, 2nd Edition, Thieme Medical Publishers, 2008.
Wang X, Figueroa BE, Stavrovskaya I, Zhang Y, Sirianni A, Zhu S, Day AL, Kristal BS, Friedlander RM: Methazolamide and melatonin inhibit mitochondrial cytochrome c release and are neuroprotective in experimental models of ischemic injury. Stroke 2009 May 40: (5)1877-85.
Cahill K, Chi J, Day AL, Claus E: Prevalence, Complications, and Hospital Charges Associated With Use of Bone-Morphogenetic Proteins in Spinal Fusion Procedures. JAMA 2009 July 1 302(1): 58-66.
Gross BA, Du R, Popp AJ, Day AL: Intramedullary Spinal Cord Cavernous Malformations. Neurosurg Focus 2010 Sep; 29(3): E14.
Cahill K, Chi J, Day AL, Claus E: Trends in survival after surgery for breast cancer metastatic to the brain and spinal column in medicare patients: a population-based analysis. Journal of Neurosurgery: Accepted: August 2010.
Du, Rose, Day AL: Microsurgery of Paraclinoid Aneurysms, in Winn (ed.): Youmans Neurological Surgery, Sixth Edition. Philadelphia: WB Saunders Company, 2010.
Day AL: Moya Moya – Surgical Indications and Strategies, in Bendok, Naidech, Walker & Batjer (eds.): Hemorrhagic and Ischemic Stroke: Medical, Imaging, Surgical and Interventional Approaches.  Thieme, 2011.
Day AL, Wang H: Posterior Communicating Artery Aneurysm Clipping, in Berta SC, Levy ML (ed.): Neurosurgery: Tricks of the Trade. New York, Thieme Medical Publishers, 2014.
Day AL, Dannenbaum M, Jung S,: A Randomized Trial of Unruptured Brain Arteriovenous Malformations Trial: An Editorial Review. Stroke. 2014 Aug 19. pii: STROKEAHA.114.004614.
Morris SA, Jones W, Proctor M, Day AL. Emergent Treatment of Athletes With Brain Injury. Neurosurgery: Current Concepts in Sports Concussions Supplement. 2014 Oct; 75: S96–S105.
Turkmani A, Day AL, Kim DH, Chen PR. Microsurgical Clip Reconstruction Techniques for Aneurysms with Significant Calcified Neck. Neurosurgical Focus. 2015 Jul;39 Video Suppl 1:V12.
Choi HA, Bajgur SS, Jones WH, Savarraj JP, Ko SB, Edwards NJ, Chang TR, Hergenroeder GW, Dannenbaum MJ, Chen PR, Day AL, Kim DH, Lee K, Grotta JC.  Quantification of Cerebral Edema After Subarachnoid Hemorrhage.  Neurocrit Care. 2015 Dec 24.
Chen PR, Edwards NJ, Sanzgiri A, Day AL. Efficacy of a Self-Expandable Porous Stent as the Sole Curative Treatment for Extracranial Carotid Pseudoaneurysms.  World Neurosurg. 2016 Apr;88:333-41.
Simon SD, Harbaugh RE, Day AL.  Letter to the Editor: Does physician specialty really matter?
J Neurosurg. 2016 Jun 10:1-2.
Day AL, Blackburn S. Rhoton & The University of Florida. World Neurosurg. 2016 Jun 15.
Books
Bailes JE, Day AL (eds.): Neurological Sports Medicine: A Guide for Physicians and Athletic Trainers. AANS Publications, 2001.
Petraglia A, Bailes JE, Day AL (eds.): Handbook of Neurological Sports Medicine.  Human Kinetics, 2014.