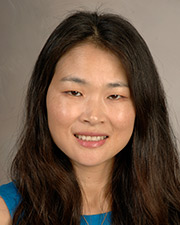 Assistant Professor, Vivian L. Smith Department of Neurosurgery
Biography
Dr. Kim received her Ph.D at Kyung Hee University in Seoul, Korea. During her Ph.D, she focused on the regulation of growth hormone axis in endocrine disorders such as acromegaly and diabetes. With the background in neuroendocrinology, she joined Dr. Cho lab at Burke Medical Research Institute for a postdoctoral training and was promoted as an instructor in Feil Family Brain and Mind Research institute at Weill Cornell Medicine in 2013.
During the training period, Dr. Kim acquired expertise in vivo physiology and pathology of stroke. Her studies have been focused on the impact of comorbid conditions in stroke pathophysiology. She defined the effect of hyperlipidemia and diabetes on acute stroke outcomes and the underlying mechanisms governing the comorbidity stroke. She was also involved in studying the importance of synaptic plasticity for long-term functional recovery after stroke and the effect of genetics using animal model of human BDNF polymorphism.
Her works have been published in highly regarded journals including Annals of Neurology, Journal of Neuroscience, and Journal of Cerebral Blood Flow and Metabolism. In 2017, Dr. Kim joined the Vivian L. Smith Department of Neurosurgery at University of Texas Health Science Center at Houston as an assistant professor.
Education
Graduate School

Microbiology, Dongguk University, Seoul, Korea

Doctorate

Neuroendocrinology/Pharmacology, School of Medicine, Kyunghee University, Seoul, Korea
Research Information
Dr. Kim's research is focused on evaluating molecular and genetic mechanisms, biomarkers, and the inflammatory response involved in stroke pathology. Although stroke is one of the major causes of disability and death worldwide, limited options are available for the stroke patients. Several risk factors such as hypertension, dyslipidemia, and diabetes have been involved in the higher stroke incidence and poorer outcomes, the underlying mechanism(s) of the negative impact is not clear. By incorporating the risk factors in animal models of stroke, Dr. Kim is particularly interested in to determine how post-stroke stress response is regulated in the comorbid conditions and how it affects stroke-induced immune response and stroke outcomes including acute injury and long-term recovery.
Another line of research is focused on understanding the pathology of brain arteriovenous malformation (bAVM). The bAVM is typically known as a critical risk factor for hemorrhagic stroke however, the etiology and pathologic features of bAVM are largely unknown. Dr. Kim focuses on how molecular factors including Eng, Alk1, and VEGF are involved in developing the bAMV and brain hemorrhage using animal models. By targeting the vascular or genetic factors based on understanding the molecular mechanism, pathology, and hemodynamic of bAMV, Dr. Kim's ultimately goal is developing novel therapeutic strategies for patients with bAMV and the complications.
Publications
Publication Information
PUBLICATIONS
Kim E, Yang J, Park KW, Cho S (2017) Inhibition of VEGF Signaling Reduces Diabetes-Exacerbated Brain Swelling, but Not Infarct Size, in Large Cerebral Infarction in Mice. Transl Stroke Res, Dec 30. doi: 10.1007/s12975-017-0601-z. [Epub ahead of print] PMID: 292900003
Kim E, Yang J, Park KW, Cho S (2017) Inhibition of VEGF Signaling Reduces Diabetes-Exacerbated Brain Swelling, but Not Infarct Size, in Large Cerebral Infarction in Mice. Transl Stroke Res, Dec 30. doi: 10.1007/s12975-017-0601-z. [Epub ahead of print] PMID: 292900003

Kim E, Cho S. (2016) Microglia and Monocyte-Derived Macrophages in Stroke. Neurotherapeutics, Oct;13(4):702-718 doi: 10.1007/s13311-016-0463-1 PMID: 27485238

Kim E, Woo MS, Qin L, Ma T, Beltran CD, Bao Y, Bailey JA, Corbett D, Ratan RR, Lahiri DK, Cho S. (2015) Daidzein Augments Cholesterol Homeostasis via ApoE to Promote Functional Recovery in Chronic Stroke, J Neurosci. Nov 11;35(45):15113-26. doi: 10.1523/JNEUROSCI.2890-15.2015. PMCID:PMC4642242

Kim E, Tolhurst AT, Szeto HH, Cho S. (2014) Targeting CD36-mediated inflammation reduces acute brain injury in transient, but not permanent, ischemic stroke. CNS Neurosci Ther. Apr;21(4):385-91. doi: 10.1111/cns.12326. PMCID:PMC4362808

Kim E, Yang J, Beltran CD, Cho S. (2014) Spleen-derived monocytes/macrophages are not necessary for acute ischemic brain injury. J Cereb Blood flow Metab. Aug;34(8):1411-9. doi: 10.1038/jcbfm.2014.101. Epub 2014 May 28. PMCID: PMC4126087

Kim E, Tolhurst AT, Cho S. (2014) Deregulation of inflammatory response in the diabetic condition is associated with increased ischemic brain injury, J Neuroinflammation, May 1;11(1):83. doi: 10.1186/1742-2094-11-83. PMCID: PMC4017808.

Bao Y, Qin L, Kim E, Bhosle S, Guo H, Febbraio M, Haskew-Layton RE, Ratan R, Cho S. (2012) CD36 is involved in astrocyte activation and astroglial scar formation. J Cereb Blood Flow Metab. 2012 Aug;32(8):1567-77. doi: 10.1038/jcbfm.2012.52. Epub 2012 Apr 18. PMCID:PMC3421096

Kim E, Febbraio E, Bao Y, Tolhurst AT, Epstein JM, Cho S. (2012) CD36 in the periphery and brain synergizes in stroke injury in hyperlipidemia. Ann Neurol, Jun; 71(6):753-64. PMCID:PMC3383818

Basso M, Berlin J, Xia L, Sleiman S, Ko B, Haskew-Layton RE, Kim E, Antonyak M, Cerione R, Iismaa S, Willis D, Cho S, Ratan R. (2012) Transglutaminase inhibition protects against oxidative stress-induced neuronal death downstream of pathological ERK activation. J Neurosci. May 9;32(19):6561-9. PMCID:PMC3444816

Qin L, Kim E, Ratan R, Lee FS, Cho S (2011) Genetic variant of BDNF (Val66Met) polymorphism attenuates stroke-induced angiogenic responses by enhancing anti-angiogenic mediator CD36 expression. J Neurosci. Jan 12;31(2):775-83. PMCID:PMC3308129

Bao Y, Kim E, Bhosle S, Mehta H, Cho S (2010) A role for spleen monocytes in post-ischemic brain inflammation and injury. J Neuroinflammation Dec 15;7:92. PMCID:PMC3016273

Cho S, Kim E CD36: A multi-modal target for acute stroke therapy (2009) J Neurochem. May;109 Suppl 1:126-32. PMCID:PMC2702148

Kim E, Seo S, Chung H, Park S (2008) Role of Glucocorticoids in Fasting-induced Changes in Hypothalamic and Pituitary Components of the Growth Hormone (GH)-axis. Korean J Physiol Pharmacol. Oct;12(5):217-23. PMCID:PMC2788639

Kim E, Tolhurst AT, Qin LY, Chen XY, Febbraio M, Cho S (2008) CD36/fatty acid translocase an inflammatory mediator, is involved in hyperlipidemia-induced exacerbation in ischemic brain injury. J Neurosci. Apr 30;28(18):4661-70. PMCID:PMC2830708

Jung HJ, Kim EH, Mun JY, Park S, Smith ML, Han SS, Seo YR (2007) Base excision DNA repair defect in Gadd45a-deficient cells. Oncogene Nov 29;26(54):7517-25. PMID:17599061

Cho S., Szeto H.H., Kim E., Kim H., Tolhurst A.T., Pinto J.T. (2007) A novel cell permeableantioxidant peptide, SS31, attenuates ischemic brain injury by down-regulating CD36. JBC 282(7):4634-4642. PMID:17178711

Chung H, Kim E, Lee DH, Seo S, Ju S, Lee D, Kim H, Park S. (2007) Ghrelin Inhibits Apoptosis in Hypothalamic Neuronal Cells during Oxygen-Glucose Deprivation. Endocrinology, Jan;148(1):148-59. PMID:17053024

Kim E, Sohn S, Lee M, Jung J, Kineman RD, Park S. (2006) Differential responses of the GH-axis in two rat models of streptozotocin-induced insulinopenic diabetes. J Endocrinol., Feb; 188(2):263-70. PMID:16461552

Kim E, Sohn S, Lee M, Park C, Jung J, Park S. (2005) Effect of gsp oncogene on somatostatin receptor subtype 1 and 2 mRNA levels in GHRH-responsive GH3 cells. Pituitary, 8(2):155-62. PMID:16379030

Park C, Kim E, Sohn S, Yang I, Koh G, Oh S, Woo J, Kim S, Kim J, Kim Y, Oh K, Park S, Park S. (2005) Acute hyperglycemia and activation of the beta-adrenergic system do not exhibit synergistic inhibitory actions on thyrotropin-releasing hormone (TRH)-induced thyroid stimulating hormone (TSH) secretion. Endocr J., Feb;52(1):69-74. PMID:15758560

Park C, Yang I, Woo J, Kim S, Kim J, Kim Y, Sohn S, Kim E, Lee M, Park H, Jung J, Park S. (2004) Pituitary adenomas: the relationship with endogenous srif activity and response to octreotide. Endocr J., Apr;51(2):227-36. PMID:15118275