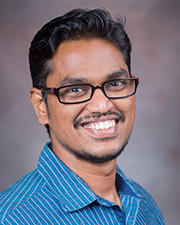 Peeyush K. Thankamani Pandit, Ph.D.
Assistant Professor, Vivian L. Smith Department of Neurosurgery, UTHealth Medical School
Biography
Dr. Pandit's research interests are largely directed towards translational research focused on vascular repair and regeneration. Dr. Peeyush is particularly interested in restoration or stimulation of endothelial functions such as Blood Brain Barrier, angiogenesis and vascular tone in the adult brain after a brain vascular injury. His research is currently funded through American Heart Association Career development award.
Dr. Pandit holds a Ph.D. in Neuroscience from Cochin University of Science and Technology, India working with Dr. C S Paulose. His journey as a vascular biologist start from Harvard medical school/Mclean Hospital Belmont as postdoctoral fellow with Dr. Anju Vasudevan. Subsequently he joined Dr. Huang Zhen Lab, University of Wisconsin, Madison. After completing his postdoctoral training, Dr. Peeyush joined as senior research associate with Dr. Spiros Blackburn, cerebrovascular research group to obtain his training in translational research and was recently promoted to full time faculty – Assistant Professor – in our Department. Dr. Pandit's research is published in several prestigious journals including Cell research (Nature), Nature communications, Developmental cell and Molecular Neurobiology.
Education
Doctorate

Cochin University of Science and Technology, India