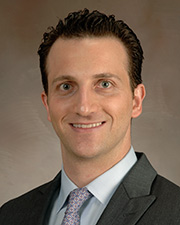 Assistant Professor, Vivian L. Smith Department of Neurosurgery
Director of Surgical Neuro-Oncology, Mischer Neuroscience Institute
(713) 486-8000
713-486-8088

Biography
Yoshua Esquenazi, MD, is a neurosurgeon with fellowship training in epilepsy surgery and surgical neuro-oncology. He focuses his practice on brain and spine tumors. Dr. Esquenazi received his medical degree at the Universidad Anahuac in Mexico City, graduating as valedictorian. During his studies he participated in student exchange rotations at Harvard Medical School and Massachusetts General Hospital and Brigham and Women's Hospital, as well as the William J. Harrington Medical Training Programs for Latin America at the University of Miami School of Medicine. He completed a general surgery internship at the Mayo Clinic in Rochester, MN, and his neurosurgery residency training at the McGovern Medical School at UTHealth, where he was neurosurgery chief resident and recipient of the Alpha Omega Alpha Honor Medical Society (Delta Chapter) Resident Award and the Standing Ovation Award from Memorial Hermann-Texas Medical Center. During residency he worked in the medical school's Neuroimaging and Electrophysiology Lab and then went on to complete a fellowship in epilepsy surgery at the same institution under Nitin Tandon, M.D. He subsequently completed a neurosurgery oncology fellowship at Memorial Sloan Kettering Cancer Center in New York City.
He is an author of numerous book chapters and articles, and he received many awards and recognitions during his academic training.
Dr. Esquenazi provides neurosurgery services in the Texas Medical Center, integrating techniques such as brain mapping for awake craniotomies, stereotactic laser ablation, intraventricular endoscopy, stereotactic navigation and fluorescent microscopy to enhance safety during surgery and maximize tumor removal. He is fluent in Spanish and specializes in the following conditions and treatments:
Brain metastases

CNS lymphoma

Endoscopic management of hydrocephalus and colloid cysts

Gamma Knife® radiosurgery

High-grade gliomas (glioblastoma)

Insular gliomas

Intraventricular tumors

Low-grade gliomas (astrocytomas, oligodendrogliomas)

Intradural spinal tumors

Malignant spinal column tumors (metastatic spine tumors)

Meningiomas

Pineal region and brainstem tumors

Pituitary and parasellar tumors

Primary brain tumors in speech, motor, visual and sensory areas

Primary spinal cord tumors

Spine stereotactic radiosurgery (SBRT)
For Patients
If you are interested in learning more about Dr. Esquenazi's clinical practice, please click below.
Education
Graduate School

Universidad Anahuac, Mexico City

Research Fellowship

Centro Medico Nacional Siglo XXI, Mexico City (Experimental Endocrinology lab)

Internship

Mayo Graduate School of Medicine, Rochester, MN

Residency

University of Texas Health Science Center at Houston, Houston, TX

Research Fellowship

University of Texas Health Science Center at Houston, Houston, TX (Neuro-imaging and electrophysiology lab)

Fellowship

University of Texas Health Science Center at Houston, Houston, TX (Epilepsy Surgery)

Fellowship

Memorial Sloan-Kettering Cancer Center, New York, NY (Surgical Neuro-Oncology)
Areas of Interest
Clinical Interests
Brain metastases
High grade gliomas (glioblastoma)
Insular gliomas
Intraventricular tumors
Low-grade gliomas (astrocytomas, oligodendrogliomas)
Intradural spinal tumors (meningiomas, schwannomas)
Metastatic spinal column tumors
Pineal and brainstem tumors
Pituitary and parasellar tumors
Primary brain tumors in speech, motor, visual and sensory areas
General Neurosurgery
---
Research Interests
Effects of chemotherapy and cranial irradiation on brain tissue
Publications
Publication Information
Peer-Reviewed Articles:
Esquenazi Y, Friedman E, Zheyu L, Jay-Jiguang Z, Hsu S, Tandon N. The survival advantage of "supra-total" resection of glioblastoma using selective cortical mapping and the sub-pial technique. Neurosurgery 2016, accepted for publication
Esquenazi Y, Kalamangalam G, Hope O, Krish S, Slater J, Tandon N. Surgical Resections for Post-traumatic Epilepsy Following Cerebral Gun-Shot Wounds, 2016, World Neurosurgery.
Frank T, Esquenazi, Masayuki N, Wanger A, Portnoy B, Shepard S. Disseminated phaeohyphomycosis with brain abscess and biliary invasion due to Bipolaris spp. in an immunocompetent patient. Annals of Clinic Lab Science, In Press 2016.
Morris SA, Esquenazi Y, Tandon N. Pyogenic Cerebral Abscesses Demonstrating Facilitated Diffusion. Clin Neurol Neurosurg. 2016 Mar 6;144:77-81
Esquenazi Y, Hyung Park, Kline D, Kim D. Surgical Management and Outcomes of Iatrogenic Radial Nerve Injection Injuries. Clin Neurol Neurosurg. 2016 Jan 12; 142:98-103.
Esquenazi Y, Lo V, Lee K. Critical care management of patients with cerebral edema in brain tumors. J Intensive Care Med. 2015 Dec 8. Epub ahead of print.
Esquenazi Y, Day AL, Ashley WW. Intracranial hemorrhage secondary to iatrogenic anterior cerebral artery pseudoaneurysm rupture following ventriculostomy. American J Clin Neurol and Neurosurg. Vol.1, No 3, 2015, pp 133-136.
Park SH, Esquenazi Y, Kline D, Kim D. Surgical outcomes of 156 spinal Accessory nerve injuries caused by lymph node biopsy. J Neurosurg Spine. 2015 Oct;23(4):518-25
Esquenazi Y, Savitz SI, McIntosh MA, El Khoury R, Grotta JC, Tandon N. Hemicraniectomy with and without clot evacuation for spontaneous supratentorial intracerebral hemorrhage. Clin Neurol Neurosurg. 2015 Jan;128:117-22.
Esquenazi Y, Shank C, Tandon N,  Bhattacharjee MB. Lipomatous Hemangiopericytoma of the Sellar Region: Case report and Review of the Literature. Annals of Clinical & Laboratory Science, vol. 44, no. 1, 2014.
Ovadia D, Esquenazi Y, Bucay M, Bachier CR. Association between Takotsubo cardiomyopathy and Axitinib:  Case report and review of the literature. Journal of Clinical Oncology 2014.
Esquenazi Y, Kalamangalam GP, Slater JD, Knowlton RC, Friedman E, Morris SA, et al. Stereotactic laser ablation of epileptogenic periventricular nodular heterotopia. Epilepsy Res. 2014 Jan 30.
Tandon N, Esquenazi Y. A meta-analysis of complications of subdural electrode placement. Epilepsia. 2014 Jan;55(1):195.
Tandon N, Esquenazi Y. Resection strategies in tumoral epilepsy: Is a lesionectomy enough? Epilepsia. 2013 Dec; 54 Suppl 9:72-8.
Esquenazi Y, Kerr K, Bhattacharjee MB, Tandon N. Traumatic rupture of an intracranial dermoid cyst: Case report and literature review. Surg Neurol Int. 2013 Jun 12;4:80,7806.113357. Print 2013.
Esquenazi Y, Sandberg DI, Rekate HL. Successful treatment of hyperphagia by resection of a hypothalamic hamartoma. J Neurosurg Pediatr. 2013 Apr 9.
Lo V, Esquenazi Y, Han MK, Lee K. Critical care management of patients with acute spinal cord injury. J Neurosurg Sci. 2013 Dec;57(4):281-92.
Link MJ, Driscoll CL, Esquenazi Y. Vagoglossopharyngeal-associated syncope due to a retained bullet in the jugular foramen. Skull Base. 2010 Mar;20(2):105-9.
Esquenazi Y, Guinto G, Mercado M. Hypophyseal incidentalomas. Gac Med Mex. 2008 Jan-Feb;144(1):47-53.
Mercado M, Gonzalez B, Sandoval C, Esquenazi Y, Mier F, Vargas G, et al. Clinical and biochemical impact of the d3 growth hormone receptor genotype in acromegaly. J Clin Endocrinol Metab. 2008 Sep;93(9):3411-5.
Sandoval C, Gonzalez B, Cheng S, Esquenazi Y, Mercado M. Macroprolactinemia identification in patients with hyperprolactinemia. Ginecol Obst Mex. 2007 Aug;75(8):459-64.
Book Chapters:
Yoshua Esquenazi, Nitin Tandon. Neurocritical Care Board Review: Questions and Answers, Editor: Asma Zakaria. Chapter 10. "Neuro-oncology". demosMEDICAL, 2013
Yoshua Esquenazi, Nitin Tandon. Neurocritical Care Board Review: Questions and Answers, Editor: Asma Zakaria. Chapter 13 "Perioperative neurosurgical care" demosMEDICAL, 2013.
Arthur L Day, Yoshua Esquenazi, Bulent Yapicular. "Surgical Therapies for Carotid-Ophthalmic Aneurysms" "Neurovascular Surgery 2nd edition" Spetzler, Kalani and Nakaji. Thieme.  In Press
Yoshua Esquenazi, David Sandberg. "Neurosurgical management of Loculated Hydrocephalus". In Complications of CSF shunting. Di Rocco et al. Springer 2014.
Yoshua Esquenazi, Thomas Frank, Arthur L Day. "Anatomy of the Basal Cisterns". In Intraventricular Neuroendoscopy. Torrez-Corzo, Rangel-Castilla, Nakaji P. Thieme. 2015
Yoshua Esquenazi, Daniel H Kim. Brachioplexus tumors extending into the Cervico-Thoracic spine. Chapter 112. Benzel's Spine Surgery, 4th Edition..
Yoshua Esquenazi, Daniel H Kim. Peripheral nerve examination. Handbook of Neurology, Neurosurgery, and Intensive Care for Nurses & Advanced Practice Health Professionals, In press.
Yoshua Esquenazi, Daniel H Kim. Iatrogenic Lumbar spine Infections. Handbook of Neurology, Neurosurgery, and Intensive Care for Nurses & Advanced Practice Health Professionals, In press
Kerr K, Katzen S, Dannenbaum M, Esquenazi Y. Intracranial vascular tumors. In Decision Making in Cerebrovascular Diseases, edited by Drs. Leonardo Rangel-Castilla, Peter Nakaji, Adnan H. Siddiqui, Robert F. Spetzler, and Elad I. Levy. In Press
Esquenazi Y, Bilsky M, Patsalides A. Spinal vascular tumors. In Decision Making in Cerebrovascular Diseases, edited by Drs. Leonardo Rangel-Castilla, Peter Nakaji, Adnan H. Siddiqui, Robert F. Spetzler, and Elad I. Levy. In Press.
Hovinga K, EsquenazI Y, Gutin P. Meningiomas. In Cases in Surgical Neuro-oncology, edited by Drs Lonser and Elder. In Press