Dr. Nicks (UT System Outstanding Educator)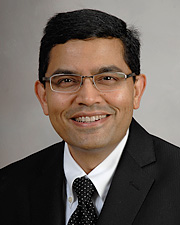 Manickam "Nicks" Kumaravel, MD, professor of diagnostic and interventional imaging and orthopedic surgery, will be one among the few receiving the 2019 Regents' Outstanding Teaching Award (ROTA), during the Board of Regents meeting in Austin. This accolade is given to exceptional UT educators recognized from all 14 UT academic and health institutions.
Nicks' stated "University of Texas McGovern Medical School has been my home for the past 14 years. It is my honor and privilege, to be part of a system, that has certainly provided me the building blocks to aspire and nurture my career path, especially my passion for clinical services and my engagement in education.  I am proud to be part of the UT family, and grateful to be able to continue my mission of advancing education, clinical care and research. Thanks very much to everyone who has been a huge pillar of support in my journey" 
Kumaravel joined the faculty at McGovern in 2005, also serves as the Medical Director for Memorial Hermann TMC OPID and as a team radiologist for the NFL's Houston Texans.
See full article here: Kumaravel named UT System Outstanding Educator