Nuclear Medicine and Molecular Imaging
Welcome to our advanced, state of the art Nuclear/Molecular imaging and Therapies!
The section of Nuclear/Molecular Imaging at McGovern Medical School at UTHealth Houston performs a wide spectrum of diagnostic and therapeutic procedures, these include general nuclear medicine studies, oncologic and neurologic PET/CT imaging. We cover Nuclear Medicine services in Memorial Hermann Hospital at Texas Medical Center (inpatient and outpatient PET/CT and SPECT/CT scanners), Harris County Lyndon B Johnson Hospital (SPECT/CT and SPECT scanners), and partially PET/CT imaging in Smith Clinic of Harris Heath System.
We offer molecular PET/SPECT imaging for multiple neurologic conditions, such as Dementia, Seizure disorders, Depression, Parkinson's, and Central Nervous Vascular diseases. There is a unique value of molecular imaging in dementia diagnosis which is sensitive in detecting early phase of dementia than other imaging modalities.
We provide thyroid disorders imaging and radioactive isotope therapies, including thyroid cancer, toxic nodules and hyperthyroidism, prostate cancer bone metastases therapy, metastatic neuroendocrine tumors and malignant liver conditions. We use radioactive isotopes in trace amounts to diagnose and treat a wide variety of disorders with minimal to no side effects.
Our staff includes 3 experienced nuclear medicine physicians. Our team is active in research and teaching of radiology residents. We also have mini-PET fellowship consisting of a comprehensive 2-day course in PET/CT training which provides the mentored reading.
Interim Section Chief
Faculty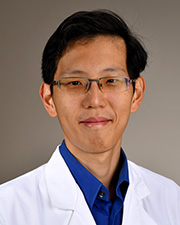 Bo Chen, MD
Visit Profile Page
Isis W. Gayed, MD
Visit Profile Page