Neuroradiology Clinical Research
The Neuroradiology Section offers Clinical Research Services supported by grants, clinical trials, development and professional advising/consulting for UTHealth, Memorial Hermann, industry, federal funding, private funding and other institutions. We will support and enhance the mission and goals of UTHealth through helping to improve healthcare and clinical research. The sections research team will accomplish this by developing, refining and evolving the field of healthcare imaging through research, service and through training professionals in all areas of the discipline, including Neuroradiology Imaging, Biomedical Imaging, Emergency Imaging and Pediatric/Fetal Imaging to name a few. Even though our team will support a large amount of imaging research, it will also support all disciplines of clinical research and basic research.  The Clinical research team will incorporate multidisciplinary research with other UTHealth departments and schools that will create an environment of collaboration. Lastly, the productivity of scholarly activities will continue to generate trainee's interest in innovative solutions and new knowledge that will allow us to become pioneers in imaging advances and while-improving the future of healthcare. The section is currently facilitating several feasibility pilots with other UTHealth departments in relation to advance imaging, innovations, artificial intelligence and 3D printing.
Vision and Mission:
The Vision of  Neuroradiology Sections Clinical Research  is to become one of the leading Imaging Research Institutes in the country through the implementation of a structured, research unit, which will provide advances in treatment and diagnosis to improve patient care. In addition, our section plans to consolidate clinical imaging research starting with the McGovern medical school and eventually extending to all institutions creating a significant cost reduction for the UTHealth system. Our first goal is to establish a leadership role in the scientific advancement of Medical Imaging and image conducted treatment services in a cost-efficient, less invasive and safe manner, while maintaining the objective of educating healthcare professionals (and payers); this will remain critical to our Mission.
The Mission Statement for Neuroradiology Clinical Research is, to support the advancement of healthcare through imaging sciences and image-guided, minimally invasive therapy and technologies through clinical research in an effort to minimize patient disease and costs, improve the quality of patient care, and enhance the quality of life for our patients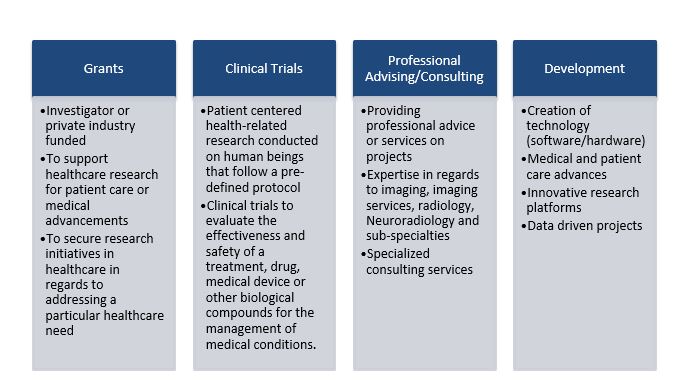 Some Services and Resources Offered:
Data de-identification
Image Post Processing
IRB Development
Study Development
Data Analysis
Research Reads
Software and Hardware for imaging research
Data Integrity and Storage
Abstract and paper development
Grant writing
PACS/Image Viewers
Volumetrics
Measurements
Some of our Current Collaborators:
The McGovern Medical School Information Technology (MSIT)
The School of Biomedical Engineering (SBMI)
UTHealth Office of Strategic Industry Initiatives
The Department of Neurology
The Department of Neurosurgery
UTHealth Fetal Center
National Aeronautics and Space Administration (NASA)
KBR Wyle
For research services, collaboration or business inquires please contact 713-704-1704