Ultrasound in Ecuador
In May of this year, five faculty members and three residents from the Department of Emergency Medicine traveled to Quito, Ecuador to teach the first point-of-care ultrasonography workshop. Drs. Carrie Bakunas, Rachel Bower, Camila Calderón Molestina, Richard Gordon, Miren Pena, Kunal Sharma, Shabana Walia, and Michael Vu all assisted in teaching point-of-care ultrasound and real-time image acquisition in a three-day workshop event. This initiative was established to provide Ecuadorian Emergency Medicine residents with hands-on ultrasound practice for clinical application in a limited resource setting. This is a new partnership with three Ecuadorian universities and their leadership: Drs. Francisco Perez and Paul Carrasco at Pontifica Universidad Católica del Ecuador, Dr. Guillermo Barragán at Universidad Central del Ecuador and Dr. Augusto Maldonado at Universidad San Francisco de Quito.  
Dr. Calderón Molestina, a native of Quito, Ecuador, pursued this partnership with the goal of increasing the use and the accessibility of ultrasound by emergency physicians in Ecuador which will ultimately impact patient care. Ultrasound has widespread clinical applications and has become the ideal imaging modality in many resource-limited settings.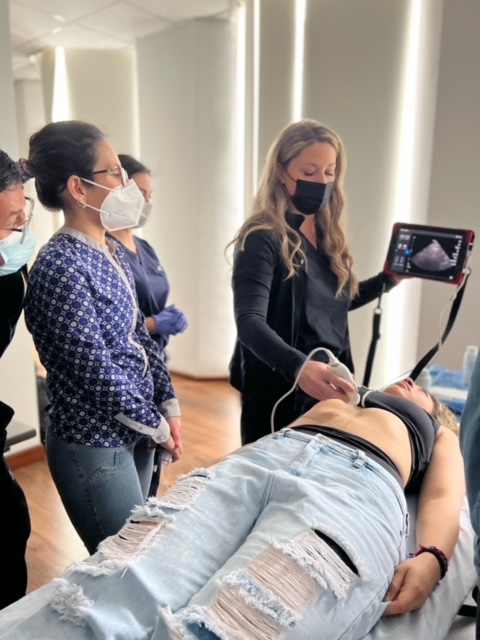 Dr. Calderón-Molestina states, "I immigrated from Ecuador as a child and had the opportunity to return home almost every year where I witnessed first-hand the limited resources some hospitals endured as well as the limited medical care accessibility for some patients. I was thrilled to match at UTHealth in Houston for my emergency medicine residency because I saw the potential that this program had in terms of mentorship, innovation, and medical education. Giving back to my home country has been my inspiration throughout my medical journey and I have been able to accomplish that through UTHealth. The support the Emergency Medicine Department has given us for this endeavor is very much appreciated. We taught 68 emergency medicine residents in three days and forged friendships that we hope to continue to grow. 
Together with Dr. Gordon and the emergency medicine leadership in Ecuador, the partnership we have created encompasses medical education, medical Spanish, research, ultrasound education, and global medicine. My vision for this partnership is to continue to collaborate with our colleagues in Ecuador and expand this program. I am extremely grateful to UTHealth for their support and interest to help this project grow. If you have a dream or a vision, UTHealth is the place to be!"
The Emergency Medicine Department has received positive feedback from the Ecuadorian Emergency Medicine residents, one of the participants, Dr. Ricardo Melo stated "The experience was very enriching and while we have ultrasound knowledge, our technique was much improved and we learned more clinical applications of ultrasound like musculoskeletal scans and nerve blocks. This will be very beneficial to our patients. I am very grateful for this partnership and hope to continue to participate in future ultrasound workshops."
The Emergency Medicine Department will continue to expand this partnership and future plans include creating an elective rotation for the UTHealth residents to participate in yearly ultrasound workshops, collaborating with the Ecuadorian universities in patient-centered ultrasound-related research, and establishing a remote ultrasound curriculum.