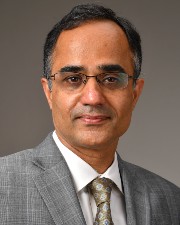 Professor and Chair ad interim
Director, Epilepsy Surgery Program
Contact
(713) 486-8000
(713) 486-8088 fax

Biography
Visit the Tandon Research Laboratory
Board Certifications
American Board of Neurological Surgery
Dr. Nitin Tandon serves as Professor and Chair ad interim of the Vivian L. Smith Department of Neurosurgery at UTHealth Medical School. Dr. Tandon received his medical degree at the Armed Forces Medical College in Pune, India, followed by a residency in neurosurgery at The University of Texas Health Science Center in San Antonio. He completed a fellowship in epilepsy surgery at Cleveland Clinic.
He has co-authored many studies, which have been published in NeuroImage, Journal of Neurosurgery, Clinical Neurosurgery and Human Brain Mapping. His current research studies include "The localization of eloquent cortex using functional imaging and using diffusion tensor imaging tractography" and "The electrophysiological characteristics of language regions."
Dr. Tandon is a member of the Texas Medical Association, American Association of Neurological Surgeons, Organization of Human Brain Mapping, Society for Neuroscience and the American Epilepsy Society. He is an ad hoc reviewer for many peer-reviewed journals. He has been an invited speaker at national and international conferences and also directs an active research effort.
For Patients
If you are interested in learning more about Dr. Tandon's clinical practice, please click below.
Education
Graduate School

Armed Forces Medical College, Pune, India

Internship

Mayo Clinic, Rochester, Minnesota

Residency

The University of Texas Health Science Center at San Antonio, San Antonio, Texas

Fellowship

University of Washington, Seattle, Washington (Neurosurgery)

Fellowship

Cleveland Clinic, Cleveland, Ohio (Epilepsy)

Post Doctorate

The University of Texas Health Science Center at San Antonio, San Antonio, Texas (Human Neuroimaging)
Areas of Interest
Clinical Interests
Epilepsy surgery including placement of subdural grid electrodes, amygdalo-hippocampectomy, anterior temporal lobectomy, neo-cortical resections
Brain mapping and awake craniotomies
Brain tumor surgery, including: tumors in speech and motor cortex, insular tumors, intra-ventricular tumors, pineal tumors, pituitary and para-sellar tumors
Cavernous malformation (cavernoma) surgery
Micro-vascular decompression for trigeminal neuralgia
General Neurosurgery
Research Interests
Brain mapping with functional MRI, electrical stimulation and diffusion tractography
Intra-cranial electrophysiology
Publications
PEER Reviewed publications (* denotes publications by my students/post-Docs) Scopus Author ID 7101833763; ORCID 0000-0002-2752-2365
Tandon N, Vollmer DG, New PZ, Hevezi JM, Herman T, Kagan-Hallet K, West GA. Fulminant radiation-induced necrosis after stereotactic radiation therapy to the posterior fossa: case report and review of the literature. Journal of Neurosurgery 95:507-512, 2001. PMID:11565876
Tandon N, Narayana S, Lancaster JL, Brown S, Dodd S, Vollmer DG, Ingham R, Ingham J, Liotti M, Fox PT. CNS resident award: role of the lateral premotor cortex in articulation. Clinical Neurosurgery 50:341-349, 2003. PMID:14677451
Fox PT, Narayana S, Tandon N, Sandoval H, Fox SP, Kochunov P, JL Lancaster. Column-based model of electric field excitation of cerebral cortex. Human Brain Mapping 22(1):1-14, 2004. PMID:15083522
Fox PT, Narayana S, Tandon N, Fox SP, Sandoval H, Kochunov P, Capaday C, Lancaster JL. Intensity modulation of TMS-induced cortical excitation: primary motor cortex. Human Brain Mapping 27(6):478-87, 2006. PMID:16161021
Luders HO, Acharya J, Alexopoulos A, Baumgartner C, Bautista J, Burgess R, Carreno M, Diehl B, Dinner D, Ebner A, Foldvary N, Godoy J, Hamer H, Ikeda A, Kallen K, Kellinghaus C, Kotagal P, Lachhwani D, Loddenkemper T, Mani J, Matsumoto R, Moddel G, Nair D, Noachtar S, O'Donovan CA, Rona S, Rosenow F, Schuele S, Szabo CA, Tandon N, Tanner A, Widdess-Walsh P. Are epilepsy classifications based on epileptic syndromes and seizure types outdated? Epileptic Disorders 8(1):81-85, 2006. PMID:16567333
Tandon N, O'Neill TJ, Vollmer DG, Wang M. Intraventricular occurrence of a melanocytoma. Journal of Neurosurgery 109:480-485, 2008. PMID:18759580
Tandon N, Alexopoulos AV, Warbel A, Najm IM, Bingaman WE. Occipital epilepsy: spatial categorization and surgical management. Journal of Neurosurgery 110(2):306-318, 2009. PMID:19046038
*Ellmore TM, Beauchamp MS, O'Neill TJ, Dreyer SE, Tandon N. Relationships between essential cortical language sites and subcortical pathways. Journal of Neurosurgery 111:755-766, 2009. PMID 19374498
Swann N, Tandon N, Canolty R, *Ellmore TM, McEvoy LK, Dreyer S, DiSano M, Aron AR. Intracranial EEG reveals time- and frequency-specific role for the right inferior frontal gyrus and primary motor cortex in stopping initiated responses. Journal of Neuroscience 29(40):12675-12685, 2009. PMID:19812342
*Ellmore TM, Beauchamp MS, Breier JI, Slater JD, Kalamangalam GP, O'Neill TJ, DiSano MA, Tandon N. Temporal lobe white matter asymmetry and language laterality in epilepsy patients. Neuroimage 49(3):2033-2044, 2010. PMID:19874899
*Ellmore TM, Pieters TA, Tandon N. Dissociation between diffusion MR tractography density and strength in epilepsy patients with hippocampal sclerosis. Epilepsy Research 93(2-3):197-203, 2011. PMID:21168313
*Khursheed F, Tandon N, Tertel K, Pieters TA, Disano MA, *Ellmore TM. Frequency-specific electrocorticographic correlates of working memory delay period fMRI activity. NeuroImage 56(3):1773-1782, 2011. PMID:21356314
Kalamangalam GP, Tandon N, Saria HY, Slater JD. Asymmetric scalp EMG: A common and accurate lateralizing sign in motor seizures. Journal of Clinical Neurophysiology 28(5):512-519, 2011. PMID:21946364
*Conner CR, *Ellmore TM, Pieters T, Tandon N. Variability of the relationship between electrophysiology and BOLD-fMRI across cortical regions in humans. Journal of Neuroscience 31(36):12855-12865, 2011. PMID:21900564
*Conner CR, *Ellmore TM, DiSano MA, Pieters TA, Potter A, Tandon N. Anatomic and electro-physiologic connectivity of the language system: a combined DTI-CCEP study. Computers in Biology and Medicine 41(12):1100-1109, 2011. PMID:21851933
Tertel K, Tandon N, *Ellmore TM. Probing brain connectivity by combined analysis of diffusion MRI tractography and electrocorticography. Computers in Biology and Medicine 41(12):1092-1099, 2011. PMID:21129738
Swann NC, Cai W, *Conner CR, Pieters TA, Claffey MP, George JS, Aron AR, Tandon N. Roles for the pre-supplementary motor area and the right inferior frontal gyrus in stopping action: electrophysiological responses and functional and structural connectivity. NeuroImage 59(3):2860-2870, 2012. PMID:22879352
Narayana S, Laird AR, Tandon N, Franklin C, Lancaster JL, Fox Electrophysiological and functional connectivity of the human supplementary motor area. Neuroimage 62(1):250-265, 2012. PMID:22569543
Alexandrescu S, Brown RE, Tandon N, Bhattacharjee MB. Neuronal precursor features of spindle cell oncocytoma of adenohypophysis. Annals of Clinical & Laboratory Science, 42(2):123-129, 2012. PMID:22585606
*Ellmore TM, Tertel K, Dias NR, Tandon N. Mapping subcortical connectivity related to cortical gamma and theta oscillations. IEEE Xplore, IEEE 2012.
Watrous AJ, Tandon N, *Conner CR, Pieters TA, Ekstrom AD. Frequency-specific network connectivity increases underlie accurate spatiotemporal memory retrieval. Nature Neuroscience 16(3):349-356, 2013. PMID:23354333
*Pieters TA, *Conner CR, Tandon Recursive grid partitioning on a cortical surface model: An optimized technique for the localization of implanted subdural electrodes. Journal of Neurosurgery 118(5):1086-1097, 2013. PMID:23495883
Friedman ER, Tandon N. Beyond mesial temporal sclerosis: optimizing MRI evaluation in focal epilepsy. NeuroGraphics 3(2):60-69, 2013.
*Esquenazi Y, Kerr K, Bhattacharjee MB, Tandon N. Traumatic rupture of an intracranial dermoid cyst: case report and literature review. Surgical Neurology International 4:80, 2013. PMID:23869280
Lin Y, Chen Y, Wang Y, Yang J, Zhu VF, Liu Y, Cui X, Chen L, Yan W, Jiang T, Hergenroeder GW, Fletcher SA, Levine JM, Kim DH, Tandon N, Zhu JJ, Li M. ZIP4 is a novel molecular marker for glioma. Neuro-Oncology.Aug 15(8):1008-1016, 2013. PMID:23595627
Swann NC, Tandon N, *Pieters TA, Aron AR. Intracranial EEG reveals dissociable roles for dorsal and ventro-lateral prefrontal cortex in preparing to stop action. Cerebral Cortex 23(10):2479-2488, 2013. PMID:22879352
Ritaccio A, Brunner P, Crone NE, Gunduz A, Hirsch LJ, Kanwisher N, Litt B, Miller K, Moran D, Parvizi J, Ramsey N, Richner TJ, Tandon N, Williams J, Schalk Proceedings of the fourth international workshop on advances in electrocorticography. Epilepsy and Behavior 29(2):259-268, 2013. PMID:24034899
Wessel JR, Conner CR, Aron AR, Tandon Chronometric electrical stimulation of right inferior frontal cortex increases motor braking. Journal of Neuroscience 33(50):19611-19619, 2013. PMID:24336725
Tandon N, *Esquenazi YE. Resection strategies in tumoral epilepsy: is a lesionectomy enough? Epilepsia 54(9):72-78, 2013. PMID:24328877
Tandon N, *Esquenazi YE. A meta-analysis of the complications of subdural electrode placement (letter to the editor). Epilepsia 55(1):195, 2014. PMID:24446957
*Esquenazi YE, Kalamangalam GP, Slater JD, Knowlton RC, Friedman E, Aaron-Morris S, Shetty A, Gowda A, Tandon N. Stereotactic laser ablation of epileptogenic periventricular nodular heterotopia. Epilepsy Research, 108(3):547-554, 2014. PMID:24518890
*Conner CR, Chen G, *Pieters TA, Tandon N. Category specific spatial dissociations of parallel processes underlying visual naming. Cerebral Cortex 24(10):2741-2750, 2014. PMID:23696279
*Esquenazi Y, Tandon N, Shank C, Bhattacharjee MB. Lipomatous hemangiopericytoma of the sellar region: case report and review of the literature. Annals of Clinical and Lab Science 44(1):104-108, 2014. PMID:24695483
Kalamangalam GP, Tandon N, Slater JD. Dynamic mechanisms underlying afterdischarge: a human subdural recording study. Clinical Neurophysiology 125(7):1324-1338, 2014. PMID:24365519
Barron D, Tandon N, Lancaster JL, Fox PT. Thalamic connectivity in medial temporal lobe epilepsy. Epilepsia 55(6):e50-55, 2014. PMID:24802969
Lüders HO, Amina S, Bailey C, Baumgartner C, Benbadis S, Bermeo A, Carreño M, Devereaux M, Diehl B, Eccher M, Edwards J, Fastenau P, Baca-Vaca GF, Godoy J, Hamer H, Hong SB, Ikeda A, Kahane P, Kaiboriboon K, Kalamangalam GP, Lardizabal D, Lhatoo S, Lüders J, Mani J, Mayor C, Latorre TM, Miller J, Morris H, Noachtar S, O'Donovan C, Park J, Perez-Jimenez MA, Rona S, Rosenow F, Shahid A, Schuele S, Skidmore C, Steinhoff B, Szabό CA, Sweet J, Tandon N, Tanner A, Tsuji S. Proposal: different types of alteration and loss of consciousness in epilepsy. Epilepsia 55(8):1140-1144, 2014. PMID: 24981417
*Kadipasaoglu CM, Baboyan VG, *Conner CR, Chen G, Saad ZS, Tandon N. Surface-based mixed effects multilevel analysis of grouped human electrocorticography. NeuroImage 101:215-224, 2014. PMID:25019677
Kalamangalam GP, Cara L, Tandon N, Slater An interictal EEG spectral metric for temporal lobe epilepsy lateralization. Epilepsy Res 108(10):1748-1757, 2014. PMID:25270401
So NK, Cole AJ, Tandon N, Slater JD, Smith MC. Neurostimulation for the treatment of epilepsy: the skeptical view. 83(9):847-849, 2014. PMID:25156350
Cole AJ, So NK, Tandon N, Slater JD, Smith MC. Judgment is not ignorance. Neurology 83(9):847, 2014. PMID:25156349
*Esquenazi Y, Savitz SI, Khoury RE, McIntosh MA, Grotta JC, Tandon Decompressive hemicraniectomy with or without clot evacuation for large spontaneous supratentorial intracerebral hemorrhages. Clinical Neurology and Neurosurgery 128:117-122, 2015. PMID:25496934
*Kadipasaoglu CM, *Forseth K, *Whaley M, *Conner CR, Rollo MJ, Baboyan VG, Tandon N. Development of grouped icEEG for the study of cognitive processing. Frontiers in Psychology 6:1008, 2015. PMID:26257673
*Whaley ML, *Kadipasaoglu CM, Cox SJ, Tandon Modulation of orthographic decoding by frontal cortex. Journal of Neuroscience 36(4):1173-1184, 2016. PMID:26818506
Chelaru ML, Hansen BJ, Tandon N, *Conner CR, Szukalski S, Slater JD, Kalamangalam G, Dragoi V. Reactivation of visual-evoked activity in human cortical networks. Journal of Neurophysiology 115(6):3090-3100,2016. PMID:26984423
Morris SA, *Esquenazi Y, Tandon N. Pyogenic cerebral abscesses demonstrating facilitated diffusion. Clinical Neurology and Neurosurgery 144:77-81, 2016. PMID:26999529
Kim K, Ekstrom AD, Tandon N. A network approach for modulating memory processes via direct and indirect brain stimulation: toward a causal approach for the neural basis of memory. Neurobiology of Learning and Memory 134 Pt A:162-177, 2016. PMID:27066987
Srihawan C, Castelblanco RL, Salazar L, Wootton SH, Aguilera E, Ostrosky-Zeichner L, Sandberg DI, Choi HA, Lee K, Kitigawa R, Tandon N and Hasbun R. Clinical characteristics and predictors of adverse outcome in adult and pediatric patients with healthcare associated ventriculitis and meningitis. Open Forum Infect Dis, 3(2):ofw077, 2016. PMID:27419154
*Kadipasaoglu CM, *Conner CR, *Whaley ML, Baboyan VG, Tandon N. Category-selectivity in human visual cortex follows cortical topology. PLoS One 11(6):e0157109, 2016. PMID:27272936
Thompson SA, Kalamangalam GP, Tandon N. Intracranial evaluation and laser ablation for epilepsy with periventricular nodular heterotopia. Seizure 41:211-216, 2016. PMID:27461957
*Esquenazi Y, Kalamangalam GP, Hope OA, Krish SN, Slater JD, Tandon N. Surgical resection for epilepsy following cerebral gunshot wounds. World Neurosurgery 95:276-284, 2016. PMID:27546337
Kalamangalam GP, Tandon Stereo-EEG implantation strategy. J Clinical Neurophysiology 33(6):483-489, 2016. PMID:27918343
Malladi R, Kalamangalam GP, Tandon N, Aazhang B. Identifying seizure onset zone from the causal connectivity inferred using directed information. IEEE Journal of Selected Topics in Signal Processing 10(7):1267-1283, 2016.
Slater JD, Chelaru MI, Hansen BJ, Beaman C, Kalamangalam G, Tandon N, Dragoi V. Focal changes to human electrocorticography with drowsiness: a novel measure of local sleep. The Journal of Neuropsychiatry and Clinical Neurosciences 29(3):236-247, 2017. PMID:28121257
*Esquenazi Y, Friedman E, Liu Z, Zhu J, Hsu S, Tandon N. The survival advantage of "supratotal" resection of glioblastoma using selective cortical mapping and the subpial technique. Neurosurgery 81(2):275-288, 2017. PMID:28368547
Morris SA, Rollo M, Johnson J, Kalamangalam GP, Grant GA, Tandon N. Prolonged blood-brain barrier disruption following laser interstitial ablation in epilepsy: a case series with a case report of postablation optic neuritis. World Neurosurgery 104:467-475, 2017. PMID:28502693
*Bartoli E, *Conner CR, *Kadipasaoglu CM, Rollo MJ, Carter CS, Tandon N. Temporal dynamics of human frontal and cingulate neural activity during conflict and cognitive control. Cerebral Cortex 28:1-15, PMID:29028974
*Kadipasaoglu CM, *Conner CR, Baboyan VG, Rollo M, *Pieters TA, Tandon N. Network dynamics of human face perception. PLOS One 12(11):e0188834, 2017. PMID:29190811
*Stark J, Friedman E, Thompson S, Allmen GV, Bhattacharjee M. Atypical presentations of dysembryoplastic neuroepithelial tumors. Epilepsia 59(1):e14-e17, 2018. PMID:29205319
Karunakaran S, Rollo M, Kim K, Johnson J, Kalamangalam GP, Aazhang B, Tandon N. The interictal mesial temporal epilepsy network. Epilepsia 59(1):244-258, 2018. PMID:29210066
*Bartoli E, Aron A, Tandon N. Topography and timing of right inferior frontal cortex and anterior insula for stopping movement. Human Brain Mapping 39(1):189-203, 2018. PMID:29024235
*Kim K, Schedlbauer A, Rollo M, Karunakaran S, Ekstrom AD, Tandon N. Network-based brain stimulation selectively impairs spatial retrieval. Brain Stimulation 11(1):213-221, 2018. PMID:29042188
Kamali A., Zhang CC, Riascos RF, Tandon N, Bonafante-Mejia EE, Patel R, Lincoln JA, Rabiei P, Ocasio L, Younes K, and Hasan KM. Diffusion tensor tractography of the mammillothalamic tract in the human brain using a high spatial resolution DTI technique. Scientific Reports 8(1):5229, 2018. PMID:29588461
*Moore BD, Aron AR, Tandon N. Closed-loop intracranial stimulation alters movement timing in humans. Brain Stimulation 11(4):886-895, 2018. PMID:29598890
KamaliA, Karbasian N, Rabiei P, Cano A, Riascos RF, Tandon N, Arevalo O, Ocasio L, Younes K, Khayat-Khoei M, Mirbagheri S, Hasan KM. Revealing the cerebello-ponto-hypothalamic pathway in the human brain. Neuroscience Letters 677:1-5, 2018. PMID:29673951
Kamali A, Riascos RF, Pillai JJ, Sair HI, Patel R, Nelson FM, Lincoln JA, Tandon N, Mirbagheri S, Rabiei P, Keser Z, Hasan KM. Mapping the trajectory of the amygdalo-thalamic tract in the human brain. Journal of Neuroscience Research 96(7):1176-1185, 2018. PMID:29607550
*Forseth KJ, *Kadipasaoglu CM, *Conner CR, Hickok G, Knight RT, Tandon N. A lexical semantic hub for heteromodal naming in middle fusiform gyrus. Brain 141(7):2112-2126, 2018. PMID:29860298
*Donos C, Breier J, Friedman E, Rollo P, Johnson JA, Moss L, Thompson SA, Thomas M, Hope O, Slater JD, Tandon N. Laser ablation for mesial temporal lobe epilepsy: surgical and cognitive outcomes with and without mesial temporal sclerosis. Epilepsia 59(7):1421-1432, 2018. PMID:29893987
Malladi R, Johnson DH, Kalamangalam GP, Tandon N, Aazhang B. Mutual information in frequency and its application to measure cross-frequency coupling in epilepsy. IEEE Trasactions on Signal Processing 66(11):3008-3023, 2018.
Achi HE, Lally JE, Riascos RF, Zhu JJ,Tandon N, *Esquenazi Y, Bhattacharjee MB, Ballester LY. Primary central nervous system lymphoma with associated demyelination and Creutzfeldt astrocytes. Ann Clin Lab Sci 48(4):534-537, 2018. PMID:30143499
Nguyen QB, Amato R, Riascos R, Ballester L, Tandon N, Blanco A, *Esquenazi Fluciclovine, Anti-1-amino-3-[18F]-fluorocyclobutane-1-carboxylic acid: a novel radiotracer for meningioma. World Neurosurgery 119:132-136, 2018. PMID:30077749
TandonN, Tong BA, Friedman ER, Johnson JA, Von Allmen G, Thomas MS, Hope OA, Kalamangalam GP, Slater JD, Thompson SA. Analysis of morbidity and outcomes associated with use of subdural grids vs stereo-electroencephalography in patients with intractable epilepsy. JAMA Neurology 76(6):672-681, 2019. PMID:30830149
Lüders H, Vaca GF, Akamatsu N, Amina S, Arzimanoglou A, Baumgartner C, Benbadis SR, Bleasel A, Bermeo-Ovalle A, Bozorgi A, Carreño M, Devereaux M, Francione S, Losarcos NG, Hamer H, Holthausen H, Jamal-Omidi S, Kalamangalam G, Kanner AM, Knake S, Lacuey N, Lhatoo S, Lim SH, Londoño LV, Mani J, Matsumoto R, Miller JP, Noachtar S, Palmini A, Park J, Rosenow F, Shahid A, Schuele S, Steinhoff BJ, Ákos Szabó C,Tandon N, Terada K, Boas WVE, Widdess-Walsh P, Kahane P. Classification of paroxysmal events and the four-dimensional epilepsy classification system. Epileptic Disord 21(1):1-29, 2019. PMID:30782582
Lüders H, Akamatsu N, Amina S, Baumgartner C, Benbadis S, Bermeo-Ovalle A, Bleasel A, Bozorgi A, Carreño M, Devereaux M, Fernandez-Baca Vaca G, Francione S, García Losarcos N, Hamer H, Holthausen H, Jamal Omidi S, Kalamangalam G, Kanner A, Knake S, Lacuey N, Lhatoo S, Lim SH, Mani J, Matsumoto R, Miller J, Noachtar S, Palmini A, Park J, Rosenow F, Shahid A, Schuele S, Steinhoff B, Szabo CÁ, Tandon N, Terada K, Van Emde Boas W, Widdess-Walsh P, Kahane P. Critique of the 2017 epileptic seizure and epilepsy classifications. Epilepsia 60(6):1032-1039, PMID:30924146
Morris SL, Zhu P, Rao M, Martir M, Zhu JJ, Hsu S, Ballester LY, Day AL, Tandon N, Kim DH, Shepard S, Blanco A, *Esquenazi Y. Gamma knife stereotactic radiosurgery in combination with bevacizumab for recurrent glioblastoma. World Neurosurgery 127:e523-e533, 2019. PMID: 30954746
Giahi-Saravani A, *Forseth K, Tandon N, Pitkow X. Dynamic brain interactions during picture naming. eNeuro 6(4):eneuro0472-18. 2019. PMID: 31196941
Ali FS, Arevalo O, Zorofchian S, Patrizz A, Riascos R,Tandon N, Blanco A, Ballester LY, *Esquenazi Cerebral radiation necrosis: incidence, pathogenesis, diagnostic challenges, and future opportunities. Current Oncology Reports 21(8): 66, 2019. Review. PMID: 31218455
Gildersleeve KL, Hirzallah MI, *EsquenaziY, Moomaw CJ, Sekar P, Cai C, Tandon N, Woo D, Gonzales NR. Hemicraniectomy for supratentorial primary intracerebral hemorrhage: a retrospective, propensity score matched study. Journal of Stroke and Cerebrovascular Diseases 28(11):104361, 2019. PMID:31515185
Zhu P, Du XL, Blanco AI, Ballester LY, Tandon N, Berger MS, Zhu JJ, *Esquenazi Impact of facility type and volume in low-grade glioma outcomes. Journal of Neurosurgery 27:1-11, 2019. PMID:31561219
*Conner CR, *Kadipasaoglu CM, Shouval HZ, Hickok G, Tandon N. Network dynamics of Broca's area during word selection. PLOS One, 14(12):e0225756, 2019. PMID:31860640
*Woolnough O, *Forseth K, Rollo P, Tandon N. Uncovering the functional anatomy of the insula during speech. eLife, Dec 19(8): e53086, 2019. PMID:31852580
Palmini A, Akamatsu N, Bast T, Bauer S, Baumgartner C, Benbadis S, Bermeo-Ovalle A, Beyenburg S, Bleasel A, Bozorgi A, Brázdil M, Carreño M, Delanty N, Devereaux M, Duncan JS, Fernandez-Baca Vaca G, García Losarcos N, Ghanma L, Gil-Nagel A, Hamer H, Holthausen H, Omidi SJ, Kahane P, Kalamangalam G, Kanner A, Knake S, Kovac S, Kraemer G, Kurlemann G, Lacuey N, Landazuri P, Hui Lim S, LoRusso G,Luders H, Mani J, Matsumoto R, Miller J, Noachtar S, O'Dwyer R, Park J, Reif PS, Rémi J, Rosenow F, Sakamoto A, Schubert-Bast S, Schuele S, Shahid A, Steinhoff JB, Strzelczyk A, Szabó CÁ, Tandon N, Terada K, Toledo M, van Emde Boas W, Walker M, Widdess-Walsh P. From theory to practice: critical points in the 2017 ILAE classification of epileptic seizures and epilepsies. Epilepsia, 2020 Feb 61(2):350-353. PMID:32073153
Rosenow F, Akamatsu N, Bast T, Bauer S, Baumgartner C, Benbadis S, Bermeo-Ovalle A, Beyenburg S, Bleasel A, Bozorgi A, Brázdil M, Carreño M, Delanty N, Devereaux M, Duncan J, Fernandez-Baca Vaca G, Francione S, García Losarcos N, Ghanma L, Gil-Nagel A, Hamer H, Holthausen H, Omidi SJ, Kahane P, Kalamangalam G, Kanner A, Knake S, Kovac S, Krakow K, Krämer G, Kurlemann G, Lacuey N, Landazuri P, Lim SH, Londoño LV, LoRusso G,Luders H, Mani J, Matsumoto R, Miller J, Noachtar S, O'Dwyer R, Palmini A, Park J, Reif PS, Remi J, Sakamoto AC, Schmitz B, Schubert-Bast S, Schuele S, Shahid A, Steinhoff B, Strzelczyk A, Szabo CA, Tandon N, Terada K, Toledo M, van Emde Boas W, Walker M, Widdess-Walsh P. Could the 2017 ILAE and the four-dimensional epilepsy classifications be merged to a new "Integrated Epilepsy Classification"? Seizure. 2020 Mar 5;78:31-37. PMID: 32155575
*Donos C, *Tombridge K, Rollo P, Johnson JA, Tandon N. Visual field deficits following laser ablation of the hippocampus. Neurology, 2020 Mar 24;94(12): Epub 2020 Feb 26. PMID: 32102974
*Woolnough O, Rollo PS, *Forseth KJ, *Kadipasaoglu CM, Ekstrom AD, Tandon N. Category selectivity for face and scene recognition in human medial parietal cortex. Current Biology, 2020 Jul 20;30(14):2707-2715. PMID: 32502406
*Rollo PS, Rollo MJ, Zhu P, *Woolnough O, Tandon N. Oblique trajectory angles in robotic stereo-electroencephalography. Journal of Neurosurgery, 2020 Aug 14; 1-10. PMID: 32796145
Sickler R 3rd, Bhattacharjee M, Tandon N, Zhu J, *Stark J. Metastatic glioblastoma multiforme to the vertebral column. JCO Oncology Practice. 2020 Aug 24:OP2000347. PMID: 32840424
Avci NG, Ebrahimzadeh-Pustchi S, Akay Y, *Esquenazi Y, Tandon N, Zhu J-J, Akay M. NF-κβ inhibitor with Temozolomide results in significant apoptosis in glioblastoma via the NF-κβ -(p65) and actin cytoskeleton regulatory pathways. Scientific Reports, 10:13352, 2020.
Yan Y, Takayasu T, Hines G, Dono A, Hsu SH, Zhu J, Riascos-Castaneda RF, Kamali A, Bhattacharjee MB, Blanco AI, Tandon N, Kim DH, Ballester LY and *Esquenazi Landscape of genomic alterations in IDH-WT GBM identifies P13K as a favorable prognostic factor. JCO Precision Oncology 2020 Nov;4:575, PMID:35050747
*Forseth KJ, Hickok G, Rollo PS, Tandon N. Language prediction mechanisms in human auditory cortex. Nature Communications, 2020 Oct 16;11(1):5240. PMID: 33067457
*Tong BA, *Esquenazi Y, Johnson JA, Zhu P, Tandon N. The brain is not flat: conformal electrode arrays diminish complications of subdural electrode implantation. World Neurosurg, 2020 Sep 16;S1878-8750(20)32071-4. PMID: 32949797
*Dono A, Vu J, Anapolsky M, Hines G, Takayasu T, Yan Y, Tandon N, Zhu JJ, Bhattacharjee MB, *Esquenazi Y, Ballester LY. Additional genetic alterations in BRAF-mutant gliomas correlate with histologic diagnoses. Journal of Neuro-oncology, 2020 Oct 3. PMID: 33009979
*Dono A, Wang E, Lopez-Rivera V, Ramesh AV, Tandon N, Ballester LY, *Esquenazi Y. Molecular characteristics and clinical features of multifocal glioblastoma. J Neuro-oncology, 2020 Jun;148(2):389-397. PMID:32440969
Gildersleeve KL, Hirzallah MI, *Esquenazi Y, Moomaw CJ, Sekar P, Cai C, Tandon N, Woo D, Gonzales NR. Corrigendum to 'Hemicraniectomy for supratentorial primary intracerebral hemorrhage: A retrospective, propensity score matched study'. Journal of Stroke and Cerebrovascular Dis, 2020 May;29(5):104654. PMID: 32033906
*Zeineddine HA, Westmark K, Khanpara S, *Conner CR, Zhang Xu, Tandon N, Day AL. Risk analysis and management of third ventricular colloid cysts. World Neurosurgery, 2020 Nov 24;S1878-8750(20)32465-7. PMID: 33246179
Ochoa-Urrea M, Dayyani M, Sadeghirad B, Tandon N, Lacuey N, Lhatoo SD. Electrical stimulation-induced seizures and breathing dysfunction: A systematic review of new insights into the epileptogenic and symptomatogenic zones. Frontiers in Human Neuroscience, 2021 Jan 22;14:617061. PMID: 33551780
*Dono A, Amsbaugh M, Martir M, Smilie RH, Riascos RF Zhu J-J, Hsu S, Kim DH, Tandon N, Ballester LY, Blanco AI, Esquenazi Y. Genomic alterations predictive of response to radiosurgery in recurrent IDH-WT glioblastoma. Journal of Neuro-Oncology, 2021 Jan 25. PMID: 33492602
*McCormack RM, Zhu P, Dono A, Takayasu T, Bhatia A, Blanco AI, Tandon N, Ostrom QT, Gonzales A, Moreno S, Ballester LY, Esquenazi Y. Role of ethnicity and geographic location on glioblastoma IDH1/IDH2 mutations. World Neurosurgery, 2021 Jan 28. PMID: 33516867.
*Yellapantula S, *Forseth K, Tandon N, Aazhang B. NetDI: Methodology elucidating the role of power and dynamical brain network features that underpin word production. eNeuro, 2021 Feb 9;8(1):ENeuro.0177-20.2020. PMID: 33293456
Kohlhase K, Zollner JP, Tandon N, Strzelczyk A, Rosenow F. Comparison of minimally invasive and traditional surgical approaches for refractory mesial temporal lobe epilepsy: a systematic review and meta-analysis of outcomes. Epilepsia, 2021 Mar 3. PMID: 33656182
*Woolnough O, *Donos C, Rollo PS, *Forseth KJ, Lakretz Y, Crone NE, Fischer-Baum S, Dehaene S, Tandon N. Spatiotemporal dynamics of orthographic and lexical processing in the ventral visual stream. Nature Human Behavior, 2021 Mar;5(3):389-398. PMID: 33257877.
Dono A, Mitra S, Shah M, Takayasu T, Zhu JJ,Tandon N, Patel CB, Esquenazi Y, Ballester LY. PTEN mutations predict benefit from tumor treating fields (TTFields) therapy in patients with recurrent glioblastoma. J Neurooncol. 2021 May;153(1):153-160.PMID: 3881725
Watkins MW, Funke EG, Funke ME, Garcia-Tarodo S, Shah MN, Tandon N, Maestu F, Laohathai C, Sandberg DI, Lankford JE, Thompson S, Mosher JC, Von Allmen G. Indications for inpatient magnetoencephalography in children. Frontiers in Human Neurosicence – Brain Imaging and Stimulation, 2021, Jun 4. PMID: 34149382.
*Dono A, *Pothiawala AZ, Lewis CT, Bhattacharjee MB, Ballester LY, Tandon N. Molecular Alterations in Meningioangiomatosis Causing Epilepsy. Journal of Neuropathology & Experimental Neurology, 2021, Sept 27. PMID: 34580720
*Dono, A, Zhu P, *Holmes E, Takayasu T, Zhu JJ, Blanco AI, Hsu S, Bhattacharjee MB, Ballester LY, Kim DH, Esquenazi Levy Y, Tandon N. Impacts of genotypic variants on survival following reoperation for recurrent glioblastoma. Journal of Neuro-Oncology, 2022 Jan 8, PMID: 34997451
Feinsinger A, Pouratian N, Ebadi H, Adolphs R, Andersen R, Beauchamp MS, Chang EF, Crone NE, Collinger JL, Fried I, Mamelak A, Richardson M, Rutishauser U, Sheth SA, Suthana N,Tandon N, Yoshor D. Ethical commitments, principles, and practices guiding intracranial neuroscientific research in humans. NIH Research Opportunities in Humans Consortium. Neuron. 2022 Jan 19;110(2):188-194. PMID: 35051364
*Woolnough O, *Kadipasaoglu CM, *Conner CR, *Forseth KJ, Rollo PS, Rollo MJ, Baboyan VG, Tandon N. Dataset of human intracranial recordings during famous landmark identification. Scientific Data, 2022 Jan 31;9(1):28. PMID: 35102154
Damron EP, Dono A, Chafi H, Martir M, Yu TK, Khwaja S, Amsbaugh M, Tandon N,Esquenazi Y, Blanco AIMetastatic Neoplasm Volume Kinetics Following Two-Staged Stereotactic Radiosurgery. World Neurosurg. 2022 Feb 2: PMID: 35123024
*Murphy E, *Woolnough O, Rollo PS, Roccaforte A, Segaert K, Hagoort P, Tandon N. Minimal phrase composition revealed by intracranial recordings. – Journal of Neuroscience. 2022 Feb 25. PMID: 35232761
*McCarty MJ, *Woolnough O, Mosher JC, Seymour J, Tandon N. The listening zone of human electrocorticographic field potential recordings. – eNeuro (in press)
*Woolnough, O, Snyder KM, Morse CW, McCarty MJ, Lhatoo SD, Tandon N – Intraoperative localization and preservation of reading in ventral occipitotemporal cortex – Journal of Neurosurgery (in press)
*Ilyas A, Snyder, KM, Thomas TM, Tandon N: Optimal Targeting of Anterior Nucleus of the Thalamus for Epilepsy: A Meta-Analysis – Journal of Neurosurgery (in press)
On bioRxiv and/or In review:
*Woolnough O, Donos C, Curtis A, Rollo PS, Roccaforte ZJ, Dehaene S, Fischer-Baum S, Tandon N. A spatiotemporal map of reading aloud. bioRxiv 05.23.445307; doi: https://doi.org/10.1101/2021.05.23.445307
*Woolnough O, *Forseth KJ, Rollo PS, Roccaforte ZJ, Tandon N. Event-related phase synchronization propagates rapidely across human ventral visual cortex. bioRxiv 08.02.454804; doi: https://doi.org/10.1101/2021.08.02.454804
Abrego AM, Khan W, Wright CE, Prajapati N, Rabiul Islam M, Ghajar MH, Bai X, Tandon N, Seymour J. Sensing local field potentials with a directional and scalable depth array: The DISC electrode. bioRxiv 09.20.460996; doi: https://doi.org/10.1101/2021.09.20.460996
Snyder KM, Forseth KJ, Donos C,Rollo PS, Fischer-Baum S,Breier J,Tandon N: The critical role of the ventral temporal lobe in word retrieval bioRxiv11.18.469030;doi:https://doi.org/10.1101/2021.11.18.469030
Forseth KJ,Pitkow X,Fischer-Baum S,Tandon N : What The Brain Does As We Speak bioRxiv 02.05.429841; doi: https://doi.org/10.1101/2021.02.05.429841
*Kadipasaoglu MC, Morse C, Pham K, Donos C, Tandon N. SAMCOR: A robust and precise co-registration algorithm for brain CT and MR imaging. Human Brain Mapping.
Baboyan VG, Disano MA, Rollo P, Breier J, Hickok G, Tandon N. Brain pathways critical for language laterality.
*Stark J, Tong BA, Thompson S, Johnson J, Hope O, Thomas M, Slater JD, Kalamangalam GP, Lhatoo SD, Tandon Minimally invasive surgery for medically intractable epilepsy (MISMIE): Outcomes from a paradigm shift.
Bullock PL, Forseth KJ, Woolnough O, Tandon N – Large-scale intracranial EEG atlas of stereotyped word articulation highlights the role of supplementary motor area in speech initiation
Aidan Curtis A, Forseth KJ, Woolnough O, Kadipasaoglu CM, Tandon N – Saccadic Corruption of Long Range Cerebral Connectivity Metrics
Ilyas A, Tandon N, Lhatoo SD Thalamic Neuromodulation for Epilepsy: A Clinical Perspective. In review at Epilepsy Research
Published Book Chapters:
Tandon N, Vollmer DG. Infections of the spine. In: Winn HR, ed. Youmans Neurological Surgery 5th Philadelphia, PA: Saunders (Elsevier); Chap 285:4363-4394, 2004.
Tandon N, Vollmer DG. Posterior approaches to the cervical spine. In: Fessler R, Sekhar L, eds. Atlas of Neurosurgical Techniques: New York, NY: Thieme, 2006.
Tandon N, Vollmer DG. Cervical laminectomy. In: Fessler R, Sekhar L, eds. Atlas of Neurosurgical Techniques: New York, NY: Thieme, 2006.
Tandon N, Vollmer DG. Cervical laminoplasty. In: Fessler R, Sekhar L, eds. Atlas of Neurosurgical Techniques: New York, NY: Thieme, 2006.
Alexopoulos AV, Tandon N. Basal Frontal Lobe Epilepsy. In: Luders HO, ed. Textbook of Epilepsy Surgery. New York, NY, Informa HealthCare, 285-313, 2008.
Tandon N. Cortical Mapping by Electrical Stimulation of Subdural Electrodes: Language areas. In: Luders HO, ed. Textbook of Epilepsy Surgery. New York, NY, Informa HealthCare, 1001-1015. 2008.
Vollmer DG, Tandon N. Infections of the spine. In: Winn HR, ed. Youmans Neurological Surgery, 6th Philadelphia, PA: Saunders (Elsevier); Chap 276, 2011
Tandon N: Mapping of human language. Yoshor, Mizrahi eds. Clinical Brain Mapping: A practical approach, McGraw Hill 2012.
Esquenazi Y, Tandon N. Neuro-oncology. In: Asma Zakaria, Ed. Neurocritical Care Board Review: Questions and Answers, Editor: Asma Zakaria. Chapter 10. Pages 131-140. Demos Medical Publishing, New York 2013.
Esquenazi Y, Tandon N. Perioperative neurosurgical care. In: Asma Zakaria, Ed. Neurocritical Care Board Review: Questions and Answers. Chapter 13. Pages 175-182. Demos Medical Publishing, New York, 2013.
McGovern RA, McKhann GM II, Fried I, Spencer D, Tandon N. Section III: Epilepsy: Overview and Controversies. In: Winn HR, ed. Youmans and Winn Neurological Surgery. 7th ed. Philadelphia: Elsevier; 2017:379-384.
Tandon N, Slavin K: Epilepsy and Functional Neurosurgery. In Levi, A (ed) Goodman's Neurosurgery Oral Board Review. Oxford University Press, New York 2017: 91-102.
Kerr K, Esquenazi Y, Tandon N. Neurooncology. In Neurocritical Care Board Review Questions and Answers Second Edition. Chapter 11 Pages 153-164. Zakaria, Tahsili-Fahadan Ed. 2019
Simpson B, Esquenazi Y, Tandon N. Peri-operative Neurosurgical Care: In Neurocritical Care Board Review Questions and Answers Second Edition. Chapter 14, Pages 210-208. Zakaria, Tahsili-Fahadan Ed. 2019
Kerr K, Tandon N, Esquenazi Y. Management of Incidental Low-Grade Gliomas. Incidental Findings, in press, 2019
Zeineddine HA, Tandon N. Surgical Complications and Challenges in SEEG. In: A Practical Approach to Stereo SEEG, Springer Publishing Company, New York, in press, 2020
Kerr K, Tandon N, Valenzuela RF, Esquenazi Y. Chapter 22: Incidental Glial Neoplasms. In: Incidental Findings in Neuroimaging and their Management. Thieme, New York 2020: pp 129-139.
Intraoperative ECoG and Strategy in Tailored Lesionectomies: Ryan M. McCormack, Gregory A. Worrell, Nitin Tandon. In Winn HR, ed. Youmans Neurological Surgery, 8th (Elsevier); Chapter 91, 2022
Laser Interstitial Thermal Therapy in Epilepsy. Hussein A. Zeineddine, Guy McKhann and Nitin Tandon, In Winn HR, ed. Youmans Neurological Surgery, 8th (Elsevier); Chapter 98, 2022
Overview and Controversies in Epilepsy: Ryan M. McCormack, Samden Lhatoo, Jorge Gonzalez-Martinez, Andrew W. McEvoy, Guy M. McKhann, Nitin Tandon. In Winn HR, ed. Youmans Neurological Surgery, 8th (Elsevier); 2022
Abstracts:
Tandon N, West GA, Vollmer DG. Pyogenic spine infections: new perspectives. AANS section on disorders of the spine and peripheral nerves annual meeting, 2000
Tandon N, Vollmer DG. MD Pyogenic spine infections: the management of patients who present with neurological compromise. Southern Neurosurgical Society, 2000
Tandon N, Fox PT, Ingham RJ, Ingham JC, Collins J, Pridgen S, Lancaster JL. Transcranial Magnetic Stimulation (TMS) induced modulation of cerebral blood flow occurs at sites remote from the primary site of stimulation. Congress of Neurological Surgeons, 2000
Tandon N, Fox PT, Narayana S, Iyer M, Lancaster JL, Vollmer DG. TMS-PET as a measure of functional effective connectivity of the human Supplementary Motor Area (SMA). Congress of Neurological Surgeons, 2000
*Awarded the AANS/CNS Joint Section on Stereotactic and Functional Neurosurgery Resident Award
Tandon N, Tullous M, Mancuso P, Henry M, Vollmer DG. Multiple revolution spiral osteotomy for cranial reconstruction in sagittal synostosis. Congress of Neurological Surgeons, 2000
Tandon N, Fox P, Narayana S, Iyer M, Lancaster JL. Evidence for the existence of direct corticospinal projections from the human supplementary motor area. Society for Neuroscience, 2000
Tandon N, Narayana S, Zamarripa F, Lancaster JL, Fox P. Transcranial Magnetic Stimulation (TMS) intensity dependent alterations in regional blood flow. Organization for Human Brain Mapping, 2001
Tandon N, Narayana S, Ingham R, Ingham J, Martinez M, Dodd S, Lancaster JL, Fox P. Articulatory disruption induced by low rate TMS of the dorsolateral prefrontal cortex. World Congress of Neurosurgery, 2001
Tandon N, Vollmer DG. Pyogenic spine infections: optimizing management. World Congress of Neurosurgery, 2001
Tandon N, Narayana S, Lancaster JL, Fox P. Task independent and functional connectivity of primary and supplementary motor areas. Organization for Human Brain Mapping, 2002
Tandon N, Narayana S, Lancaster JL, Fox P. Task independent and functional connectivity of primary and supplementary motor areas. Congress of Neurological Surgeons, 2002
Tandon N, Narayana S, Lancaster JL, Brown S, Dodd S, Vollmer DG, Ingham R, Ingham J, Liotti M, Fox P. Lateral premotor cortex and articulation: a TMS transient lesion analysis. Congress of Neurological Surgeons, 2002
*Awarded the CNS resident award for the best paper by a resident
Tandon N, Alexopoulos A, Boongird A, Gupta A, Wylie E, Najm I, Bingaman WE. Outcomes following occipital resections for medically intractable epilepsy. Cleveland Clinic-Bethel Epilepsy Symposium, 2004
Boongird A, Bingaman WE, Busch R, Kubu C, Tandon N. Outcome study of surgical treatment in tumoral temporal lobe epilepsy. Congress of Neurological Surgeons, 2004
Tandon N, Bingaman WE, Wylie E, Gupta A, Najm I. Outcomes following posterior resections including the occipital lobe for focal medically intractable epilepsy. American Epilepsy Society, 2004
Iwasaki M, Kalamangalam G, Tandon N, Nair D, Burgess R, Luders H. Long range EEG synchronization during language processing: a study with subdural electrodes. American Epilepsy Society, 2004
Tandon N, Gupta A, Boongird A, Warbel A, Wyllie E, Bingaman W. Outcome following resection of cortical lesions in patients with tuberous sclerosis and focal epilepsy. American Association of Neurological Surgeons, 2004
Tandon N, Alexopoulos AV, Warbel A, Najm I, Bingaman WE. Lesional occipital lobe epilepsy: clinical profiles and outcomes following resective American Association of Neurological Surgeons, 2005
Tandon N, Borsellino SR, Alexopoulos A, Warbel A, Najm I, Bingaman WE. Surgical management and outcome of orbitofrontal epilepsy. American Association of Neurological Surgeons, 2005
Castillo EM, Breier JI, Wheless JW, Slater JD, Tandon N, Baumgartner JE, McManis MH, Papanicolaou AC. Contributions of direct cortical stimulation and MEG recordings to identify "essential" language cortex. American Epilepsy Society and American Clinical Neuropsychology Society Joint Annual Meeting, 2005
Ellmore TM, Beauchamp MS, O'Neill TJ, Ro T, Tandon N. Medial frontal connectivity to language-activated lateral frontal cortex examined with functional and diffusion-weighted MRI. Society for Neuroscience, 2007
Tandon N, O'Neill TJ, Beauchamp MS, Ellmore TM. Rapid identification of the arcuate fasciculus using an FA thresholding technique. American Epilepsy Society, 2007
Ellmore TM, O'Neill TJ, Slater JD, Kalamangalam G, Beauchamp MS, Tandon N. Lateralized connectivity of posterior inferior frontal gyrus and SMA. American Epilepsy Society, 2007.
Dreyer S, Ellmore TM, O'Neill TJ, Kalamangalam G, Tandon N. Connectivity characteristics of eloquent cortical language sites. Organization for Human Brain Mapping, 2008
Ellmore TM, Beauchamp MS, Slater JD, Breier JI, O'Neill TJ, Tandon N. Language laterality determined from high anisotropy arcuate fasciculus tracts. Organization for Human Brain Mapping, 2008
Dreyer S, Ellmore TM, Beauchamp MS, Tandon N. The localization of critical language sites by fMRI. Society for Neuroscience, 2008
Ellmore TM, Beauchamp MS, O'Neill T, Dreyer S, Tandon N. Direct stimulation of the arcuate fasciculus. Society for Neuroscience, 2008
Swann NC, Tandon N, Canolty R, Ellmore TM, Dreyer S, Aron A. An intracranial EEG study of response inhibition. Society for Neuroscience, 2008
Conner CR, Dreyer S, Ellmore TM, Tandon N. Determining connectivity of the human language system with cortical-cortical evoked potentials and diffusion tensor imaging. Society for Neuroscience, 2008
Ellmore TM, Beauchamp MS, Slater JD, Breier JI, Kalamangalam GP, O'Neill TJ, Tandon N. Comparison of fMRI and DTI of Broca's area with the WADA procedure for determining language laterality. American Epilepsy Society, 2008
Tandon N, Alexopoulos A, Slater J. Epilepsy arising from the orbito-frontal region. American Epilepsy Society, 2008
Conner CR, DiSano MA, Dreyer SE, O'Neill TJ, Ellmore TM, Tandon N. Electro-corticographic signatures of noun and verb generation. Organization for Human Brain Mapping, 2009
Dreyer SE, Ellmore TM, DiSano MA, O'Neill TJ, Conner CR, Breier J, Beauchamp M, Tandon N. A current density map of language: comparison of cortical stimulation mapping and fMRI. Organization for Human Brain Mapping, 2009
Dreyer SE, Ellmore TM, DiSano MA, Kalamangalam G, Tandon N. Spatial probability map of essential language sites: Cortical stimulation current density maps for a population. Organization for Human Brain Mapping, 2009
Swann N, Tandon N, Canolty R, Ellmore TM, McEvoy L, DiSano M, Dreyer SE, Aron A. Intracranial EEG shows primary motor and prefrontal signature of stop signal response inhibition. Organization for Human Brain Mapping, 2009
Swann N, Mullen T, Tandon N, Ellmore T, DiSano M, Dreyer S, Aron AR. Using granger causal techniques and intracranial EEG to examine directed information flow in a cortical network for stopping action. Society for Neuroscience, 2009
Conner CR, Ellmore T, Dreyer S, DiSano M, Tandon N. Electro-corticographic and functional imaging correlates of object and action naming. Society for Neuroscience, 2009
Conner CR, Pieters TA, DiSano MA, Dreyer SE, Ellmore TM, Tandon N. Connectivity of Wernicke's area. American Epilepsy Society, 2009
Dreyer SE, DiSano MA, Ellmore TM, Breier J, Tandon N. Spatial probability map of essential language sites: cortical stimulation current density maps of a population. American Epilepsy Society, 2009
DiSano MA, Pieters TA, Ellmore TM, Dreyer SE, Kalamangalam GP, Slater JD, Tandon N. Utilization of diffusion tensor imaging of the geniculo-calcarine radiation in pre-surgical planning for patients undergoing anterior temporal lobectomy. American Epilepsy Society, 2009
Khursheed F, Tandon N, Pieters TA, DiSano MA, Ellmore Human ECoG and fMRI activity during working memory maintenance. Organization for Human Brain Mapping, 2010
Conner CR, Ellmore TM, Pieters TA, Dreyer SE, DiSano MA, Tandon Inter-lobar variations in the relationship between local field potentials and the BOLD signal. Organization for Human Brain Mapping, 2010
Cai W, Swann N, Tandon N, Claffey M, Verbruggen F, Pieters TA, Aron A. Preparing to stop yourself: functional MRI and ECoG reveal brain network, timing and frequency band. Organization for Human Brain Mapping, 2010
Fisher SM, Tandon N, Breier JI, Slater JD, Kalamangalam GP. Middle frontal gyrus BOLD-fMRI activity differentiates bi-hemispheric and unilateral memory function established by intra-carotid amytal testing. Society for Neuroscience, 2010
Ellmore TM, Pieters T, Tandon N. Inverse relationship between structural volume and hemispheric connectivity in temporal lobe epilepsy patients with hippocampal sclerosis. American Epilepsy Society, 2010
Tandon N, Villareal S. Management of extra-axial fluid collections after sub-dural electrode placement. American Epilepsy Society, 2010
DiSano M, Ellmore T, Pieters T, Hope O, Kalamangalam G, Slater J, Breier J, Tandon N. Language lateralization determined by tract based spatial statistics of the arcuate fasciculus. American Epilepsy Society, 2010
Esquenazi Y, El Khoury R, McIntosh M, Grotta JC, Savitz S, Tandon N. Decompressive hemicraniectomy in the treatment of large spontaneous supratentorial intracerebral hemorrhage. American Association of Neurological Surgeons, 2011
Tandon N. Minimizing and managing complications from subdural electrode implantation for localization of seizure foci. American Association of Neurological Surgeons, 2011
El Khoury R, Esquenazi Y, Savitz S, Grotta JC, Tandon N. Craniectomy vs. craniotomy in the management of supratentorial intracerebral hemorrhage. International Stroke Conference, 2011
Pieters T, Conner CR, DiSano M, Dreyer SE, Ellmore TM, Tandon N. A comparative analysis of methods used to localize subdural electrodes onto the cortical surface. Organization for Human Brain Mapping, 2011
Conner CR, Ellmore TM, Pieters TA, DiSano MA, Tandon N. Variability of the electro-physiologic hemodynamic relationship across cortical regions in humans. Organization for Human Brain Mapping, 2011
DiSano M, Ellmore T, Pieters T, Breier J, Tandon N. White-matter correlates of hemispheric dominance for language. Organization for Human Brain Mapping, 2011
Conner CR, DiSano M, Pieters T, Ellmore T, Tandon N. Connectivity of Broca's area measured by electrophysiology and diffusion tensor imaging. Organization for Human Brain Mapping, 2011
Swann NC, Cai Weidong, Pieters T, Claffey MP, George J, Conner C, Aron AR, Tandon N. Dissociating the roles of the pre-supplementary motor area and the right inferior frontal gyrus in stopping action. Society for Neuroscience, 2011
Chelaru MI, Hansen BJ, Szukalski S, Slater JD, Kalamangalam GP, Tandon N, Dragoi V. Replay of visual activity with electrocorticography in humans. Society for Neuroscience, 2011
Watrous A, Tandon N, Pieters T, Ellmore TM, Ekstrom AD. Decoding human electrocorticography using multivariate pattern classification during spatial and temporal episodic retrieval. Society for Neuroscience, 2011
Pieters TA, Conner CR, Ellmore TM, Tandon N. Changes in beta band activity during a language task predict connectivity. Society for Neuroscience, 2011
Conner CR, Pieters TA, Tandon N. Comparison of population mapping between intracranial EEG and fMRI. Society for Neuroscience, 2011
Conner CR, Pieters TA, Ellmore TM, Tandon N. Changes in beta band activity during a language task predict connectivity. Society for Neuroscience, 2011
Tandon N, Kalamangalam GP, Slater JD, Hope OA, Friedman E. Middle cranial fossa encephaloceles with temporal lobe epilepsy. American Epilepsy Society, 2011
Conner CR, Chen G, Pieters TA, Tandon N. Group Analysis of intracranial EEG during performance of language tasks. American Association of Neurological Surgeons, 2012
Kadipasaoglu CM, Conner CR, Pieters TA, Tandon N. Electrocorticography of face and place specificity during visual naming. Society for Neuroscience, 2012
Kadipasaoglu CM, Conner CR, Pieters TA, Tandon N. Multiband coherence and structural connectivity correlate with information flow during language processes in humans. Society for Neuroscience, 2012
Conner CR, Forseth K, Kadipasaoglu CM, Tandon N. Multiband coherence and structural connectivity correlate with information flow during language processes in human. Society for Neuroscience, 2012
Watrous AJ, Tandon N, Conner CR, Pieters TA, Ellmore TM, Ekstrom AD. Low-frequency ECoG phase synchronization couples medial temporal lobe and neocortical activity during spatial and temporal human source memory retrieval. Society for Neuroscience, 2012
Conner CR, Pieters TA, Tandon N. From lexical access to articulation: differences between nouns and verbs. Society for the Neurobiology of Language, 2012
Kadipasaoglu CM, Conner CR, Pieters TA, Tandon N. Place and face naming dissociation measured with electrocorticography. Society for the Neurobiology of Language, 2012
Whaley ML, Cox SJ, Tandon N. Eavesdropping Speech Connections. Rice Univ. Centennial Poster Session, 2012
Conner CR, Forseth KJ, Tandon N. Electro-corticographic signatures of auditory naming. Society for the Neurobiology of Language, 2012
Conner CR, Kadipasaoglu CM, Pieters TA, Tandon N. Electrocorticography of face and place specificity during visual naming. American Epilepsy Society, 2012.
Whaley ML, Conner CR, Cox SJ, Tandon N. Inferring functional human language pathways. Austin Conference on Learning & Memory, 2013
Conner CR, Forseth KJ, Tandon N. Spatio-temporal dissociations of auditory and visual naming networks in human cortex. American Association of Neurological Surgeons, 2013
Esquenazi Y, Tandon N. Stereotactic laser ablation for epileptogenic periventricular nodular heterotopias. American Association of Neurological Surgeons, 2013
Esquenazi Y, Bhattacharjee M, Tandon N. Lipomatous hemangiopericytoma of the sellar region. Meeting of the Association of Clinical Scientists, 2013
Wessel JR, Conner CR, Aron AR, Tandon N. Direct electrical stimulation of the right inferior frontal gyrus reveals causal role in motor slowing. Organization for Human Brain Mapping, 2013
Kadipasaoglu CM, Conner CR, Pieters TA, Tandon N. Place and face naming dissociation measured with electrocorticography. Organization for Human Brain Mapping, 2013
Pieters TA, Conner CR, Esquenazi Y, Baboyan V, Tandon N. Spatial probability of essential language sites: cortical stimulation density map in a population. Organization for Human Brain Mapping,
Conner CR, Forseth KJ, Tandon N. Spatio-temporal dissociations of auditory and visual naming networks in human cortex. Organization for Human Brain Mapping, 2013
Kadipasaoglu CM, Conner CR, Baboyan VG, Tandon N. Electrocorticography of the face and place network connectivity. Organization for Human Brain Mapping, 2013
Alouch N, Esquenazi Y, Sitton C, Tandon N, Bhattacharjee MB. Angiocentric glioma: presentation in childhood and adulthood, with curative surgical resection. College of American Pathologists, 2013.
Kadipasaoglu CM, Conner CR, Baboyan VG, Tandon N. Category specific temporal and spatial dissociations as revealed by grouped human electro-corticography. Society for the Neurobiology of Language, 2013
Conner CR, Tandon N. Inter-regional dynamics within the left inferior frontal convolution during lexical selection. Society for the Neurobiology of Language, 2013
Kadipasaoglu CM, Pieters TA, Baboyan VG, Conner CR, Tandon N. Study of the human retrosplenial cortex during auditory and visual naming through grouped electro-corticography and cortical stimulation mapping. Society for the Neurobiology of Language, 2013
Pieters TA, Kadipasaoglu CM, Baboyan VG, Tandon N. Spatial probability of essential language sites: cortical stimulation density map in a population. Society for the Neurobiology of Language, 2013
Conner CR, Wessel JR, Aron AR, Tandon N. Chronometric electrical stimulation of right inferior frontal gyrus enhances motor braking. Society for Neuroscience, 2013
Conner CR, Tandon N. Serial order of parallel network dynamics in the left inferior frontal convolution. Society for Neuroscience, 2013
Kadipasaoglu CM, Baboyan VG, Conner CR, Tandon N. Surface-based mixed effects multilayer analysis of grouped human electro-corticography. Society for Neuroscience, 2013
Whaley, M, Tandon N, Conner CR, Cox S. Mapping active human language processes. Society for Neuroscience, 2013
Esquenazi Y, Friedman E, Zhu J, Lin M, Tandon N. Supra-maximal resections for newly diagnosed glioblastoma multiforme. World Federation of Neuro-Oncology & Society for Neuro-Oncology, 2013
Esquenazi Y, Tandon N, Management and outcomes in patients with glioma-associated epilepsy. World Federation of Neuro-Oncology & Society for Neuro-Oncology, 2013.
Conner CR, Tandon N. Controlled retrieval and domain specific parallel connectivity in the left inferior frontal convolution. American Epilepsy Society, 2013
Esquenazi Y, Kalamangalam GP, Hope O, Slater JD, Knowlton R, Tandon N. Surgical resections for post-traumatic epilepsy following gunshot wounds to the brain. American Epilepsy Society, 2013
Esquenazi Y, Thomas M, Hope O, Kalamangalam GP, Slater JD, Tandon Minimizing and managing the complications of subdural electrode implantation for localization of seizure foci. American Epilepsy Society, 2013
Baboyan VG, DiSano MA, Conner CR, Kadipasaoglu CM, Breier JI, Tandon N. Language Laterality estimated using tract based spatial statistics: a correlation with the Wada test. American Association of Neurological Surgeons, 2014
Esquenazi Y, Tandon N. Minimizing and managing complications of SDE grids. American Association of Neurological Surgeons, 2014
Esquenazi Y, Tandon N. Tumoral epilepsy. Is a lesionectomy enough? American Association of Neurological Surgeons, 2014
Conner CR, Tandon N. Robust transient dynamics for lexical selection in Broca's area. American Association of Neurological Surgeons, 2014
Tandon N, Kadipasaoglu CM, Baboyan VG, Conner CR. Network dynamics of functional connectivity in category-specific visual naming. American Society for Stereotactic and Functional Neurosurgery, 2014
Kadipasaoglu CM, Conner CR, Baboyan VG, Tandon N. Non-hierarchical network dynamics of face perception. Society for Neuroscience, 2014
Kadipasaoglu CM, Baboyan VG, Tandon N. Distributed neural systems for category-specific visual processing. Society for Neuroscience, 2014
Whaley ML, Kadipasaoglu CM, Conner CR, Tandon N, Cox S. Applying event-related causality to human ECoG recordings to infer functional connectivity during a word stem completion task. Society for Neuroscience, 2014
Wessel JR, Baboyan VG, Tandon N, Aron AR. Motor slowing following unexpected events: individual roles and functional connectivity of the pre-supplementary motor area and the right inferior frontal cortex. Society for Neuroscience, 2014
Kadipasaoglu C, Conner C, Baboyan V, Tandon N. Whole brain networks of visual object recognition. American Epilepsy Society, 2014
Tandon N, Kalamangalam GP, Esquenazi Y, Seignot B. Speed and precision of robotic depth electrode placement for stereotactic EEG. American Epilepsy Society, 2014
Glidersleeve K, Gonzales NR, Hirzallah M, Esquenazi Y, Moornaw C, Paemini S, Cai C, Tandon N, Woo D. Decompressive hemicraniectomy for supratentorial spontaneous intracerebral hemorrhage: a retrospective case-control study using propensity score matching. The European Stroke Organization Conference, 2015
Schedlbauer A, Watrous A, Tandon N, Kadipasaoglu CM, Ekstrom AD. Dynamic spatiotemporal organization of individual episodic memory retrieval networks in electrocorticography patients. Society for Neuroscience, 2015
Copara M, Kim K, Rollo MJ, Kadipasaoglu CM, Tandon N, Ekstrom AD. Low frequency hippocampal oscillations differentiate between successful retrieval of related versus unrelated spatiotemporal context. Society for Neuroscience, 2015
Kadipasaoglu CM, Tandon N. Grouped icEEG evaluation of the temporal pole during visual naming of common and proper nouns. Society for Neuroscience, 2015
Karunakaran S, Kadipasaoglu CM, Kalamangalam GP, Aazhang B, Tandon N. Identification of epileptogenic network using intrinsic evoked potentials. Society for Neuroscience, 2015
Rollo MJ, Kadipasaoglu CM, Tandon N. Representation of electrical fields detected by depth electrodes using parcellated cortical maps. Society for Neuroscience, 2015
Whaley ML, Kadipasaoglu CM, Cox S, Tandon N. Dynamics of brain networks during word reading. Society for Neuroscience, 2015
Esquenazi Y, Friedman E, Zhu J, Hsu S, Tandon N. The sub-pial resection technique for supra-maximal resection of glioblastomas. Society for Neuro-Oncology, 2015
Karunakaran S, Kadipasaoglu CM, Kalamangalam GP, Aazhang B, Tandon N. Characterization of epileptogenic network using endogenous CCEPs. American Epilepsy Society, 2015
Tandon N, Johnson J, Hope O, Thomas M, Thompson S, Slater J, Kalamangalam. Minimally invasive localization and treatment of focal epilepsy: a paradigm shift. American Epilepsy Society, 2015
Johnson J, Tandon N. How a nurse coordinator improves an epilepsy surgery program. American Epilepsy Society, 2015
Moore BD, Forseth KJ, Pitkow X, Tandon N. Spectro-spatial topography of human cerebral cortex. Gulf Coast Consortia Conference on Theoretical and Computational Neuroscience, 2015
Karunakaran S, Kalamangalam GP, Aazhang B, Tandon N. Characterization of mesial temporal lobe epilepsy network. Society for Neuroscience, 2016
Kim K, Schedlbauer A, Rollo MJ, Ekstrom AD, Tandon N. A novel, network-based approach to memory modulation. Society for Neuroscience, 2016
Moore BD, Aron AR, Tandon N. A real-time sense-and-stimulate intracranial system detects and slows impending movements. Society for Neuroscience, 2016
Karunakaran S, Kalamangalam GP, Aazhang B, Tandon N. Characterization of mesial temporal lobe epilepsy network. American Epilepsy Society, 2016
Kim K, Ekstrom AD, Tandon N. Interictal spikes do not disrupt memory retrieval. American Epilepsy Society, 2016
Kadipasaoglu CM, Forseth KJ, Rollo MJ, Tandon N. Top-down facilitation of visual object recognition. American Epilepsy Society, 2016
Chourasia N, Tandon N, Kalamangalam GP. Lateralization of epilepsy and response to vagal nerve stimulation therapy. American Epilepsy Society, 2016
Moore BD, Aron AR, Tandon N. A real-time sense-and-stimulate intracranial system detects and slows impending movements. American Epilepsy Society, 2016
Tandon N, Forseth KJ, Kadipasaoglu CM, Donos C, Hickok G, Dehaene S, Pitkow X, Crone N. Grouped electrocorticography delineate language network dynamics. BRAIN Initiative Investigators Meeting, 2016
Kim K, Ekstrom AD, Tandon N. Hippocampal theta oscillations differentiate recognition with and without correct source retrieval. Cognitive Neuroscience Society, 2017
Forseth KJ, Tandon N. Conceptual processing in the basal temporal language area. American Association of Neurological Surgeons, 2017
Kadipasaoglu CM, Forseth KJ, Pieters TA, Rollo MJ, Breier JI, Tandon N. Auditory-Cued naming as an optimal paradigm for the mapping of human language. American Association of Neurological Surgeons, 2017
Kerr K, Kadipasaoglu CM, Tandon N. Resection of Broca's area lesions by awake craniotomy. American Association of Neurological Surgeons, 2017
Donos C, Rollo M, Tandon N. Oblique azimuth based robotic assisted implantation of SEEG electrodes: accuracy and safety. World Society for Stereotactic and Functional Neurosurgery, 2017
Schedlbauer A, Kim K, Tandon N, Ekstrom AD. Modulation episodic memory performance through invasive brain stimulation. ARCS Symposium, 2017
Forseth KJ, Hickok G, Tandon N. Predictive neural instruments of early auditory cortex. Society for the Neurobiology of Language, 2017
Donos C, Rollo P, Tandon N. Phonological and lexical streams of reading revealed by intracranial recordings. Society for Neuroscience, 2017
Forseth KJ, Kadipasaoglu CM, Tandon N. Chronology of activity in pre-motor articulation sites. Society for Neuroscience, 2017
Rollo PS, Forseth KJ, Kadipasaoglu CM, Tandon N. Bayesian probabilistic map to localize essential cortical language sites. Society for Neuroscience, 2017
Valenauela R, Ocasio L, Bhattacherjee MB, Lu G, Rao M, Tandon N, Esquenazi Y, Zhu JJ, Riascos-Castaneda R. Pathology confirmed radiographic diagnosis of true progression and pseudo-progression made by advanced brain tumor imaging. Society for Neuro-Oncology, 2017.
Tandon N, Tong BA, Johnson JA, Donos C, Thompson S, Kalamangalam G, Hope O, Thomas M, Von Allmen G, Lankford J, Slater JD. Intracranial evaluations for epilepsy: SDEs vs. SEEG efficacy and morbidity in a consecutive series of 261 cases. American Epilepsy Society, 2017
Simpson B, Kalamangalam G, Friedman E, Johnson JA, Breier J, Bhattacharjee M, Hope O, Thomas M, Thompson S, Slater JD, Tandon N. Middle cranial fossa encephaloceles with temporal lobe epilepsy: a systematic review and lessons learned from 24 patients. American Epilepsy Society, 2017
Forseth KJ, Selvam V, Tandon N. Distributed networks of noun and verb production in visually-cued object and action naming. American Epilepsy Society, 2017
Moss LE, Tandon N, Slater JD, Thompson S, Thomas M, Hope O, Breier JI. Verbal memory and naming outcomes following dominant hemisphere standard temporal lobectomy or stereotactic laser amygdalohippocampectomy. American Epilepsy Society, 2017
Donos C, Rollo P, Breier J, Tandon N. Laser thermal ablation of amygdala and hippocampus: surgical outcome and memory deficits in mesial-temporal lobe epilepsy patients. American Epilepsy Society, 2017
Tandon N, Kim K, Schedlbauer A, Rollo MJ, Ekstrom AD. Network-based stimulation selectively impairs spatial retrieval. Cognitive Neuroscience Society, 2018
Donos C, Rollo P, Johnson J, Thompson S, Hope O, Slater J, Friedman E, Breier J, Tandon N. Seizure outcomes and cognitive deficits following Laser Interstitial Thermal Ablation in mesial-temporal lobe epilepsy patients. American Association of Neurological Surgeons, 2018
Woolnough O, Forseth KJ, Tandon N. Identifying and characterising temporalis muscle artefacts in intracranial electrode recordings. American Association of Neurological Surgeons, 2018
Donos C, Rollo M, Tandon N. Oblique azimuth based robotic assisted implantation of SEEG electrodes: accuracy and safety. World Society for Stereotactic and Functional Neurosurgery, 2018
Woolnough O, Forseth KJ, Rollo P, Tandon N. Is human insular cortex involved in preparing to produce speech? Congress of Neurological Surgeons Annual Meeting, 2018
Woolnough O, Forseth KJ, Rollo P, Tandon N. Investigating the contribution of insular cortex to speech production with stereo-EEG. Human Single Neuron Conference, 2018.
Rollo P, Forseth K, Kadipasaoglu C, Tandon N. An integrated analysis of language networks Using CSM and DTI. Society for Neuroscience, 2018
Tombridge K, Donos C, Breier J, Rollo P, Johnson J, Tandon, N. Anterior temporal lobectomy and selective amygdalo-hippocampectomy in temporal lobe epilepsy: the role of the temporal lobe and sub-regions in learning and memory. Society for Neuroscience, 2018.
Woolnough O, Forseth KJ, Kadipasaoglu CM, Tandon N. Selectivity for familiar faces in human retrosplenial cortex shown by direct intracranial recordings, Society for Neuroscience, 2018
Woolnough O, Forseth KJ, Rollo P, Tandon N. Investigating the contribution of insular cortex to speech production with stereo-EEG recordings in epileptic patients. American Epilepsy Society, 2018
Sumida A, Hope OA, Thompson SA, Thomas MS, Slater JD, Johnson JA, Tandon N. Characteristics and long-term outcomes in patients undergoing resection of the orbitofrontal region for intractable epilepsy: a 13-year single center experience. American Epilepsy Society, 2018
Tong BA, Morales-Morris M, Johnson JA, Donos C, Von Allmen G, Lankford JE, Thompson SA, Kalamangalam GP, Hope OA, Thomas MS, Slater JD, Tandon N. Cost analysis of subdural grids and strips vs. stereo-electroencephalography in the evaluation of refractory epilepsy. American Epilepsy Society, 2018
Tombridge K, Donos C, Breier J, Johnson J, Moss L, Tandon N. Neuropsychological outcomes of standard temporal lobectomy and selective laser interstitial thermal therapy in the treatment of mesial temporal lobe epilepsy. American Epilepsy Society, 2018
Donos C, Tombridge K, Rollo P, Johnson JA, Tandon N. Visual deficits after laser interstitial thermal therapy for mesial temporal lobe epilepsy. American Epilepsy Society, 2018
Woolnough O, Donos, Rollo P, Tandon N. Neural coding for word frequency in fusiform and occipital cortex. Cognitive Neuroscience Society, 2019
Forseth K, Rollo P, Tandon N. Hierarchical feature encoding for speech perception in human temporal cortex. American Association of Neurological Surgeons, 2019
Forseth, K, Rollo P,Kadipasaoglu C, Tandon N. Language mapping in the temporal lobe with stereotactic depth electrodes: a comparison with subdural grid electrodes and awake mappings.World Society for Stereotactic and Functional Neurosurgery, 2019
Forseth K, Rollo P,Tandon N. The functional architecture of eloquent cortex: stimulation, electrophysiology, and structural imaging. World Society for Stereotactic and Functional Neurosurgery, 2019
Forseth K, Rollo P,Kadipasaoglu C, Tandon N. Convergent cortical state dynamics in language networks for listening and reading. World Society for Stereotactic and Functional Neurosurgery, 2019
Woolnough O, Donos, Forseth KJ, Rollo P, Tandon N. Organisation of the ventral visual pathway for reading. World Society for Stereotactic and Functional Neurosurgery, 2019
Woolnough O, Donos, Rollo P, Tandon N. A distinct code for word frequency in ventral visual cortex. World Society for Stereotactic and Functional Neurosurgery, 2019
Tandon N, Forseth KJ. A new essential language site revealed by direct cortical recordings and stimulation. Society for the Neurobiology of Language, 2019
Woolnough O, Donos C, Rollo P, Fischer-Baum S, Dehaene S, Tandon N. Functional architecture of the ventral visual pathway for reading. Society for the Neurobiology of Language, 2019
Tandon N, Forseth KJ, Pitkow X. Complete cortical dynamics of single word articulation. Society for the Neurobiology of Language, 2019
Walker G, Stokes R, Rollo P, Tandon N, Hickok G. Bilateral opercular syndrome and speech. Society for the Neurobiology of Language, 2019
Curtis A, Woolnough O, Donos C, Rollo P, Tandon N. An analysis of the dual route theory of reading using neural decoding. Society for the Neurobiology of Language, 2019
Forseth K, Tandon N. Convergent cortical state dynamics in language networks for listening and reading. Society for Neuroscience, 2019
Woolnough O, Donos C, Rollo P, Fischer-Baum S, Dehaene S, Tandon N. A spatiotemporal map of reading in the ventral pathway. Society for Neuroscience, 2019
Forseth K, Giahi Saravani A, Pitkow X, Tandon N. Stitching cortical dynamics to reveal distributed network interactions for language production. Society for Neuroscience, 2019
Curtis A, Woolnough O, Forseth K, Rollo P, Tandon N. Using multivariate pattern analysis on ECoG to characterize neural language pathways. Society for Neuroscience, 2019
Tombridge K, Donos C, Moss L, Johnson J, Breier J, Rollo P, Tandon N. Ablation and resection for mesial temporal lobe epilepsy: analysis of neuropsychological performance in language and memory. Society for Neuroscience, 2019
Rollo PS, Woolnough O, Forseth KJ, Tandon N. Exploring working memory in the DLPFC through direct stimulation. Society for Neuroscience, 2019
McKormic R, Zhu P, Takayasu T, Tandon N, Moreno S, Gonzales A, Ballester LY, Esquenazi Y. Impact of race and geographic location on IDH mutations and glioblastoma survival. Society of Neuro-Oncology, 2019.
Patriz A, Sorofchian S, Khaur B, Swainer J, Tandon N, Bhanu P, McCullough L, Ballester LY, Esquenazi Y. The relationship between glioma and the gut brain axis. Society of Neuro-Oncology, 2019.
Holmes E, Kerr K, Kadipasaoglu C, Briar J, Tandon N. Reorganization of language enables safe resection of tumors in and around Broca's area. Society of Neruo-Oncology, 2019.
Wang J, Zeineddine H, Tandon N. Surgical intervention for epilepsy caused by recurrent or residual meningiomas. American Epilepsy Society, 2019.
Woolnough O, Rollo PS, Forseth KJ, Kadipasaoglu CM, Ekstrom AD, Tandon N. Selective responses for recollection of faces in human retrosplenial cortex. American Epilepsy Society, 2019.
Zeineddine H, Johnson J, Lhatoo SD, Thompson S, Thomas M, Hope O, Tandon N, Gowda S. Stereotactic magnetic resonance guided laser ablation of periventricular nodular heterotopia. American Epilepsy Society, 2019.
Pothiawala A, Lewis C, Bhattacharjee J, Ballester L, Tandon N. Unusual neoplasms causing epilepsy. American Epilepsy Society, 2019.
Hampson JS, Johnson J, Thomas M, Hope O, Thompson S, Lhatoo SD, Tandon N. Epilepsy surgery in MRI negative, generalized spike wave seizure patients. American Epilepsy Society, 2019.
Smith TH, Hope O, Johnson J, Tandon N. Post-resection, intra-operative electrocorticography tracks epilepsy resection outcomes. American Epilepsy Society, 2019.
Forseth KJ, Rollo PS, Tandon N. Convergent mappings of eloquent cortex: stimulation, electrophysiology and structural imaging. American Epilepsy Society, 2019.
Rollo PS, Woolnough O, Tandon N. Moving in a new direction: efficacy of oblique trajectories in neo-sEEG. American Epilepsy Society, 2019.
Murphy E, Woolnough O, Rollo P, Roccaforte Z, Tandon N. Minimal syntactic composition in electrocorticography. Society for the Neurobiology of Language, 2020
Woolnough O, Curtis A, Donos C, Rollo PS, Roccaforte ZJ, Tandon N. Spatiotemporal dynamics of neural processing for reading aloud. Society for the Neurobiology of Language, 2020
Maerean N, Forseth K, Tandon N. Human atlas of multifunctional cortical networks for language. Society for the Neurobiology of Language, 2020
Woolnough O, Forseth KJ, Rollo PS, Roccaforte ZJ, Tandon N. Event-related phase synchronization propagates as waves in human ventral visual cortex. Society for Neuroscience Global Connectome 2021
Murphy E, Forseth, K, Rollo P, Roccaforte Z, Tandon N. Referential semantics implicates medial parietal cortex and hippocampus in electrocorticography. Society for Neuroscience Global Connectome 2021
Bullock L, Forseth KJ, Tandon N. Dynamics of superior temporal sulcus in self-generated speech in large-scale electrocorticography. Society for Neuroscience Global Connectome 2021
McCarty MJ, Woolnough O, Tandon N. Exploring the limitations of field potential recordings in electrocortocography; how referencing scheme, electrode size and inter-electrode distance confound level interpretability. Society for Neuroscience Global Connectome 2021
Snyder K, Donos C, Rollo P, Breier J, Fischer-Baum S, Tandon N. The crucial role of the mid fusiform cortex in lexical access. Society for Neuroscience Global Connectome 2021
Medvedeva A, Woolnough O, Rollo P, Dominey PF, Tandon N. The neural correlates of modality-independent and modality-dependent semantic integration. Society for Neuroscience Global Connectome 2021
Murphy E, Forseth KJ, Woolnough O, Rollo PS, Roccaforte Z, Tandon N. The role of the medial parietal cortex in referring to common objects. Society for the Neurobiology of Language, 2021
Woolnough O, Murphy E, Rollo P, Donos C, Dehaene S, Tandon N. Spatiotemporal brain dynamics of sentence reading. Society for the Neurobiology of Language, 2021
Bullock L, Forseth K, Tandon N. Supplementary motor area first predicts reaction time in stereotyped word articulation in large-scale intracranial EEG Sandbox Series. Society for the Neurobiology of Language, 2021
Maerean N, Forseth K, Tandon N. Distinct nodal responses for verbs in the production network. Society for the Neurobiology of Language, 2021
Snyder K, Donos C, Forseth K, Rollo P, Breier J, Fischer-Baum S, Tandon N. The critical role of the mid fusiform cortex in semantic word retrieval. Society for Neuroscience, 2021
Maerean N, Forseth K, Murphy E, Tandon N. Distinct nodal responses for verbs in the production network. Society for Neuroscience, 2021
McCarty M, Woolnough O, Rollo P, Roccaforte ZJ, Tandon N. Attentional modulation of category-selective regions in ventral occipitotemporal cortex. Society for Neuroscience, 2021
Medvedeva A, Forseth K, Woolnough O, Rollo P, Tandon N. The neural correlates of speech errors. Society for Neuroscience, 2021
Murphy E, Forseth K, Woolnough O, Rollo PS, Roccaforte Z, Tandon N. Intracranial recordings of reference to common objects. Society for Neuroscience, 2021
Seymour J, Abrego Mancilla A, Khan W, Wright C, Ghajar M, Tandon N. A neurosurgical tool to record stereoscopic local field potentials. Society for Neuroscience, 2021
Bullock L, Forseth K, Tandon N. Supplementary motor area first predicts reaction time in stereotyped word articulation in large-scale intracranial EEG. Society for Neuroscience, 2021
Woolnough O, Murphy E, Rollo PS, Donos C, Dehaene S, Tandon N. Spatiotemporal brain dynamics of sentence reading. Society for Neuroscience, 2021