The Eighth Annual Neuro ICU Symposium
Envisioning the Future of Neurocritical Care
July 21-22, 2021
Virtual Attendance Only
Welcome to the eighth annual Neuro ICU Symposium! Our conference is ecstatic to return this year in a new all virtual format. We missed seeing everyone in 2020, and sincerely hope we can get together for a live event in 2022. For 2021, we will welcome virtual attendees from diverse backgrounds and professions within the medical field. Our symposium is one of the most popular neurocritical care conferences in the country, and this year, we aim to envision the future of Neurocritical Care.
The Neuro ICU is a thrilling place for the clinicians, nurses, and staff who care for our patients. We will be offering a two-day journey to the frontier of our specialty. On Day 1, we will catch up on the latest practices in cerebrovascular disorders and traumatic brain injury. Acute stroke management and care delivery will be highlighted, including advances in telemedicine and pre- hospital care. We will also examine novel surgical options for aneurysm treatment. Controversial topics in traumatic brain injury will be examined, including trauma resuscitation, multimodality monitoring, and surgical treatment of severe TBI.
Day 2 will include an action-packed review of current critical care management, with a specialized section dedicated to COVID therapies. We will also delve into the complex management of critical illness in the setting of brain injuries. To help us prepare for the future of ICU care, we will update you on major ongoing clinical trials and what to expect. The neuroscience nursing section will help provide tips and pearls for taking care of neurologically injured patients in the ICU.
Popular sessions from previous years will be returning this year. "Different Viewpoints" will present different approaches to the same clinical problem by two different specialists. "Neuroscience Trivia" will also return as an exciting break from lectures to test your knowledge and learn new fun facts!
Our new virtual platform will promote an interactive environment for question and answer sessions, as well as our new virtual exhibit hall. Check out products on exhibit and virtually visit with representatives you may not have been able to see in a long time. They can answer your questions and provide the resources you need to continue updating your current clinical practices.
Each day of the symposium, our program is full of dynamic speakers with opportunities for audience involvement. If you are unable to attend the entire conference live, have no fear. We will be recording the educational sessions and registered attendees will be able to view them for full CME credit when convenient. Please join us for this all new virtual Neuro ICU Symposium!
Intended Audience:
General and consult neurologists, stroke neurologists, neurointensivists
General, vascular, spine and trauma neurosurgeons
Pulmonary critical care medicine physicians
Surgical critical care and general/trauma surgeons
Anesthesiology critical care medicine physicians
Emergency medicine physicians
Critical care registered nurses, neurological nurses
Acute care nurse practitioners, physician assistants
EMTs and paramedics
Pharmacists
Physicians and surgeons in training
Registration Fees
Registration (closes July 14th)
Physicians: $295
Nurses & Healthcare Professionals (RNs, PAs, NPs, PharmDs etc.): $175
Industry Professionals: $395
Full-time Students*, Physicians in training: Free of charge
*Employed individuals who are only part-time students are not considered as full-time students and subject to fee based on their status.
Disclosure
The Neuro ICU Symposium adheres strictly to the regulations and policies set forth by the ACCME and the Texas Medical Association. In order to maintain independence, fair balance and validity, all Program contents are to be reviewed by the CME office. All faculty speakers, annual meeting committee members, and coordinators are obligated to fully disclose any potential conflicts of interest in providing support and/or content for this educational event.
Schedule
Day ONE
Acute Care of Neurologic Injury
11 a.m.
Virtual Exhibit Hall Open
Noon
Welcome remarks
Tiffany Chang, MD
Session 1: Vascular Neurology
Vascular neurology is a continuously changing field. Catch up on what's new and learn about the future direction of acute stroke management.

12:05 p.m.
Acute Stroke Management: Upcoming Direction of Thrombolysis and Intraarterial Thrombectomy
12:30 p.m.
Different Viewpoints: Widespread Delivery of Specialized Care
12:30-12:50 – TeleStroke and TeleICU
12:50-1:10 – Pre-hospital Care and Specialized Mobile Units
1:10 p.m.
Blood Pressure Management in Intracerebral Hemorrhage
1:35 p.m.
Cerebral Aneurysm Treatment: Novel Surgical and Endovascular Treatment Options
2 p.m.
Panel Discussion/Q&A
2:15 p.m.
Break and Virtual Exhibit Hall Open
P.M. Session: Neurotrauma
Management of trauma patients is complex, even if you work in a high volume center.

2:45 p.m.
Vision in Trauma: Common Ophthalmic Injuries and How to Manage Them
3:10 p.m.
Post-Traumatic Coagulopathy and Resuscitation in TBI
3:35 p.m.
Delayed Neurologic Deterioration in TBI
4 p.m.
The Role of Decompressive Surgery in TBI
4:25 p.m.
Advanced Neuromonitoring: What Is the Future in TBI Management?
4:50 p.m.
Panel Discussion/Q&A
5:05 p.m.
Virtual Exhibit Hall Open
6 p.m.
Adjourn
Day TWO
Comprehensive Care for the Neuro ICU Patient
11 a.m.
Virtual Exhibit Hall Open
Session 1: Critical Care Medicine
Neurointensivists take care of the entire patient and not just the brain. Special considerations in management must be taken in setting of brain injury and multiorgan failure. Ongoing clinical trials will pave the direction of ICU care.
Noon
ARDS in the Brain Injured Patient: Challenges and Strategies
12:25 p.m.
Different Viewpoints: Renal Replacement Therapy in the Setting of Cerebral Edema
12:25-12:45 – CRRT is a Must
12:45-1:05 – Hemodialysis Can Be Done Safely
1:05 p.m.
The Landmark Papers of Tomorrow: Ongoing Clinical Trials in Critical Care
1:30 p.m.
Panel Discussion/Q&A
1:45 p.m.
Break – Virtual Exhibit Hall Open
Session 2: COVID Corner
COVID has significantly impacted everyone's lives for over a year. We have learned a tremendous amount and management has changed dramatically since that time. Our experts will share their experiences and perspectives on the future.
2 p.m.
COVID-19: What Have We Learned So far?
2:25 p.m.
When and How to Use ECMO in COVID
2:50 p.m.
Coagulation Disturbances and Anticoagulation Management in COVID
3:15 p.m.
Panel Discussion/Q&A
3:30 p.m.
Break – Virtual Exhibit Hall Open
Game Break!
Let's take a break and have some fun! Participate and test your knowledge during our annual neuroscience trivia game.
3:45 p.m.
Neuroscience Trivia
Session 3: Neuroscience Nursing
Nurses are often the first person to notice when a patient has changed condition. Get some tips on picking up neuro changes at the bedside. Don't panic when an emergency happens—if you have a plan, there does not need to be chaos.
4:15 p.m.
How to Catch a Neuro Change in Your Patient
4:40 p.m.
Organizing the Chaos: Running Rapid Responses and Codes
5:05 p.m.
Communication with Families in Crisis
5:30 p.m.
Panel Discussion/Q&A
5:45 p.m.
Virtual Exhibit Hall Open
6 p.m.
Adjourn
2021 Neuro ICU Symposium Course Director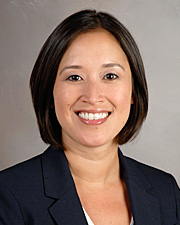 Tiffany R. Chang, MD
Associate Professor of Neurosurgery and Neurology Director, Neurocritical Care Fellowship Program Vivian L. Smith Department of Neurosurgery McGovern Medical School at UTHealth
Houston, Texas
Learning Objectives
As a result of attending this symposium, participants will:
Discuss the latest evidence-based and cutting-edge medical literature in acute neurological and neurosurgical emergencies and discuss how to resuscitate patients with injured brains due to various etiologies.
Describe the hot topics in neurological and neurosurgical emergencies and recommendations for management.
Treat multiple end-organ system failure that occurs in patients with acute brain injury.
Develop appropriate strategies for incorporating evidence-based protocols into clinical management through the use of case-based learning and real-life examples.
Apply the latest evidence on endovascular therapy when caring for patients.