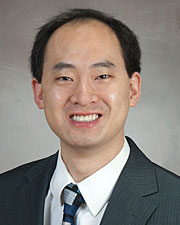 Assistant Professor, The Vivian L. Smith Department of Neurosurgery
(713) 486-7800
(713) 486-7970
(713) 486-7979

Biography
Dr. Joseph Hsieh is a graduate of Stanford University with a masters in biology. He holds both an MBA and an MPH from The Anderson School of Management and the School of Public Health at the University of California, Los Angeles. He received his medical degree from Harvard Medical School. Before joining UTHealth Medical School and Mischer Neuroscience Institute, Dr. Hsieh completed his residency in neurosurgery at the University of Chicago and a complex spine fellowship at Cedars Sinai Medical Center in Los Angeles under J. Patrick Johnson, M.D.
Dr. Hsieh has presented his work on policy in neurosurgery and spine both nationally and internationally and continues research on quality initiated during time he spent in Washington, D.C., as the Plante Policy fellow for the Congress of Neurological Surgeons.
For Patients
If you are interested in learning more about Dr. Hsieh's clinical practice, please click below.
Education
Graduate School

The Anderson School of Management/School of Public Health at UCLA, Los Angeles, California

Graduate School

Harvard Medical School, Boston, Massachusetts

Residency

University of Chicago Hospitals, Chicago, Illinois

Fellowship

Cedars-Sinai Medical Center, Los Angeles, California (Spine)
Publications
Publication Information
Hsieh JC. The Omnibus Act, Recovery Act, and Proposed 2010 Budget: Impact on Neurosurgery. Report, Washington Office of the AANS/CNS. June 2009.
Hsieh JC. Alternative dispute resolution in medicine. White Paper, Office of Mark Kirk. 30 April 2009.
Hsieh JC. Current trends in U.S. physician residencies. Consultant report, Taiwan Neurosurgical Society. January 2009.
Hsieh JC, Penn RD. Infusion therapy for movement disorders. In: Krames E, Peckham PH, Rezai A. eds. Neuromodulation. Elsevier, 2009.
Hsieh JC, Penn RD. Intrathecal baclofen in the treatment of adult spasticity. Neurosurg Focus. 2006 Aug 15;21(2):e5.
Hsieh JC, Lesniak MS. Surgical management of high-grade gliomas. Expert Rev Neurother. 2005 Nov;5(6 Suppl):S33-9.
Hsieh JC. Current trends in employer-sponsored health insurance. Anderson Forecast, 2002 June: 3.1-3.15.
Davis RE et al. In situ staining for poly (ADP-ribose) polymerase activity using an NAD analogue. J Histochem Cytochem 1998 Nov;46(11):1279-89.
McLaughlin J et al. Sparing of neuronal function postseizure with gene therapy. Proc Natl Acad Sci USA 2000 Nov 7;97(23):12804-9.
Poldrack RA et al. Striatal activation associated with visual skill learning and repetition priming examined using fMRI. Society for Neuroscience Abstracts, 1998, 24: 408.5.