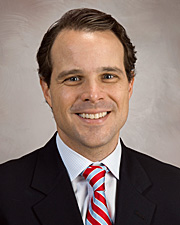 Assistant Professor, The Vivian L. Smith Department of Neurosurgery
(713) 486-8000
(713) 486-8088

Biography
Mark J. Dannenbaum, MD, is a fellowship-trained neurosurgeon with expertise in vascular and endovascular surgery who specializes in cerebrovascular and neuroendovascular surgery, retinoblastoma, skull base neurosurgery and cerebrovascular open micro-neurosurgery.
Dr. Dannenbaum received his medical degree from McGovern Medical School and completed his neurosurgery residency at the Baylor College of Medicine. After receiving his neurosurgery fellowship training at Harvard Medical School, he completed a second fellowship in vascular and endovascular neurosurgery at Emory University School of Medicine in Atlanta. He is a member of the Congress of Neurological Surgeons and the American Association of Neurological Surgeons.
Prior to joining Mischer Neuroscience Associates, Dr. Dannenbaum served as a clinical instructor and senior associate for the Department of Neurosurgery at Emory University School of Medicine. He has presented research at several national conferences, and among the journals in which his work has been published are the Journal of Neurosurgery and  Neurosurgery.
Dr. Dannenbaum is committed to providing exceptional clinical care to his patients, specializing in the treatment of the following:
Acoustic neuroma

Carotid artery/vertebral artery dissection

Carotid artery stenosis or occlusion

Cerebral aneurysms

Cerebral vasospasm

Cranial and dural arteriovenous fistulae

Brain AVMs

Brainstem and cerebral cavernous malformation

Intracranial occlusive diseases

Ischemic strokes

Moyamoya disease

Retinoblastoma

Skull base meningioma

Subarachnoid hemorrhages
Throughout the evaluation and treatment process, referring physicians are kept informed about patient progress, and the clinic team encourages continued communication about each referred patient.
For Patients
If you are interested in learning more about Dr. Dannenbaum's clinical practice, please click below.
Education
Graduate School

The University of Texas Medical School at Houston, Houston, Texas

Internship

Baylor College of Medicine, Houston, Texas

Residency

Baylor College of Medicine, Houston, Texas

Fellowship

Harvard Medical School/Brigham and Women's Hospital, Boston, Massachusetts (Neurosurgery)

Fellowship

Emory University School of Medicine, Atlanta, Georgia (Vascular and Endovascular Neurosurgery)
Publications
Publication Information
Dannenbaum MJ, Lega B, Suki D, Harper RL, Yoshor D: Microvascular decompression for hemifacial spasm: long term results from 114 operations performed without neurophysiologic monitoring, accepted for publication in Journal of Neurosurgery 2008.
Kim DH, Joseph M, Ziadi S, Nates J, Dannenbaum M, Malkoff M: Increase in Cardiac Output Can Reverse Flow Deficits From Vasospasm Independent of Blood Pressure: A Study Using Xenon Computed Tomographic Measurements of Cerebral Blood Flow, Neurosurgery 2003 November 53 (5): 1044-51.
Dannenbaum M, Sawaya R: Ependymal Tumors. In Baehring JM, Piepmeier JM, Eds. Principles of Neuro-Oncology. Taylor & Francis Group, New York, NY, 2006 (in press).
Valadka, AB, Dannenbaum MJ: Traumatic brain injury: Pathophysiology, clinical diagnosis, and prehospital and emergency center care. In: Asensio J, Trunkey D (eds). Current Therapy of Trauma Surgery and Critical Care. Elsevier, Philadelphia, PA, 2006 (in press)
Valadka, AB, Dannenbaum MJ: Traumatic brain injury: Imaging, operative and nonoperative care, and complications. In: Asensio J, Trunkey D (eds). Current Therapy of Trauma Surgery and Critical Care. Elsevier, Philadelphia, PA, 2006 (in press)