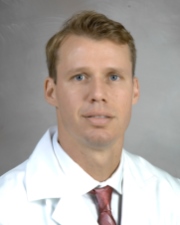 Associate Professor, The Vivian L. Smith Department of Neurosurgery
Associate Program Director, Neurosurgery Residency Program
(713) 486-8000
(713) 486-8088

Biography
Spiros Blackburn, MD, is a board-certified neurosurgeon who specializes in cerebrovascular and skull base surgery. He has special expertise in both endoscopic and endovascular neurosurgery. Dr. Blackburn is an associate professor and is the associate program director for the neurosurgery residency program.
A summa cum laude graduate of Old Dominion University in Norfolk, Virginia, Dr. Blackburn received his medical degree at The University of Texas Southwestern Medical School in Dallas. After concluding his residency at Washington University in St. Louis, he completed a cerebrovascular fellowship at Emory University in Atlanta and a neuro-endovascular fellowship at Mallinckrodt Institute of Radiology at Washington University. Prior to joining Mischer Neuroscience Institute, he held a faculty appointment as assistant professor of neurosurgery at the University of Florida in Gainesville.
The recipient of numerous academic awards, Dr. Blackburn has lectured nationally on the management of cerebral aneurysms, surgical anatomy, arteriovenous malformations and stroke. His research has been published in peer-reviewed journals including PNAS, Neurosurgery, World Neurosurgery, Journal of NeuroInterventional Surgery, British Journal of Neurosurgery, Journal of Neurosurgery, Stroke and Journal of Neuro-Oncology, among others. His clinical research interests include biomarkers for cerebral vasospasm and translational research for patients with subarachnoid hemorrhage, as well as a number of clinical trials for the treatment of brain aneurysms.
Dr. Blackburn is committed to providing superior care in the Texas Medical Center and Memorial City.
He treats the following conditions:
Cerebral aneurysms and arteriovenous malformations

Meningiomas and other tumors involving the skull base

Pituitary tumors

Moyamoya disease

Carotid artery – stenosis and endarterectomy

Cavernous malformations
He has special expertise in:
Endovascular neurosurgery (also called interventional neuroradiology) – coil embolization of aneurysms

Endoscopic approaches to pituitary tumors, meningiomas, and other mass lesions
For Patients
If you are interested in learning more about Dr. Blackburn's clinical practice, please click below.
Education
Graduate School

UT Southwestern Medical School, M.D.

Internship

Washington University General Surgery

Residency

Washington University PGY 2- PGY 5

Residency

Beaumont Hospital-Ireland Neurosurgery Registrar PGY 5

Residency

Neurosurgery Chief Resident, Washington University PGY 6

Fellowship

Cerebrovascular, Emory University, Atlanta, GA

Fellowship

Neurointerventional Endovascular, Mallinkrodt Institute of Radiology, Washington University, St. Louis, MO
Publications
Publication Information
Journal Publications
Blackburn SL, Abdelazim AM, Cutler AB, et al.  Endovascular and Surgical Treatment of Unruptured MCA Aneurysms: Meta-Analysis and Review of the Literature.  Stroke Research and Treatment. Vol 2014. http://dx.doi.org/10.1155/2014/348147
Vellimana AK, Yarbrough CK, Blackburn SL, et al.  Intravenous Tissue-Type Plasminogen Activator Therapy Is an Independent Risk Factor for Symptomatic Intracerebral Hemorrhage after Carotid Endarterectomy.  Neurosurgery 74:254-261, 2014.
Fargen KM, Blackburn S.  Surgical Decompression for Optic Neuropathy From Carotid Artery Ectasia: Case Report with Technical Considerations. World Neurosurg. 2013 Jul 10. doi:pii: S1878-8750(13)00770-5. 10.1016/j.wneu.2013.06.023
Blackburn SL, Kadkhodayan Y, Ray WZ, Zipfel GJ, Cross DT 3rd, Moran CJ, Derdeyn CP.  Onyx is associated with poor venous penetration on the treatment of spinal sural arteriovenous fistulas.  JNIS Aug 2013 doi: 10.1136/neurintsurg-2013-010779
Fargen KM, Blackburn S, Carpenter JS, Jabbour P, Mack WJ, Rai AT, Siddiqui AH, Turner RD, Mocco J.  Early results of the Axium MicroFX for Endovascular Repair of IntraCranial Aneurysm (AMERICA) study: a multicenter prospective observational registry.  JNIS. Sept 2013 doi: 10.1136/neurintsurg-2013-01088
Kadkhodayan Y, Blackburn SL.  Comparison of Enterprise with Neuroform Stent Assisted Coiling of Intracranial Aneurysms AJNR 2012.
Kadkhodayan Y, Shetty V, Blackburn SL, Reynolds M, Cross DT, Moran CJ.  Pipeline embolization device and subsequent vessel sacrifice for treatment of a bleeding carotid pseudoaneurysm at the skull base: a case report.  JNIS  doi:10.1136/neurintsurg-2012-010394
Ray WZ, Murphy RK, Dorward IG, Lusis EA, Blackburn SL, Stewart T. Impact of lateral mass anatomic variation on ideal polyaxial screw head mobility: technical considerations. Br J Neurosurg. 2012 Jul 6
Bandt SK, Blackburn SL, Lim C, Evans J, Chicoine MR. Intraoperative magnetic resonance imaging as a guide to patient selection for duraplasty after bony decompression for adult Chiari I malformation. A preliminary experience. Neurosurgery Aug 2012 71(2).
Dhar R, Scalfani MT, Blackburn S, Zazulia AR, Videen T, Diringer M.  Relationship Between Angiographic Vasospasm and Regional Hypoperfusion in Aneurysmal Subarachnoid Hemorrhage.  Stroke 2012 Jul; 43(7):1788-94.
Shuette AJ, Blackburn SL, Barrow DL, Cawley CM.  Pial arteriovenous fistula resulting from ventriculostomy.  World Neurosurg. 2012 May-Jun;77(5-6):785.e1-2
Blackburn SL

, Kadkhodayan Y, Shekhtman E, Derdeyn CP, Cross DT, Moran CJ.  Treatment of basilar tip aneurysms with horizontal PCA to PCA stent-assisted coiling: case series.  JNIS 2012 Mar 27

Blackburn S, Dannenbaum M, Schuette A, Dion J.    Anomalous course of the intracranial internal carotid artery into the orbit: case report.  J NeuroInternvent Surg doi: 10.1136, Jun 16, 2011
Reynolds MR, Ray WZ, Strom RG, Blackburn SL, Lee A, Park TS. Clinical outcomes after selective dorsal rhizotomy in an adult population.  World Neurosurg. 2011 Jan;75(1):138-44.
Reynolds MR, Blackburn SL, Zipfel GJ.  Recurrent idiopathic perimesencephalic subarachnoid hemorrhage.  J Neurosurg. 2011 Jun 10
Blackburn SL

, Ashley WW, Rich KM et al.  Combined endovascular embolization and stereotactic radiosurgery in the treatment of large arteriovenous malformations.   J Neurosurg. 2011 Jun;114(6):1758-67.

Ray WZ, Blackburn SL, Casavilca-Zambrano S, Barrionuevo C, Orrego JE, Heinicke H, Dowling JL, Perry A. Clinicopathologic features of recurrent dysembryoplastic neuroepithelial tumor and rare malignant transformation: a report of 5 cases and review of the literature.  J Neurooncol. 2009 Sep;94(2):283-92. Epub 2009 Mar 8. Review.
Ray WZ, Strom RG, Blackburn SL, Ashley WW, Sicard GA, Rich KM. Incidence of deep venous thrombosis after subarachnoid hemorrhage.  J Neurosurg. 2009 May;110(5):1010-4
Kasukurthi R, Ray WZ, Blackburn SL, Lusis EA, Santiago P.  Intramedullary capillary hemangioma of the thoracic spine: case report and review of the literature.  Rare Tumors. 2009 Jul 22;1(1):e10.
Ray WZ, Lee A, Blackburn SL , Lueder GT, Leonard JR.  Pseudotumor cerebri following tapered corticosteroid treatment in an 8-month-old infant.  J Neurosurg Pediatr. 2008 Jan;1(1):88-90.
Reynolds MR, Blackburn SL, Smyth MD.  Ossified pseudomeningocele following Chiari decompression surgery in a patient with Kleeblattschadel deformity. Case report.  J Neurosurg Ped 2(3):203-206, 2008.
Blackburn SL, Smyth MD.    Hydrogel-induced cervicomedullary compression after posterior fossa decompression for Chiari malformation. Case report.  J    Neurosurg. 106(4 Suppl):302-4, 2007.
Landman, Alvarez, Ash, Blackburn, et al., Wind Tunnel Testing of the Wright Brothers' Model B Airfoil.  AIAA Journal of Aircraft 2002: 39.
Chapter Publications
Blackburn SL, Ray WZ, Santiago P, Wright NM.  C2 Pars, pedicle, and translaminar screws.  Cervical Spine Surgery:  Current Trends and Challenges. 1st ed, 2013.
Blackburn S, Dowling J.  Implantation of Drug Infusion Pumps. Neurosurgical Operative Atlas, Functional Neurosurgery.   Thieme, New York:2009, pp253-257, 2nd ed.