Message from Program Director
Dear Residency Applicant:
On behalf of the faculty, residents and classified staff, we would like to welcome you to the McGovern Medical Residency Obstetrics and Gynecology Residency Program. Thank you for considering us for your specialty training in obstetrics and gynecology.
Our residency program has historically been based out of our two main hospitals: Lyndon B. Johnson General Hospital and Memorial Hermann hospital respectively. These hospitals provide different learning opportunities for our residents and compliment each other very well. Currently, our residents spend equal amount of time at all of the rotating sites providing them with a well rounded educational experience.
The residents of this educational program experience diverse and challenging clinical problems and develop deep and lasting relationships with their patients. Faculty supervision is always readily available to teach and ensure that each resident is given just as much autonomy as he/she can handle. Our hospitals have recently undergone a number of exciting renovations and expansions to keep pace with the growth in our community and advances in new technology.
Our amazing faculty, residents and incredible patient population create an outstanding educational environment for our trainees.
Respectfully,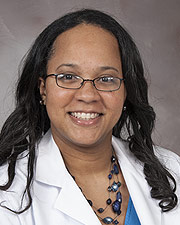 Jenny Duret-Uzodinma, MD, FACOG
She/Her
Associate Professor
McGovern Medical School Department of Obstetrics, Gynecology and Reproductive Sciences
Director, Department of Obstetrics, Gynecology and Reproductive Sciences Residency Program