Camp PHEver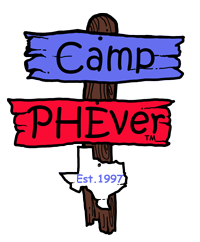 Camp PHEver is a week long summer camp for children and adolescents with Phenylketonuria (PKU). Activities at camp include archery, swimming, zip lining, horseback riding and more. Special low protein meals are provided to our campers and counselors with PKU and match their specific needs.
For more information about the camp, go to our About Us page. If you have any questions, please feel free to contact us with questions.
Dear Camp PHEver campers and parents:

To accommodate for social distancing, this year's camp dates are August 8th – 13th, 2021. Applications will be open until July 8th, 2021. All scholarship decisions will be made by July 15th, 2021.

Camp PHEver Theme 2021: Outer Space!
Some important things to note:

If your campers last year was intended for 2020, they will be able to attend Camp PHEver 2021.
We are only accepting Texas residents this year (Louisiana campers should email Camp PHEver for additional information).
We are not accepting campers that need to fly into Texas.
All campers must drive in with their parents.
All campers, staff, and counselors will be rapid tested for COVID-19 upon arrival.

If you have any questions, please email phever-info@uth.tmc.edu.

Thanks,
Kate Mowrey and Megan Morand