Camp PHEver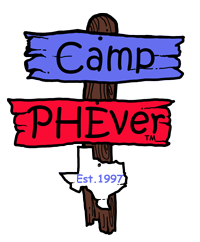 Updated: January 14, 2022
Camp PHEver is a week long summer camp for children and adolescents with Phenylketonuria (PKU). Activities at camp include archery, swimming, zip lining, horseback riding and more. Special low protein meals are provided to our campers and counselors with PKU and match their specific needs.
For more information about the camp, go to our About Us page. If you have any questions, please feel free to contact us with questions.
The dates for Camp PHEver 2022 are: July 10th – 15th, 2022
Applications to open in March 2022
Camp PHEver Theme 2022: Decades – 70s, 80s, 90s, 00s!
We are working closely with Camp For All and UTHealth to monitor the COVID-19 pandemic and the current Omnicron wave to develop proper COVID-19 protocols regarding vaccination and testing to make camp as safe as possible. As these become available to us, we will update that information here.
Camp PHEver 2021 protocols were:
Only accepted Texas residents and Louisiana campers given permission on a case-by-case basis
Did not accept campers that needed to fly into Texas.
All campers drove in with their parents.
All campers, staff, and counselors were rapid tested for COVID-19 upon arrival.
If you have any questions, please email phever-info@uth.tmc.edu.
Thanks,
Kate Mowrey and Megan Morand