Genetic Counseling Program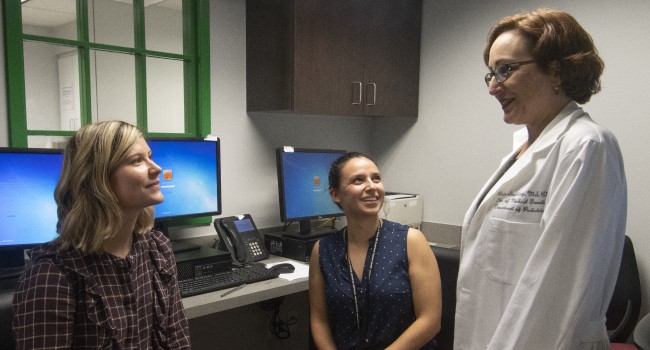 The Division of Medical Genetics of the Department of Pediatrics also hosts the Master of Science Genetic Counseling Program (GCP) in conjunction with the Graduate School of Biomedical Sciences. The program has trained accomplished genetic counselors since its inception in 1989 under the direction of Dr. Jacqueline T. Hecht. The program is the only genetic counseling program in Texas accredited by the American Board of Genetic Counseling. The current Program Director is Claire N. Singletary, MS, CGC , and the Assistant Director is Jennifer Czerwinski, MS, CGC .
In addition to the Program Directors, the GCP is fortunate to have a strong group of core faculty including the Medical Director, Dr. Laura Farach. The program is notable for the excellent diversity and complexity of cases that students are exposed to in the Department of Pediatrics, Department of Obstetrics, Gynecology, and Reproductive Science (one of 14 National Institutes of Health Maternal-Fetal Medicine Network Centers), and the world renowned MD Anderson Cancer Center.
Research opportunities for student theses abound, as do the opportunities to explore new mainstream genetic counseling in the Texas Medical Center. The academic coursework is rigorous, with the curriculum providing comprehensive training in classical and molecular genetics, psychosocial counseling, and research skills. Additional information on the profession of genetic counseling may be found at the National Society of Genetic Counselors website and the UT Genetic Counseling Program website.