Texas Comprehensive Epilepsy Program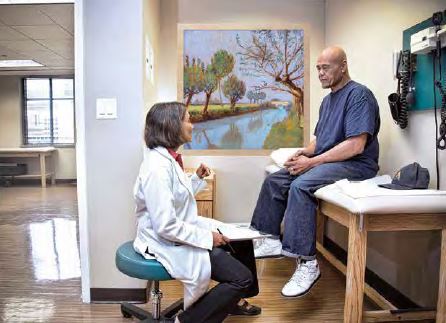 Over the past two years, the Texas Comprehensive Epilepsy Program, the leading program in the southwestern United States for the diagnosis and treatment of epilepsy in patients of all ages, has seen phenomenal growth both in volumes of medically and surgically treated patients and in numbers of faculty. Affiliated physicians now include six full-time adult and three full-time pediatric epileptologists. A collaborative effort between Memorial Hermann-Texas Medical Center, Children's Memorial Hermann Hospital and UTHealth Medical School, the program is the premier Level IV National Association of Epilepsy Centers-certified program in Houston.
At the heart of the program is a state-of-the-art 12-bed Epilepsy Monitoring Unit (EMU), the largest and most comprehensive unit of its kind in the region. Affiliated physicians deploy a complete set of established and emerging diagnostic technologies that provide comprehensive datasets to help define and localize the seizure network in the brain. The full suite of diagnostic tools includes magnetoencephalography (MEG) to map both seizure networks and neurological
function, video EEG, 3-Tesla structural MRI, functional MRI and diffusion tensor tractography, positron emission tomography (PET), single-photon emission computed tomography (SPECT), memory and intra-carotid amytal (Wada) testing and in-depth neuropsychological testing. The Texas Comprehensive Epilepsy Program is a national leader in combining the use of MEG and functional MRI to map the brain and record brain activity. It operates one of only a few inpatient units in the country with the capability to perform electroencephalography and polysomnography simultaneously.
The number of patients affiliated physicians treat annually continues to grow. Board-certified neurologists and neurosurgeons diagnose and treat more than 1,800 pediatric and adult patients each year for seizure disorders. Genetic anomalies, brain trauma, structural abnormalities, stroke and brain tumor rank among the top underlying causes of epilepsy, but because seizures manifest differently among individuals, specific determination of the origin of seizures is crucial to planning the most effective treatment for individual patients. Once a diagnosis is made, physicians offer the most advanced treatment options available, including drug therapy, the ketogenic diet, vagus nerve stimulation (VNS), focal cortical resection, lobectomy, hemispherectomy and corpus callosotomy. The program's surgical complication rates have remained extremely low over the past nine years. At the current time, the Institute's affiliated epilepsy surgeon has performed more than 500 craniotomies for the treatment of epilepsy, with a zero percent mortality rate and a very low rate of permanent morbidity. Additionally, the program goes beyond the medical and surgical treatment of epilepsy by offering counseling to patients to help them cope with their diagnosis. Specialized counselors ensure that recently diagnosed patients have the emotional support they need.
Affiliated physicians are also leaders in innovative surgical approaches for epilepsy, with new surgical approaches and technologies implemented in the past two years, including stereoelectroencephalography (SEEG), robotic SEEG and MR-guided laser interstitial thermal therapy (Visualase®). The Mischer Neuroscience Institute is a pioneering site for the latter technique – the application of laser surgery for well-delineated focal epilepsies – with carefully selected patients treated in a highly advanced, minimally invasive fashion that ablates the seizure focus. In addition to using the Visualase technique for the treatment of temporal lobe epilepsy associated with hippocampal sclerosis, physicians use it in novel ways, including the ablation of deep-seated periventricular nodular heterotopias.
The program is the second epilepsy program in the country to perform robotic SEEG, a technique that helps localize the seizure focus with precision and in
a minimally invasive fashion. The safety and efficacy data reported by affiliated physicians following all types of surgical intervention for epilepsy are
excellent. They will also be initiating treatment with a newly FDA-approved technique for responsive neuromodulation (NeuroPace®).
The epilepsy team has been involved in cutting-edge research related to most epilepsy treatments approved in the United States in the last 15 years, including a number of pharmacological therapies and VNS therapy. Current drug trial research includes lacosamide monotherapy and adjunctive therapy for partial-onset seizures; an open-label extension study of rufinamide as an adjunctive therapy in patients with refractory partial-onset seizures; and vigabatrin therapy for refractory focal epilepsy.
Faculty at UTHealth Medical School pursue several other lines of clinical and scientific research, such as the use of tractography to lateralize temporal lobe epilepsy and to delineate the epileptogenic network; oxygen-enhanced magnetic resonance imaging in nonlesional focal epilepsy; correlation of waking background alpha frequency with measures of attention and reaction; and the use of intracranial electrocorticography to study a variety of cognitive and language processes. Research funding for faculty comes from a variety of sources, including major National Institutes of Health and National Science Foundation grants; in addition, they pursue collaborative interdisciplinary research with a number of other local institutions. The program is also a member of the National Critical Care EEG Monitoring Research Consortium (CCEMRC) and has contributed patient data to national projects.